Use our On-Line 100% Secure EncryptedShopping Cart Ordering System. Simply browse
our site and Click the ADD TO SHOPPING CART buttons to place items in your Shopping Cart
[ HOME ] [ COMICS ] [ MOVIES ] [ NOVELS ] [ CD-ROM ] [ Order info ] [ Help ] [ ARTIST SITES ] [ SEARCH ]
[ Disclaimer ] [ CATALOGUE ] [ Copyright ]
FANSADOX COLLECTION 399
THE CAMPAIGNER - CAGRI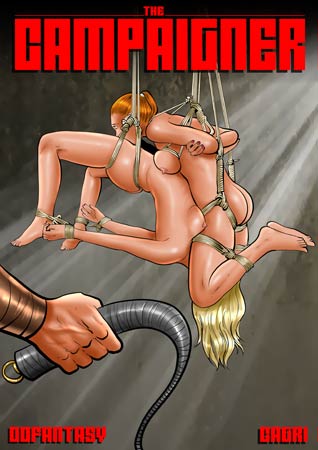 NEW IN PDF ELECTRONIC VERSION!
Adult Comic Album by CAGRI.
HIGH RESOLUTION PDF deluxe edition
40 full color comic pages!!!
-COMPLETE, UNABRIDGED VERSION-
A GORGEOUS POLITICAL NOVICE GETS MORE THAN SHE BARGAINED FOR WHEN SHE TRIES TO SCREW OVER HER BOSS, A PRESIDENTIAL CANDIDATE!
SHE SHOULD HAVE KNOWN POWERFUL MEN MAKE POWERFUL ENEMIES! REDHEADED MICHELLE WILL PAY FOR HER MISTAKE WITH HER BODY… AND MAYBE HER LIFE!!
IMPORTANT NOTICE - DISCLAIMER
All characters are 18 years old or older.
This is an entirely fictional work based on
cartoon characters for adult entertainment.
It shows no real people or events.
The characters are shown participating in
CONSENSUAL role-play for their own
personal satisfaction, simulating activities
which involve sexual dominance and
submission. No actual toons were harmed
in the making of this comic.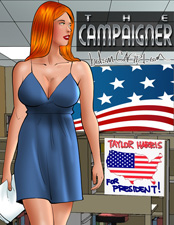 Pretty Michelle Rivera was campaign leader to the Taylor Harris campaign. Whip smart and feisty as a wildcat, Michelle was a valuable asset to the politician's presidential bid. But it was a tight election, and Taylor Harris had a dark, disgusting secret: he'd been having an affair with Michelle's sister, Lucy, and Lucy had gone missing when she tried to break off the relationship with the insistent and insatiable politician. Michelle's work in the Harris campaign had been a ploy to dig up information on her sister's disappearance. Michelle was really there to find out what happened to her dear sister Lucy! When Michelle had enough information to finally bring the politician down, she quickly tried to flee from Taylor Harris' campaign headquarters…
Unfortunately, Taylor Harris keeps a close eye on his campaign staff, and Michelle's traitorous actions have not gone unnoticed. It's too late in the campaign season for something this sinister to come to light, so Taylor Harris decides that a quieter "solution" to his political problem is in order… which suits him just fine…
It means that he has time to really teach the fiery redhead the error of her ways… in the most disgusting and depraved way possible!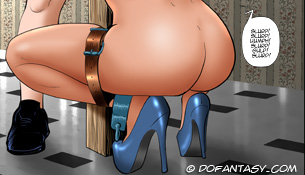 If pretty Michelle wanted to know what happened to her sister Lucy, she'd find out… through firsthand experience!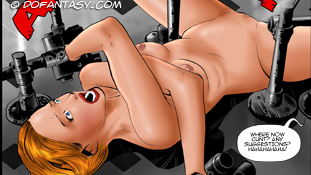 But as things start to wind down on the campaign trail, things start to heat up for Michelle! She's in over her head… and whether she survives… well, it's out of her hands now!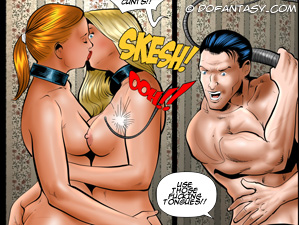 CAGRI IS A MASTER OF THE PERVERSE AND INSANE, THE TWISTED AND THE BRUTAL! THERE ARE NO LIMITS TO HOW CRAZY THINGS WILL GET IN THIS SICK, BONDAGE COMIC! YOU DON'T MESS WITH THE BEST, AS MICHELLE WILL SOON FIND OUT! WILL MICHELLE FIND OUT WHAT HAPPENED TO HER SISTER? WILL SHE SURVIVE AND FIND HELP… OR IS SHE JUST THE NEXT PIECE OF MEAT ON THE MENU? FIND OUT HERE, EXCLUSIVELY AT DOFANTASY.COM!!
YOU'VE GOT TO CHECK THIS COMIC OUT! IT'S HOT, HOT, HOT!!!