Use our On-Line 100% Secure EncryptedShopping Cart Ordering System. Simply browse
our site and Click the ADD TO SHOPPING CART buttons to place items in your Shopping Cart
[ HOME ] [ COMICS ] [ MOVIES ] [ NOVELS ] [ CD-ROM ] [ Order info ] [ Help ] [ ARTIST SITES ] [ SEARCH ]
[ Disclaimer ] [ CATALOGUE ] [ Copyright ]
FANSADOX COLLECTION 400
CIDADE DO DIABO Part 1 - LESBI K LEIH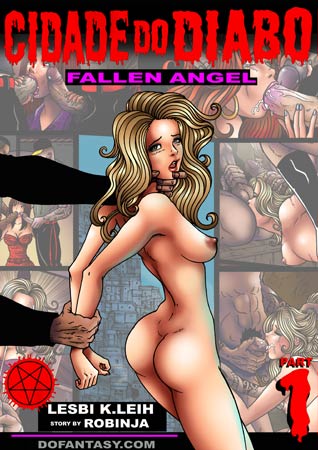 NEW IN PDF ELECTRONIC VERSION!
HIGH RESOLUTION PDF deluxe edition
44 full color comic.
-COMPLETE, UNABRIDGED VERSION-
VISIT A FAR-AWAY LAND, WHERE LOCAL GANGS RULE WITHOUT ANY THOUGHT OF LAWS OR POLICE. THE GANGS CAN HAVE THEIR WAY WITH ANY WOMAN THEY WANT, THEY CAN DO ANYTHING THEY WANT.
AND THEY KNOW IT.
IMPORTANT NOTICE - DISCLAIMER
All characters are 18 years old or older.
This is an entirely fictional work based on
cartoon characters for adult entertainment.
It shows no real people or events.
The characters are shown participating in
CONSENSUAL role-play for their own
personal satisfaction, simulating activities
which involve sexual dominance and
submission. No actual toons were harmed in the making of this comic.
IN THE FAVELAS, LIFE IS DIFFERENT
In Rio de Janeiro, Brazil, there exist large ghetto neighborhoods called "favelas." The police gave up on patrolling the favelas long ago. The local gangs have become a law unto themselves there. They can do whatever they want. Naturally, these men take advantage of the local women…
IN THE CIDADE DO DIABO FAVELA, NO ONE IS SAFE
The Cidade do Diabo Favela is ruled by particularly violent gang known as "Os Anjos Caidos." Their leader, Bezelbu, likes to grab local girls for "try-outs" to see who should serve his gang on a more permanent basis. Girls are fucked, whipped, humiliated and abused. All in front of their helpless boyfriends.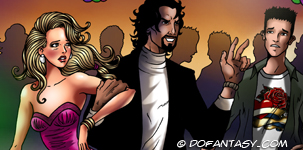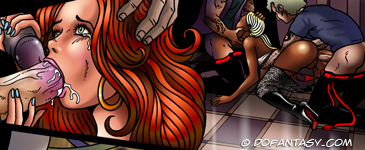 Some girls even want to be taken by the gang. After all, in their poverty stricken-world, becoming a sex-toy to a gang leader is the only path to a better life. Amalia and her sister Clarissa both know this. One night, Os Anjos Caidos crash a party celebrating Amalia's own boyfriend's birthday, the gang members have their way with all the pretty girls, right in the middle of the party, and no one can stop them. Many girls are terrified, but Amalia seems to see her ordeal as a job interview, and she strives to impress Bezelbu and his men.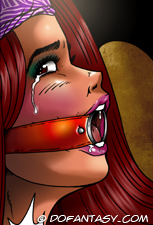 BRAZIL CAN BE A VERY DANGEROUS PLACE
Once upon a time, Bezelbu and his gang only took girls from their own Favela, but lately they have been getting more and more bold. Now they are taking "nice girls" from middle class families, right of the street. Even rich tourists aren't safe. As Bezelbu and his men branch out farther and farther, they will abduct girls from all walks of life. Rich and poor alike. Eventually, everyone bends to the will of the mighty Bezelbu. Ciade do Diabo is his kingdom, and what he wants, he will get…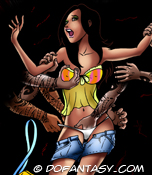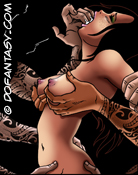 COME ENJOY THIS FIRST CHAPTER IN A NEW EXCITING STORY! ENJOY THE VIBRANT ARTWORK BY ARTIST LESBI K.LEIH AND THE COMPELLING STORY BY AUTHOR ROBINJA.
RIO DE JANERIO HAS NEVER LOOKED SO HOT!