Use our On-Line 100% Secure EncryptedShopping Cart Ordering System. Simply browse
our site and Click the ADD TO SHOPPING CART buttons to place items in your Shopping Cart
[ HOME ] [ COMICS ] [ MOVIES ] [ NOVELS ] [ CD-ROM ] [ Order info ] [ Help ] [ ARTIST SITES ] [ SEARCH ]
[ Disclaimer ] [ CATALOGUE ] [ Copyright ]
FANSADOX COLLECTION 415
IN THE NAME OF THE LORD by SLASHER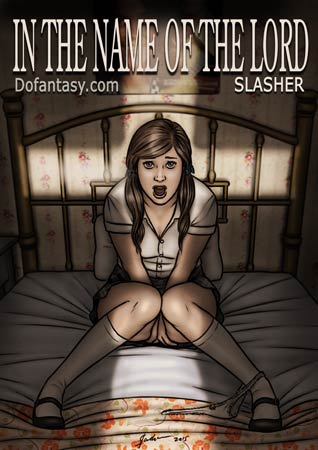 NEW IN PDF ELECTRONIC VERSION!
Adult Comic Album by SLASHER.
HIGH RESOLUTION PDF deluxe edition
25 full color comic pages!!!
-COMPLETE, UNABRIDGED VERSION-
DIALOGS BY NAJ
WHEN TEENAGE NELLY IS FOUND PLAYING WITH HERSELF, HER DEVOUT MOTHER IS CONVINCED HER DAUGHTER IS POSSESSED BY SIN!
THIS CHRISTIAN MOTHER WILL DO ANYTHING TO CLEANSE HER DAUGHTER OF HER SINFUL, SEXUAL LUSTS, EVEN IF IT MEANS BRINGING IN A HORNY PREACHER!
IMPORTANT NOTICE - DISCLAIMER
All characters are 18 years old or older.
This is an entirely fictional work based on
cartoon characters for adult entertainment.
It shows no real people or events.
The characters are shown participating in
CONSENSUAL role-play for their own
personal satisfaction, simulating activities
which involve sexual dominance and
submission. No actual toons were harmed
in the making of this comic.

Mrs. Carpenter is your typical, devout, Christian woman living in the quiet suburbs of 1970s Americana. She raises her daughter, Nelly, according to strict and moral Christian values. You can imagine her surprise when her daughter starts blasting that infernal rock and roll music. Mrs. Carpenter is not happy and goes upstairs to tell her daughter to turn down the noise.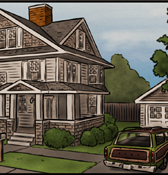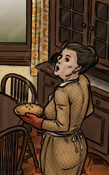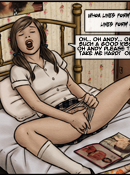 Things get even worse when she finds innocent Nelly playing with herself!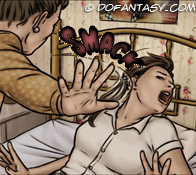 This will not do! This simply will not do! Mrs. Carpenter raised her daughter to be better than this! She will not allow her daughter to fall into sin and corruption by playing with herself!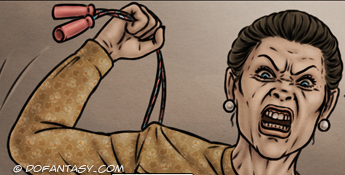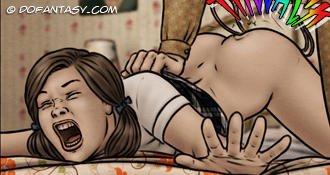 Nelly must be brought back to the good word of the Lord, forcefully if need be! It is for the good of her soul! Mrs. Carpenter will do whatever it takes, even if it means bringing in a Reverend to cleanse poor Nelly of her misguided ways.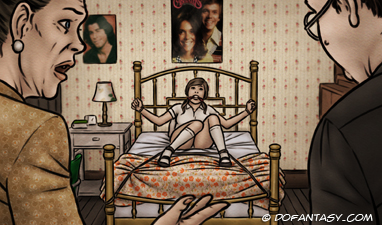 Unfortunately for Nelly, the good Reverend finds that things have become quite dire indeed. Nelly might be possessed by a malevolent and lustful spirit. A very "thorough" cleansing will be needed… of all Nelly's tight, teenage holes!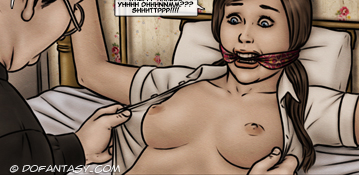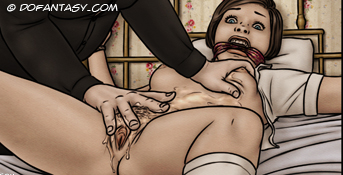 And the good Reverend is a very "thorough" man…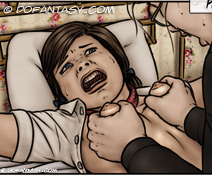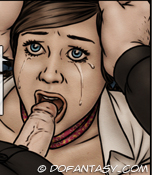 SLASHER BRINGS US A SNEAK PEAK OF THE DARK UNDERBELLY OF ICONIC, 1970s SUBURBAN AMERICANA! WHAT WILL THE REVEREND DO TO POOR, INNOCENT NELLY? WILL NELLY SURVIVE THE ENCOUNTER OR WILL TRULY AWFUL AND TERRIBLE THINGS HAPPEN TO HER AND HER YOUNG, SUCCULENT BODY? YOU CAN ONLY FIND OUT HERE AT DOFANTASY.COM!!!
DON'T DELAY! ACT NOW! THIS COMIC IS SUPER HOT, STEAMY, AND NAUGHTY!!!

YOU DON'T WANT TO MISS THIS!