Use our On-Line 100% Secure Encrypted Shopping Cart Ordering System. Simply browse
our site and Click the ADD TO SHOPPING CART buttons to place items in your Shopping Cart
[ HOME ] [ COMICS ] [ MOVIES ] [ NOVELS ] [ CD-ROM ] [ Order info ] [ Help ] [ ARTIST SITES ] [ SEARCH ]
[ Disclaimer ] [ CATALOGUE ] [ Copyright ]
FANSADOX COLLECTION 417
A TALE OF CHINESE SLAVERY: CAPTURED! - CELESTIN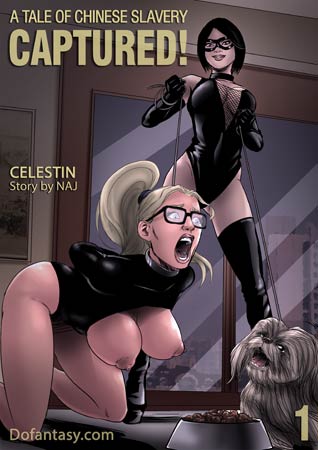 NEW IN PDF ELECTRONIC VERSION!
Adult Comic Album by CELESTIN. Story by NAJ
HIGH RESOLUTION PDF deluxe edition
40 full color comic pages!
-COMPLETE, UNABRIDGED VERSION-
GORGEOUS COLLEGE GIRLS ARE KIDNAPPED AND SOLD AS SEX SLAVES TO THE CHINESE ELITE!
SMARTY PANTS HANNAH WILL LEARN A LESSON IN LESBIAN LOVEMAKING… WHETHER SHE WANTS TO OR NOT!
IMPORTANT NOTICE - DISCLAIMER
All characters are 18 years old or older.
This is an entirely fictional work based on
cartoon characters for adult entertainment.
It shows no real people or events.
The characters are shown participating in
CONSENSUAL role-play for their own
personal satisfaction, simulating activities
which involve sexual dominance and
submission. No actual toons were harmed
in the making of this comic.
Hannah was a bright, young girl with her whole future ahead of her. An incorrigible bookworm, her sorority sisters attempt to break mousey Hannah out of her shell by inviting her to a coed party held in the sorority basement. Hannah agrees… but maybe she shouldn't have…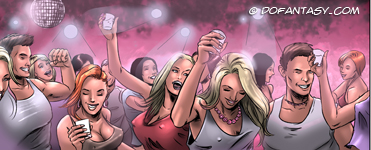 One minute, she's talking with a handsome, young, foreign exchange student… then the next thing she knows, she's a bound, gagged, and helpless sex slave!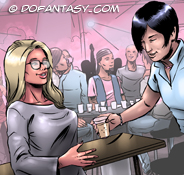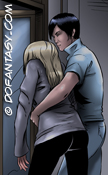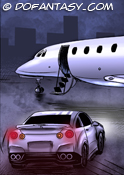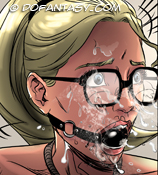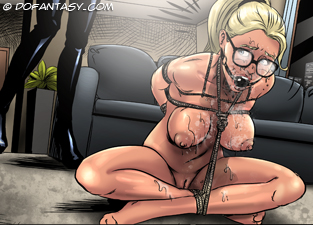 Her new mistress is Chyou, an arrogant, Chinese bitch living in a luxurious penthouse suite in downtown Shanghai. Chyou always wanted a pretty, white, fat-titted "cow" to play with… and Hannah is her newest, unlucky fuckslut! Hannah gets to learn a new lesson now: how to obey her sadistic, lesbian mistress under threat of extreme PAIN!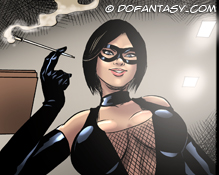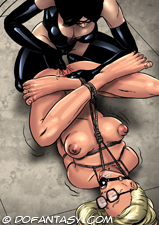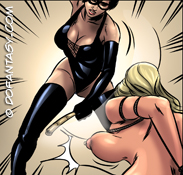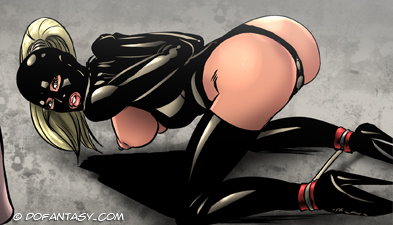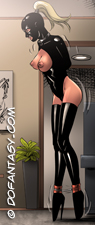 Thus begins Hannah's slow, humiliating descent from college honor student to the lowest of the low: a piece of fuckmeat to be used and abused however her cruel and sadistic mistress sees fit. Sheltered Hannah will see all kinds of horrifying sights in the dark underbelly of Shanghai…

...whether she survives them is another matter!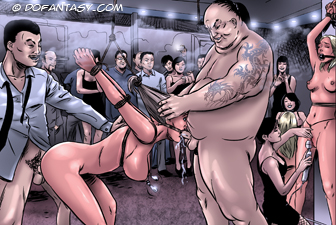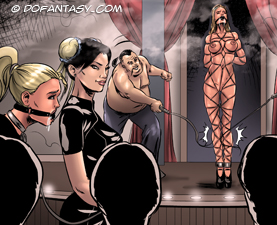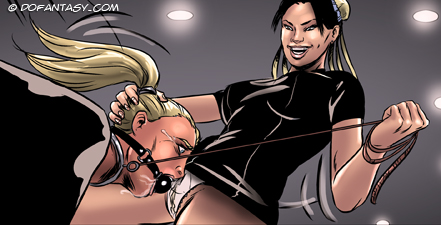 CELESTIN STARTS ANOTHER THRILLING STORY SET IN THE SEEDY RECESSES BENEATH THE BRIGHT, SHANGHAI LIGHTS! WATCH IN SHOCK AND HORROR AS A CRUEL, DRAGON LADY TURNS A PROMISING, YOUNG, WHITE GIRL INTO A DISGUSTING AND WANTON WHORE! HANNAH'S HOT ADVENTURE IS ONLY JUST BEGINNING! YOU DON'T WANT TO MISS THIS EXCITING ISSUE, BROUGHT TO YOU HERE EXCLUSIVELY AT DOFANTASY.COM!

GET THIS ISSUE WHILE YOU CAN!! IT'S HOT, HOT, HOT!!!!