Use our On-Line 100% Secure EncryptedShopping Cart Ordering System. Simply browse
our site and Click the ADD TO SHOPPING CART buttons to place items in your Shopping Cart
[ HOME ] [ COMICS ] [ MOVIES ] [ NOVELS ] [ CD-ROM ] [ Order info ] [ Help ] [ ARTIST SITES ] [ SEARCH ]
[ Disclaimer ] [ CATALOGUE ] [ Copyright ]
FANSADOX COLLECTION 423
BAD LIEUTENANT 4: HELD TO ACCOUNT - ARIETA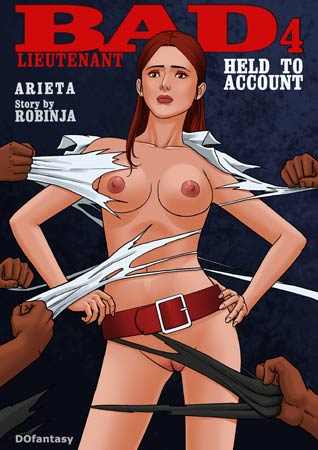 NEW IN PDF ELECTRONIC VERSION!
Adult Comic Album by ARIETA. Story by ROBINJA.
HIGH RESOLUTION PDF deluxe edition
52 full color comic pages!!!
-COMPLETE, UNABRIDGED VERSION-
HIDDEN IN EVERY CITY, JUST OUTSIDE OF VIEW, THERE IS A WORLD OF CORRUPTION AND CRIME. WOMEN ARE HELPLESS TO RESIST THE MOBSTERS AND DIRTY COPS WHO ABUSE THEM.

MOBSTER VUK DRAGANOVIC HAS TRANSFORMED ALL THE WOMEN WHO OPPOSED HIM INTO HIS SLAVES. BUT WHAT HAPPENS NEXT IS THE MOST SHOCKING THING OF ALL…
IMPORTANT NOTICE - DISCLAIMER
All characters are 18 years old or older.
This is an entirely fictional work based on cartoon characters for adult entertainment. It shows no real people or events. The characters are shown participating in CONSENSUAL role-play for their own personal satisfaction, simulating activities which involve sexual dominance and submission. No actual toons were harmed in the making of this comic.
ANYONE CAN BE BROKEN
Fans of the Bad Lieutenant Saga have come to expect a unique blend of non-stop sexual domination mixed seamlessly with in-depth character development and exciting crime drama. Part 4 of our story more than lives up to this series' well-earned reputation.
Serbian mobster Vuk Draganovic is a master at turning women into his slaves. Throughout the course of our story, we have seen him take over the lives of Detective Lieutenant Darinka O'Malley (the daughter of his former enemy), Assistant District Attorney Alison Palmer (the lawyer who tried to prosecute Vuk for his crimes), and Natasha Collins (the daughter of the Chief of Police).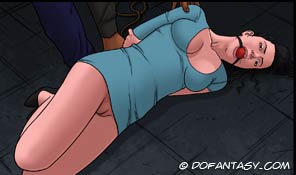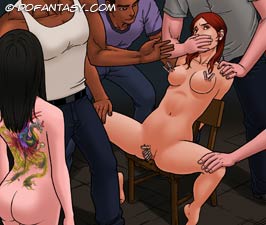 …BUT WHAT HAPPENS THEN?
Vuk's most recent slave acquisition is former accountant Hannah Seacombe. Vuk's trusted slave, Detective O'Malley, is giving Hannah an "orientation" to her new life as a modern-day slave. But while Hannah is learning to give up her old life and submitting to ever-increasing torture and sexual abuse, something very interesting happens…Hannah grows ambitious. Just how useful a slave can she become?
Using her skills from her old life, Hannah finds new ways to serve her boss's interests. She puts her brains to use for her new owners, while at the same time taking cocks up her ass and piss down her throat.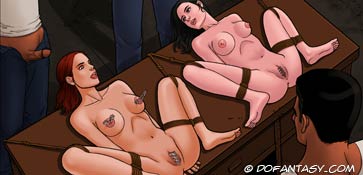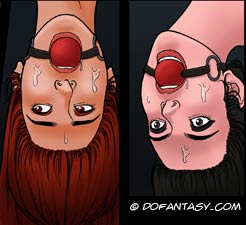 THE REAL JOURNEY BEGINS WHEN RESISTANCE ENDS
Meanwhile, Police Chief Collins is still searching for his missing daughter Natasha. Collin's has reached out to be mysterious outsider who claims they can help bring Vuk down. But what Collins doesn't realize is that by now, Natasha's personality has been completely re-written. "Natasha" is now a slave-girl named "Mackica" and Chief Collins' daughter no longer exists.

Each girl responds to her slavery differently. But once a woman becomes a slave, there is no turning back. Each woman in our story has been taught her proper place in life, by use of brutal sexual abuse. And the more harshly the women are trained, the more radically they come to accept their situations.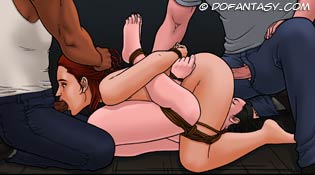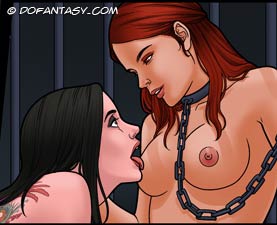 A TRUE SLAVE'S DEVOTION KNOWS NO LIMIT
In the process of giving up their old identities, the slave-girls in our story form deep emotional bonds with their new owners and with each other. These bonds are often much stronger than any connection they felt with anyone in their old lives. Being a slave can quickly become the defining characteristic of a woman's life.
Fans of the Bad Lieutenant Saga know that these comics have proven adult entertainment can be hot and sexy, while also being interesting and well-written at the same time. Artist Arieta and writer Robinja have created a complex universe, populated by characters who grow and change over the course of time. This is truly a comic not to be missed!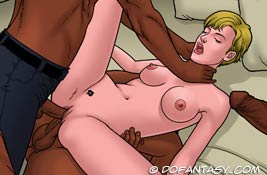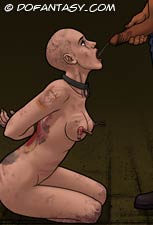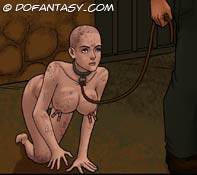 READ PART 4 OF THE INCREDIBLE STORY, INSPIRED BY THE FILM NOIR DETECTIVE GENRE. THE BAD LIEUTENANT SAGA IS A RICH WORLD OF CHARACTER AND STORY. BROUGHT TO LIFE BY AUTHOR ROBINJA AND ARTIST ARIETA. PREPARE FOR AN EROTIC STORY LIKE NO OTHER!
BROUGHT TO YOU ONLY BY THE DEDICATED TEAM AT DOFANTASY.COM!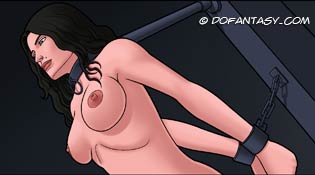 PREVIOUS CHAPTERS:
**** BUY THE PREVIOUS COMICS AND GET 10% DISCOUNT! ****
**** BUY THE THREE COMICS AND GET 10% DISCOUNT! ****