Use our On-Line 100% Secure EncryptedShopping Cart Ordering System. Simply browse
our site and Click the ADD TO SHOPPING CART buttons to place items in your Shopping Cart
[ HOME ] [ COMICS ] [ MOVIES ] [ NOVELS ] [ CD-ROM ] [ Order info ] [ Help ] [ ARTIST SITES ] [ SEARCH ]
[ Disclaimer ] [ CATALOGUE ] [ Copyright ]
FANSADOX COLLECTION 433
STAR TRAP - CAGRI
NEW IN PDF ELECTRONIC VERSION!
Adult Comic Album by CAGRI.
HIGH RESOLUTION PDF deluxe edition
40 color comic pages!!!
-COMPLETE, UNABRIDGED VERSION-
IN THE YEAR 2347, EARTH'S POPULATION HAS EXPLODED! CRIMINALS ARE EXILED TO SERVE AS GUINEA PIGS FOR HUMAN HABITABILITY ON THE OFFWORLDS WHICH MEANS THEY HAVE NOTHING TO LOSE…
A PRISON SHIP CARRYING DANGEROUS CARGO IS MANNED ONLY BY A HANDFUL OF WARDENS AND AN AUTOMATED ARMY. WHEN A PRISON RIOT SUCCEEDS, THE SHIP'S BEAUTIFUL, FEMALE WARDEN WILL SUFFER AS ONLY A WOMAN CAN!
IMPORTANT NOTICE - DISCLAIMER
All characters are 18 years old or older.
This is an entirely fictional work based on
cartoon characters for adult entertainment.
It shows no real people or events.
The characters are shown participating in
CONSENSUAL role-play for their own
personal satisfaction, simulating activities
which involve sexual dominance and
submission. No actual toons were harmed
in the making of this comic.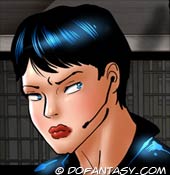 Warden Tanya is one of the most beautiful ball busters this side of the galactic quadrant, and she shows no mercy, especially to the thuggish pigs who were sardined aboard her prison ship! Bound for distant planets, the prisoners are as good as dead the moment they shuffled on board. Though ostensibly tasked with finding suitable worlds for human settlement, these brutes and low lifes are typically dumped on any planet that's not a complete hellhole, with some food and water and nothing else, and asked to stay alive… if it's even humanly possible!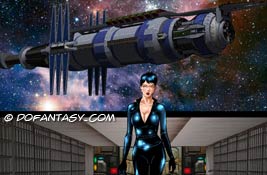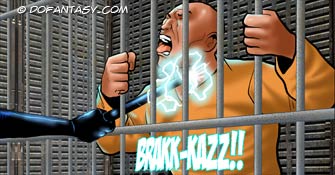 A handful of wardens serve as crew for the prison ship with the rest of the ship being automated and staffed by deadly robot guards. Warden Tanya, however, takes personal pleasure in humiliating and hurting her charges at even the slightest provocation. After all, they're dead meat anyway, and dead meat can't report any official misconduct…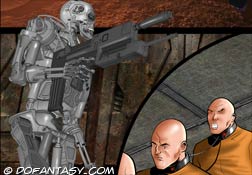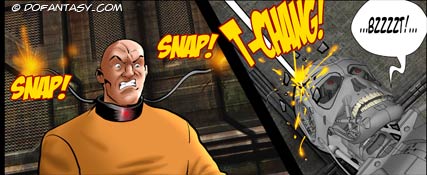 Unfortunately for Tanya, she's become too overconfident in her robot army. Emotionless machines can't anticipate what a man will do when his life is on the line. The prisoners riot and overthrow the automated guards which leaves the handful of wardens hopelessly outnumbered and outgunned.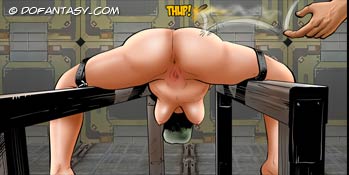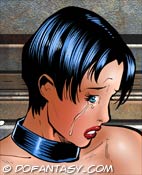 The arrogant ice queen Tanya will quickly learn that karma's a bitch! The guards take turns humiliating and degrading the poor girl, but that's not the worst in store for the porked princess.
In addition to the prisoners, alien life forms are kept in the deepest vaults of the ship, genetic horrors just waiting to be unleashed on a helpless and abusive female…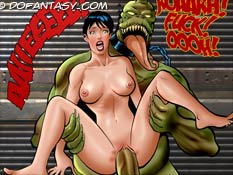 Tanya's body will suffer in ways that only a woman can… and worse… much worse!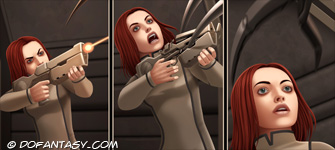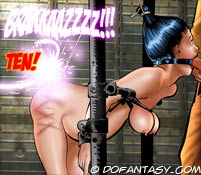 CAGRI COMES QUICK WITH A THRILLING, NEW ADVENTURE SET IN THE WILD FRONTIERS OF A FUTURISTIC SPACE OPERA! THIS PRISON SHIP IS FULL OF DARK AND GRITTY CONVICTS ACHING FOR REVENGE AGAINST THEIR ABUSIVE, FEMALE CAPTOR! WARDEN TANYA WILL DESCEND FROM DEVILISH DAMSEL TO ENSLAVED SLUT AS THE PRISONERS TAKE CONTROL OF THE SHIP! THINGS WILL END SHOCKINGLY FOR POOR TANYA WHEN THE PRISONERS HAVE THEIR WAY WITH HER, AND SHE'LL WISH SHE WAS DEAD BEFORE THE END…
YOU DON'T WANT TO MISS THIS AMAZING AND HOT, HOT, HOT ISSUE, BROUGHT TO YOU HERE EXCLUSIVELY AT DOFANTASY.COM!