Use our On-Line 100% Secure EncryptedShopping Cart Ordering System. Simply browse
our site and Click the ADD TO SHOPPING CART buttons to place items in your Shopping Cart
[ HOME ] [ COMICS ] [ MOVIES ] [ NOVELS ] [ CD-ROM ] [ Order info ] [ Help ] [ ARTIST SITES ] [ SEARCH ]
[ Disclaimer ] [ CATALOGUE ] [ Copyright ]
FANSADOX COLLECTION 434
SIEGE OF MESTA 2: BELOVED DAUGHTER - COMIXCHEF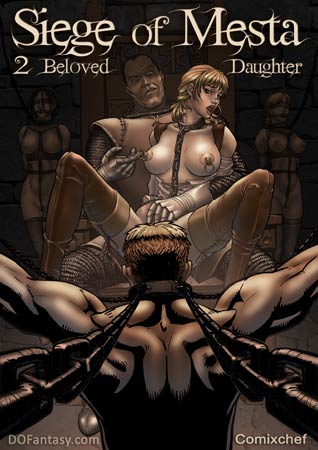 NEW IN PDF ELECTRONIC VERSION!
Adult Comic Album by COMISCHEF.
HIGH RESOLUTION PDF deluxe edition
49 full color comic pages!!!
-COMPLETE, UNABRIDGED VERSION-

THE GREAT CITY OF MESTA HAS FALLEN IN A SIEGE! NOW THE TRIUMPHANT INVADERS WILL HAVE THEIR WAY WITH THE CITY'S DEFENSELESS WOMEN!
EVERY WOMAN IN THE CITY IS ENSLAVED. EVEN PRINCESS DELIA, WHO ONCE FANCIED HERSELF A GREAT WARRIOR, IS QUICKLY BROKEN AND FORCED TO GROVEL NAKED AND SUCK THE COCK OF HER CAPTOR. BUT THE PRINCESS'S AGONY IS JUST BEGINNING. SOON SHE WILL SUFFER THE ULTIMATE HUMILIATRION, AND BE FORCED TO SEXUALLY PLEASURE HER OWN FATHER!




IMPORTANT NOTICE - DISCLAIMER
All characters are 18 years old or older.
This is an entirely fictional work based on
cartoon characters for adult entertainment.
It shows no real people or events.
The characters are shown participating in
CONSENSUAL role-play for their own
personal satisfaction, simulating activities
which involve sexual dominance and
submission. No actual toons were harmed
in the making of this comic.

The Middle Ages were a time of extreme cruelty and barbarism. The strong oppressed the weak and took whatever they wanted. Women struggled under the cruel yoke of merciless men who held absolute power over them. In these awful times, the one ray of hope to shine upon the world was the city of Mesta. The great enlightened city was the one place on earth where women enjoyed equal status to men. The kind and benevolent Lord Timoty Edgeworth ruled Mesta for the good of all, and he shocked the world by declaring that his daughter Delia would rule after he. But this noble dream is not to be...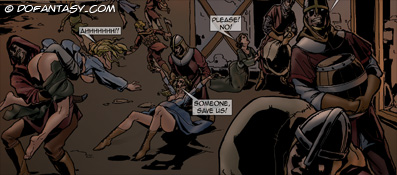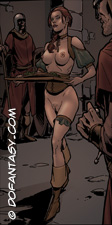 In Part One of our story, the evil Lord Fredrick laid siege to Mesta. He captured Princess Delia and cruelly exploited Lord Edgeworth's love for his daughter to force him to surrender the city. Now, in part Two, Lord Fredrick will unleash the full might of cruel imagination on his prisoners. The entire city will suffer for resisting him. All the women of the city will be enslaved. Mesta's men will quickly learn the joys of oppressing their women, and the dream of enlightened equality will be snuffed out for the next 1000 years.

No one will suffer more than Lord Edgeworth and his daughter. Lord Frederick has his rival tied naked in his own hall, and forced to watch his enemies' victory feast. Edgeworth's wife and his entire family quickly submit to their new masters, and they hold a wild orgy. The victorious soldiers fuck Edgeworth's wife, and the other women of this city, right before his eyes. All the while, Lord Frederick sits triumphant, as Princess Delia sucks his cock, in plain view of her father.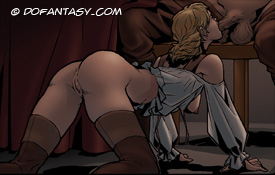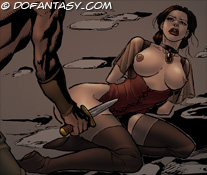 But even this is not enough for the cruel Lord Frederick. He declares that for the enjoyment of this army, and of the people of Mesta, Princess Delia will perform for them. She will suck her own father's cock, until he is hard, and then she will look him in the eyes and fuck him, until he cums inside her. Hundreds of men and women hoot and holler as they witness the ultimate shame of Lord Edgeworth and Princess Delia. And the people cheer as the dream that was Mesta truly dies.