Use our On-Line 100% Secure EncryptedShopping Cart Ordering System. Simply browse
our site and Click the ADD TO SHOPPING CART buttons to place items in your Shopping Cart
[ HOME ] [ COMICS ] [ MOVIES ] [ NOVELS ] [ CD-ROM ] [ Order info ] [ Help ] [ ARTIST SITES ] [ SEARCH ]
[ Disclaimer ] [ CATALOGUE ] [ Copyright ]
FANSADOX COLLECTION 438
SLAVE FAIR YEAR 3 - ERENISCH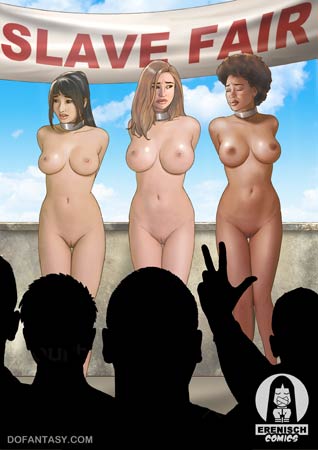 NEW IN PDF ELECTRONIC VERSION!
Adult Comic Album by ERENISCH.
HIGH RESOLUTION PDF deluxe edition
43 full color comic pages!!!
-COMPLETE, UNABRIDGED VERSION-

JOURNEY TO THE ICONIC FUTURE WHERE WOMEN HAVE BEEN STRIPPED OF ALL RIGHTS AND TURNED INTO OBEDIENT SEXTOYS!

THIS FASCINATING ALTERNATE UNIVERSE CONTINUES TO GROW IN THIS EXPLOSIVE NEW ISSUE, BROUGHT TO LIFE BY THE IMAGINATION OF ERENISCH!!!!­


IMPORTANT NOTICE - DISCLAIMER
All characters are 18 years old or older.
This is an entirely fictional work based on
cartoon characters for adult entertainment.
It shows no real people or events.
The characters are shown participating in
CONSENSUAL role-play for their own
personal satisfaction, simulating activities
which involve sexual dominance and
submission. No actual toons were harmed
in the making of this comic.

WHAT IF WOMEN HAD NO LEGAL RIGHTS?

The year is 2038… Many countries have passed the 'Compulsory Female Slavery Law' and legalized the sexual use and trade of nubile women over 18 years of age. When a girl reaches the age of legal enslavement, she can be bought and sold, hired and whored, and used in every imaginable way…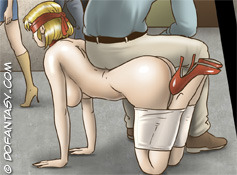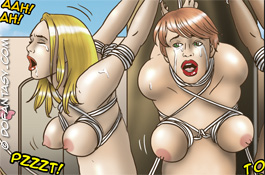 Artist/writer Erenisch has spent years creating and expanding a complex imaginary universe, in which these stories are set. After nearly a decade and over 30 different issues, the Erenischverse has grown into one of the most detailed and fascinating achievements in BDSM fiction. It now supports an entire online community, with fan fiction and an "expanded universe."

This issue features a "stand alone" story, and will be a good first issue for new readers. But long-time fans will still enjoy cameos from their favorite characters as well.

__________________

THE SLAVE FAIR IS COMING BACK TO TOWN

In Slave Fair 3, Erenisch's vivid imagination is on full display. Try to imagine a country where female slavery has been legal for nearly 2 decades. Slave girls have become the new normal. Every day, new businesses spring up to take advantage of the slave economy. What might those businesses look like?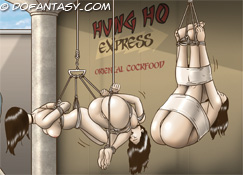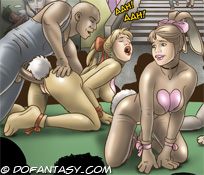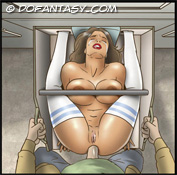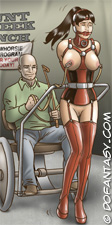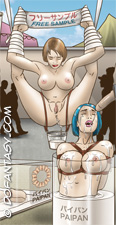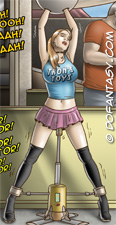 What would a restaurant look like, in a world full of sexy slavegirls? How about a slavegirl religion? Or a haunted house?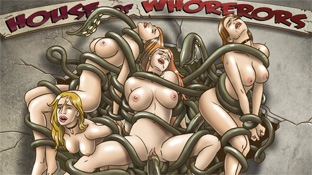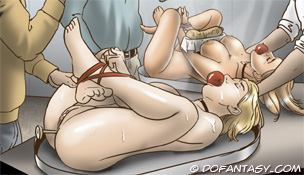 What would you do, if you had the ability to create a multi-themed fair attraction and fill it with enslaved female flesh? From fantasies about alien abductions, to a zombie apocalypse, to animatronic dinosaurs that eat girls just as they are being fucked… any fantasy can be acted out and played through at the Slave Fair.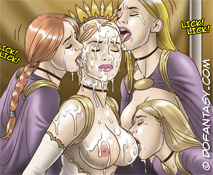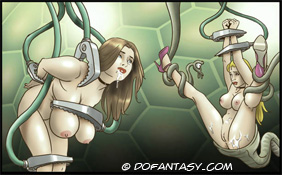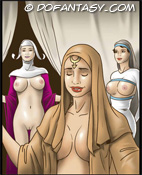 __________________
VISIT A FANTASY WORLD THAT WILL STAGGER YOU WITH IT'S SCALE
Erenisch comics have repeatedly redefined what BDSM comics are capable of. Fans of the series enjoy the high quality art depicting beautiful naked women, with complex facial expressions and fans also enjoy the stories that feature complex characters with realistic personalities.
This issue features literally hundreds of different women being enslaved and abused, getting permanent body modifications, and being reduced to entertainment for men and free women. This is enslavement of women at a cultural level.

ERENISCH COMICS HAVE BECOME FAMOUS FOR BOTH THEIR INTENSITY AND THEIR CREATIVITY. THE "SLAVE FAIR" SERIES FOCUSES ESPECIALLY ON INVENTING NEW WAYS TO TAKE ADVANTAGE OF A SLAVE-GIRL SOCIETY.
IMMERSE YOURSELF IN THE FANTASY, AND FEEL WHAT IT'S LIKE TO LIVE IN A WORLD WHERE EVERY GIRL YOU SEE IS YOURS FOR THE TAKING…
VISIT
ERENISCH SITE
FOR A COMPLETE LIST OF ERENISCH COMICS AND OFFERS
VISIT