Use our On-Line 100% Secure Encrypted Shopping Cart Ordering System. Simply browse
our site and Click the ADD TO SHOPPING CART buttons to place items in your Shopping Cart
[ HOME ] [ COMICS ] [ MOVIES ] [ NOVELS ] [ CD-ROM ] [ Order info ] [ Help ] [ ARTIST SITES ] [ SEARCH ]
[ Disclaimer ] [ CATALOGUE ] [ Copyright ]
FANSADOX COLLECTION 441
A TALE OF CHINESE SLAVERY part 3: FINAL EXAM - CELESTIN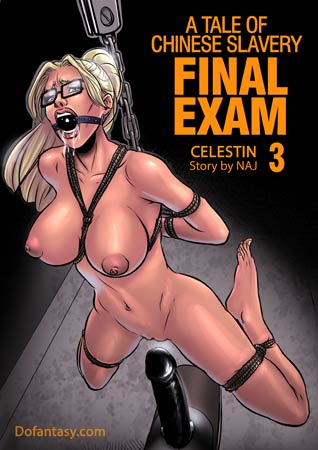 NEW IN PDF ELECTRONIC VERSION!
Adult Comic Album by CELESTIN. Story by NAJ
HIGH RESOLUTION PDF deluxe edition
40 full color comic pages!
-COMPLETE, UNABRIDGED VERSION-

STUPID HANNAH MASTERSON MADE A BIG MISTAKE BY DEFYING HER MISTRESS! SHE WILL PAY WITH HER BODY, HER HOLES, AND MUCH, MUCH MORE!
A WOMAN'S WRATH KNOWS NO BOUNDS WHEN CHYOU GETS THE UPPER HAND! COULD THIS BE HANNAH'S FINAL ACT? FIND OUT IN THIS FINAL, EXPLOSIVE ISSUE OF "A TALE OF CHINESE SLAVERY"!
IMPORTANT NOTICE - DISCLAIMER
All characters are 18 years old or older.
This is an entirely fictional work based on
cartoon characters for adult entertainment.
It shows no real people or events.
The characters are shown participating in
CONSENSUAL role-play for their own
personal satisfaction, simulating activities
which involve sexual dominance and
submission. No actual toons were harmed
in the making of this comic.
The Story so Far...
Hannah was a bright, young girl with her whole future ahead of her. An incorrigible bookworm, her sorority sisters attempt to break mousey Hannah out of her shell by inviting her to a coed party held in the sorority basement. Hannah agrees… but maybe she shouldn't have…
One minute, she's talking with a handsome, young, foreign exchange student… then the next thing she knows, she's a bound, gagged, and helpless sex slave!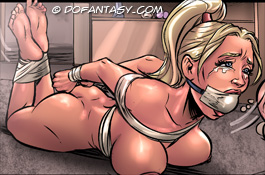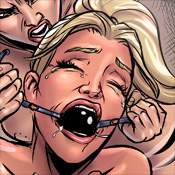 Her new mistress is Chyou, an arrogant, Chinese bitch living in a luxurious penthouse suite in downtown Shanghai. Chyou always wanted a pretty, white, fat-titted "cow" to play with… and Hannah is her newest, unlucky fuckslut! Hannah gets to learn a new lesson now: how to obey her sadistic, lesbian mistress under threat of extreme PAIN!
Thus begins Hannah's slow, humiliating descent from college honor student to the lowest of the low: a piece of fuckmeat to be used and abused however her cruel and sadistic mistress sees fit. Sheltered Hannah will see all kinds of horrifying sights in the dark underbelly of Shanghai… whether she wants to or not…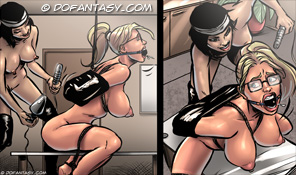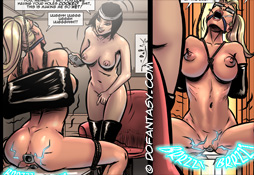 Hannah is used most cruelly and severely by her mistress until she finally can take no more…

In This Comic…

Hannah's little rebellion has been put down, but that's hardly the end of the story. They say history is written by the victors, and that's never been more true than it is today. Hannah is quickly subdued. It is only then that her true punishment can begin. It's only now that Hannah will know the real meaning of suffering…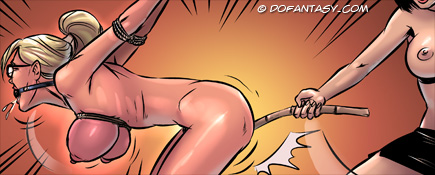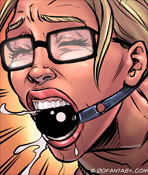 Little Hannah Meimei will suffer as only a woman can when Chyou's full wrath is unleashed. Hannah will regret her insubordination. She will suffer hard, extreme, and perverse punishments that she could never even imagine. Hannah will struggle, Hannah will suffer, and Hannah will scream. She will regret everything, and she will obey before the end.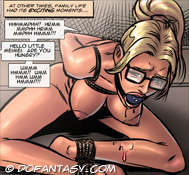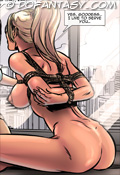 But even then, Hannah has a little performance she must do if she wishes to keep her head. Keep on your toes, "Lady Liberty"... China is watching!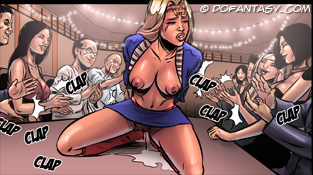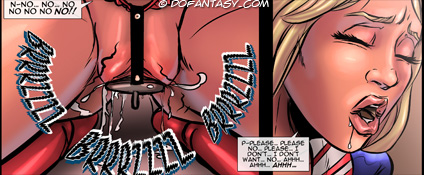 CELESTIN HAS CRAFTED THE MOST EXCITING CLIMAX IMAGINABLE TO THE TALE OF CHINESE SLAVERY SERIES! THIS EXPLOSIVE, GRAND FINALE IS OUR MOST SHOCKING AND EXTREME COMIC TO DATE! WILL HANNAH ESCAPE HER FATE, OR IS THIS HER FINAL CURTAIN CALL? YOU DON'T WANT TO MISS THIS EPIC CONCLUSION TO THE TALE OF CHINESE SLAVERY SERIES, BROUGHT TO YOU HERE ONLY AT DOFANTASY.COM!