Use our On-Line 100% Secure EncryptedShopping Cart Ordering System. Simply browse
our site and Click the ADD TO SHOPPING CART buttons to place items in your Shopping Cart
[ HOME ] [ COMICS ] [ MOVIES ] [ NOVELS ] [ CD-ROM ] [ Order info ] [ Help ] [ ARTIST SITES ] [ SEARCH ]
[ Disclaimer ] [ CATALOGUE ] [ Copyright ]
FANSADOX COLLECTION 447
BAD MAX - CAGRI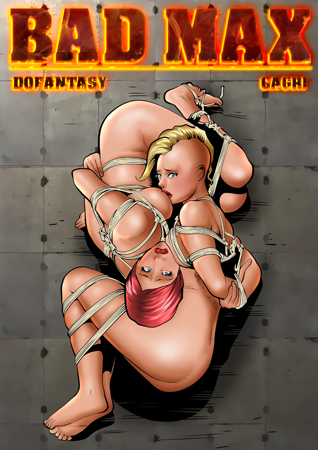 NEW IN PDF ELECTRONIC VERSION!
Adult Comic Album by CAGRI.
HIGH RESOLUTION PDF deluxe edition
40 color comic pages!!!
-COMPLETE, UNABRIDGED VERSION-
IN THE YEAR 2158, THE WATER WARS HAVE DEVASTATED THE WORLD. A PAIR OF GIRLS ARE CAUGHT ROBBING A WARLORD OF HIS WATER, AND THEY WILL PAY WITH THEIR BODIES AS ONLY WOMEN CAN!
CAGRI BRINGS FORTH AN AFFECTIONATE PARODY OF AN APOCALYPTIC HORROR IN THIS SICK AND TWISTED NEW ISSUE OF FEMALE BONDAGE AND ENSLAVEMENT!

IMPORTANT NOTICE - DISCLAIMER
All characters are 18 years old or older.
This is an entirely fictional work based on
cartoon characters for adult entertainment.
It shows no real people or events.
The characters are shown participating in
CONSENSUAL role-play for their own
personal satisfaction, simulating activities
which involve sexual dominance and
submission. No actual toons were harmed
in the making of this comic.

Their world is fire and blood. The year is 2158, and the Water Wars have wrecked the globe. In this wasteland, two girls are the ones who run from both the living and the dead. Hazel and Amber are reduced to a single instinct: to survive. These girls try to take some precious water for themselves and find out that they are on the wrong side of the local powers that be. Hazel and Amber try to escape. They try to run from their fate, but things go wrong, terribly wrong terribly, terribly quickly.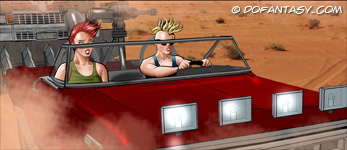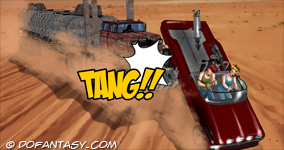 Soon, Hazel and Amber find themselves in the hands of a new and terrifying power, a warlord of epic proportions and cruel tastes, and he wants to get revenge on these saucy sluts for trying to steal what's rightfully his!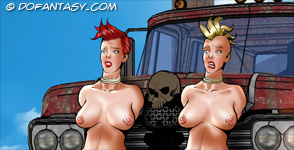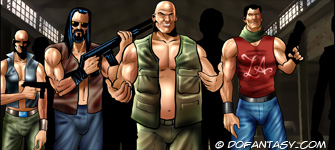 Soon they become his property, and they're taught what happens to thieving girls. They are taught what happens to female meat that attempts to run away. They are owned, and they are disciplined. They are not forgiven for their crimes, and to pay for those crimes, they must pay… with their bodies! In a world without hope, without law, and without mercy, they must do as they are told if they wish to see another sunrise.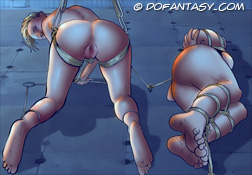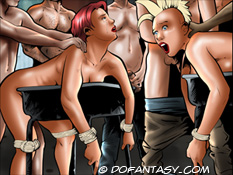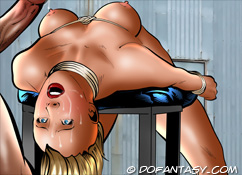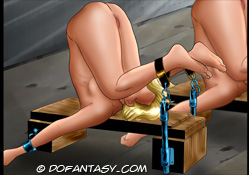 CAGRI WOWS AS ALWAYS WITH THIS AMAZING AND EXCITING NEW ISSUE! JAM PACKED WITH CRUELTY, SADISM, AND BRUTALITY, THIS SHOCKING COMIC IS GUARANTEED TO KNOCK YOUR SOCKS OFF! THINGS GET WORSE AND WORSE FOR THIS HELPLESS PAIR OF FEMALE SLAVES AS THEY'RE USED AGAIN AND AGAIN UNTIL THEY CAN'T TAKE IT ANY MORE! AND YOU WON'T WANT TO MISS THE EXCITING CONCLUSION, AS THESE FERTILE FEMALES SUFFER THE ULTIMATE HUMILIATION!
OH WHAT A DAY, WHAT A LOVELY DAY FOR A NEW CAGRI COMIC, BROUGHT TO YOU EXCLUSIVELY AT DOFANTASY.COM!