Use our On-Line 100% Secure EncryptedShopping Cart Ordering System. Simply browse
our site and Click the ADD TO SHOPPING CART buttons to place items in your Shopping Cart
[ HOME ] [ COMICS ] [ MOVIES ] [ NOVELS ] [ CD-ROM ] [ Order info ] [ Help ] [ ARTIST SITES ] [ SEARCH ]
[ Disclaimer ] [ CATALOGUE ] [ Copyright ]
FANSADOX COLLECTION 449
ENSLAVED WITHOUT A CAUSE 3 by SLASHER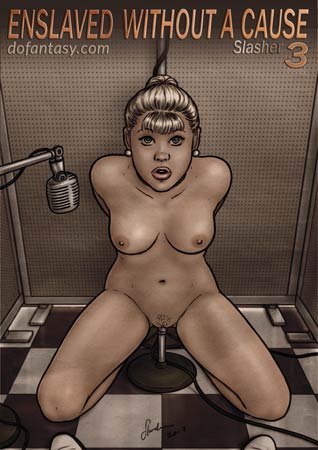 NEW IN PDF ELECTRONIC VERSION!
Adult Comic Album by SLASHER.

HIGH RESOLUTION PDF deluxe edition
46 full color comic pages!!!
-COMPLETE, UNABRIDGED VERSION-

SANDY'S WILD RIDE HAS ONLY JUST STARTED! IN THIS SLEEPY SUBURBS SET IN THE FIFTIES, YOU'D NEVER IMAGINE THE PERVERTED, SEXUAL HORRORS THAT COULD HAPPEN TO YOUNG, PRETTY GIRLS!


THINGS ARE ALREADY BAD WHEN THE "DOGCATCHER" STARTS DISCIPLINING HIS NEWEST "STRAYS," BUT THINGS GET EVEN WORSE WHEN A MYSTERIOUS COLONEL COMES TO TOWN, LOOKING TO BUY SOMETHING YOUNG AND EXCITING!

IMPORTANT NOTICE - DISCLAIMER
All characters are 18 years old or older.
This is an entirely fictional work based on
cartoon characters for adult entertainment.
It shows no real people or events.
The characters are shown participating in
CONSENSUAL role-play for their own
personal satisfaction, simulating activities
which involve sexual dominance and
submission. No actual toons were harmed
in the making of this comic.

THE STORY SO FAR:

Sandy was the luckiest girl in the world. She'd just turned 18, and Jonathan, the dreamy captain of the football team had just asked her out to the high school sock hop! Life couldn't get any better. He was the boss, a perfect gentleman and not the kind of screwed up perv all her friends insisted he was. He was so handsome that he couldn't be anything but perfect... right?

Unfortunately for Sandy, dating Jonathan turned out to be the biggest mistake of her life. When she and Jonathan are jumped by a gang of greasers, Sandy finds herself caught in a terrifying world of excruciating bondage and sexual servitude that she could have never imagined existed! Hidden beneath the sunshine suburbs of 1950s America lurks a dark lust for fresh cunt meat, and Sandy is the latest entrée on the menu!

IN THIS COMIC:

Sandy's enslavement has come full circle as she finds herself back in the awful clutches of Harry, the "Dogcatcher" of the town. A slave's day is full of fear and dread: punishment, abuse, and sexual servitude are the norms. A girl must expect to be beaten, to be hurt, and used like the piece of female meat she is. But there is a worse punishment for slavegirls: the punishment of trying to escape!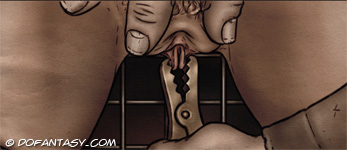 Sandy's life has reached a new low as Harry the Dogcatcher metes out only the cruelest and most wicked of punishments. Sandy's very life is on the line as the furious brute prepares to COOK his meat!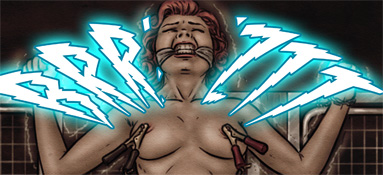 Only a last minute phone call saves Sandy. It's from a high level buyer, a mysterious man, who is willing to pay top dollar for the prettiest cocksucker in Harry's kennel.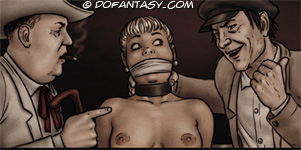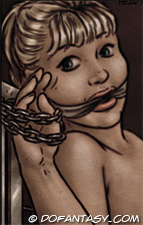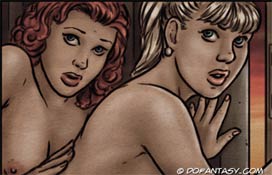 When that phone call comes around, a cascading series of disasters befalls the poor blonde babe and her kennel companion. Fast cars, proud boys, corrupt policemen, and worse abound as the poor girls try to escape their fate… and fail…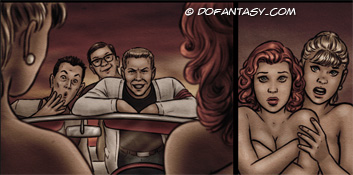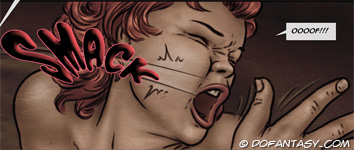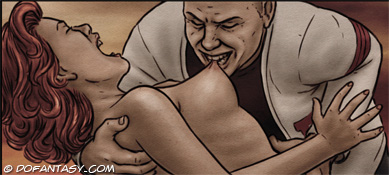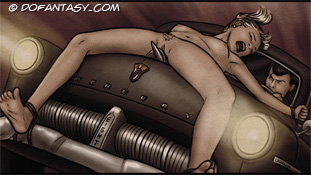 But that's just the start of Sandy's worst nightmares. That big buyer wants the goods, and Sandy will serve… whether she wants to or not!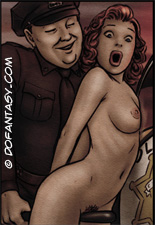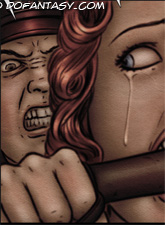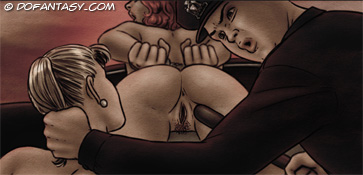 SLASHER STUNS IN THIS SHOCKING RETURN TO THE BRUTAL SADISM OF THE FIFTIES! SLUT GIRL SANDY WILL SUFFER AS ONLY A GIRL CAN AS DARK AND EVIL MEN CLOSE IN ALL AROUND HER AND FORCE HER TO DO UNSPEAKABLE AND UNBELIEVABLE THINGS! THIS RICH TABLEAU OF FEMALE TORMENT IS THE LATEST AND GREATEST OF SLASHER'S STUFF! THE FUN HAS ONLY JUST BEGUN IN THIS LATEST INSTALLMENT TO THE "ENSLAVED WITHOUT A CAUSE" SERIES!

YOU DON'T WANT TO MISS THIS AMAZING ADVENTURE, BROUGHT TO YOU HERE EXCLUSIVELY AT DOFANTASY.COM!
YOU DON'T WANT TO MISS THIS!