Use our On-Line 100% Secure EncryptedShopping Cart Ordering System. Simply browse
our site and Click the ADD TO SHOPPING CART buttons to place items in your Shopping Cart
[ Disclaimer ] [ CATALOGUE ] [ Copyright ]
FANSADOX COLLECTION 457
WELCOME TO MUDWATER HIGH #2 - SLASHER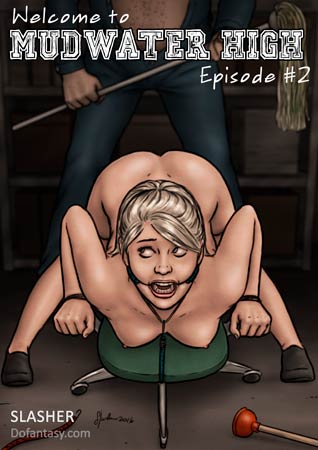 NEW IN PDF ELECTRONIC VERSION!
Adult Comic Album by SLASHER.
HIGH RESOLUTION PDF deluxe edition
24 full color comic pages!!!
-COMPLETE, UNABRIDGED VERSION-

BEAUTIFUL, BLONDE MEGYN FOXWOOD GETS CLEANED OUT WHEN SHE STUMBLES ACROSS THE SADISTIC CUSTODIAN OF MUDWATER HIGH!

MEGYN'S PAIN THRESHOLD AND YOUNG, SUPPLE BODY WILL BE TESTED TO THEIR LIMITS WHEN THIS ENORMOUS BRUTE HAS HIS WAY WITH HER AND HER TIGHT, PRETTY HOLES!!



IMPORTANT NOTICE - DISCLAIMER
All characters are 18 years old or older.
This is an entirely fictional work based on
cartoon characters for adult entertainment.
It shows no real people or events.
The characters are shown participating in
CONSENSUAL role-play for their own
personal satisfaction, simulating activities
which involve sexual dominance and
submission. No actual toons were harmed
in the making of this comic.

Megyn Foxwood has transferred to the distant school of Mudwater High and found to her dismay that the labyrinthine school is no safe haven for pretty, young girls like her. Even though she tried to escape from the horrors of her old school, new ones have found her here instead. The old principal, Principal Payne, was a major pervert, but Megyn got away with her life intact after the strict disciplinarian laid down the rules on her tender and tight backside!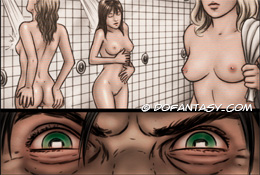 But that was just the start of Megyn's pains as she heads down into the bowels of the school to get her locker keys. There, she will find even more terrifying horrors than she had thought could possibly exist. Here in the isolated shadows of the school cellar, nobody will hear her scream, let alone save her from the ogrish custodian, ALVIN SIMMONS!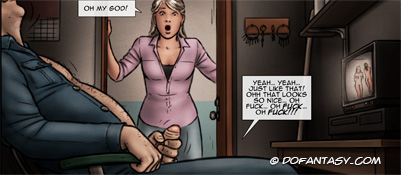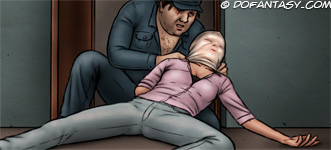 After all, this school was built in the 50s to withstand the full might of a nuclear war. There's no way a screaming, helplessly bound female will ever be heard, and Alvin has all night to "play" with his new "toy."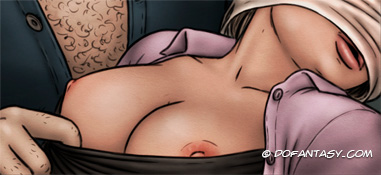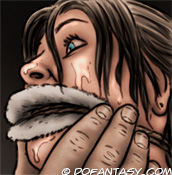 Good night, little Megyn… sweet dreams!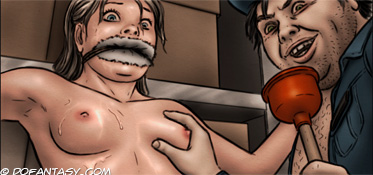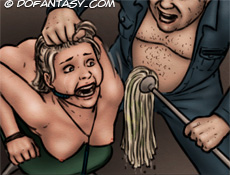 SLASHER'S MENAGERIE OF PAIN AND HUMILIATION KNOWS NO LIMITS AS HE PUSHES THE BOUNDARIES OF DECENCY AND SANITY IN THIS LATEST, THRILLING CHAPTER OF THE MUDWATER HIGH SERIES! LITTLE MISS MEGYN WILL BE BEFOULED AND DEFILED IN WAYS THAT ONLY A CUSTODIAN COULD COMPREHEND! HER CLOTHES WILL BE DIRTIED… THEN HER PANTIES… THEN HER PUSSY AS SHE'S TAKEN OVER AND OVER AGAIN AND VIOLATED UNTIL SHE'S LEFT SORE AND SCREAMING! THIS IS JUST THE BEGINNING OF THIS SHOCKING TALE, AND YOU WON'T WANT TO MISS THIS EXCITING, NEXT CHAPTER, BROUGHT TO YOU HERE EXCLUSIVELY AT DOFANTASY.COM!
AND DON'T FORGET TO CATCH THE AMAZING FIRST EPISODE, SO YOU CAN GET CAUGHT UP ON ALL THE ACTION!