Use our On-Line 100% Secure EncryptedShopping Cart Ordering System. Simply browse
our site and Click the ADD TO SHOPPING CART buttons to place items in your Shopping Cart
[ HOME ] [ COMICS ] [ MOVIES ] [ NOVELS ] [ CD-ROM ] [ Order info ] [ Help ] [ ARTIST SITES ] [ SEARCH ]
[ Disclaimer ] [ CATALOGUE ] [ Copyright ]
FANSADOX COLLECTION 45
FAMILY TOY - TEMPLETON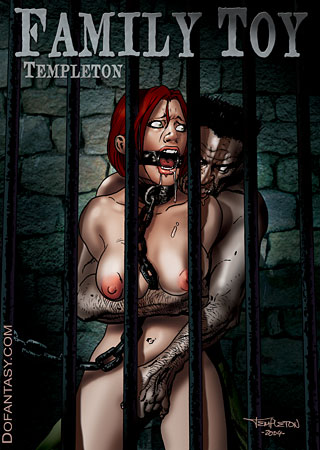 FAMILY TOY
NEW IN PDF ELECTRONIC VERSION!
Adult Comic Album by TEMPLETON
HIGH RESOLUTION PDF deluxe edition
46 full comic pages by TEMPLETON
-COMPLETE, UNABRIDGED VERSION-
46 FULL-COLOR,
ACTION-PACKED PAGES!
IMPORTANT NOTICE:
All characters are 18 years old or older.
All action is simulated and involves
no real people.
The authors/publishers do not condone
violence of any kind.
These are completely fictional comics
for adult entertainment.
Helen shared a flat with Ed. They were just flat-mates. True, they'd been to bed together once, but that was all.
Ed died suddenly and none of his family came to the funeral, so Helen decided to take his things to his mother.
It was a decision she was to regret.
The mother lived in a remote country district in a ramshackle house that seemed to have drifted off a horror film set. Helen met Ed's mother and found her uneducated, dirty and rude. She left Ed's things and tried to leave immediately, but her car wouldn't start.
Helen had no choice. She had to spend the night in the house...
The night was hot and Helen slept naked on the bed. Suddenly she heard a grunting noise and woke up to find Nick, Ed's massive brother, sitting on the floor half-naked, looking at her. He had an obscene grin on his idiot face...
She tried to escape by diving into a lake, but he followed in a small boat and captured her. He took her back home and put her in chains in an iron cage in his cellar.
It was the beginning of a nightmare for Helen.
These people were off their heads! The mother considered Helen her daughter-in-law. She was family. She belonged to them. If Ed was dead, the city girl would be Nick's bride.
Helen was soon to realise that she had fallen into the hands of two psychos. Her body, her soul, her life were at their entire disposal...
The sinister, frightening iron cage in the basement...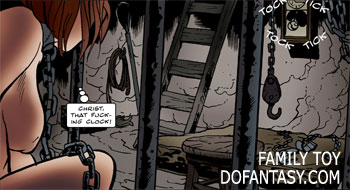 The desperate pleas and the first time together. Mom doesn't know...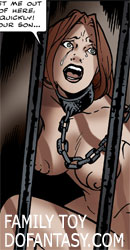 The engagement party...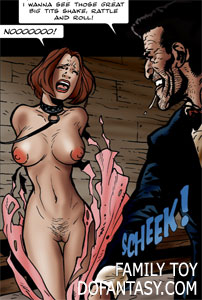 Mom is there too...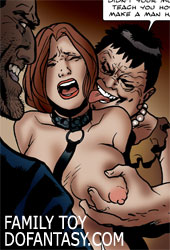 A most loving party...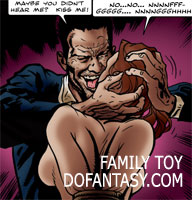 Mother-in-law teaches daughter-in-law about her son's likes and dislikes...

Mother-in-law and daughter-in-law get acquainted together...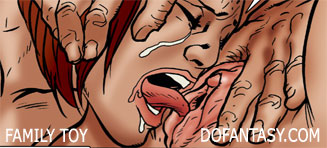 Witness Helen's new life locked in the basement of her new family...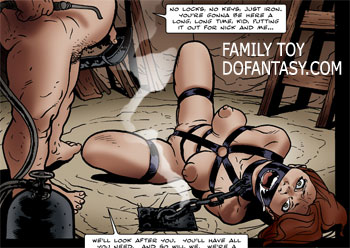 FAMILY TOY
This is the highest quality artwork for a great story.
The very stuff of fantasy...
VISIT TEMPLETON SITE FOR A COMPLETE LIST
OF TEMPLETON COMICS AND OFFERS