Use our On-Line 100% Secure EncryptedShopping Cart Ordering System. Simply browse
our site and Click the ADD TO SHOPPING CART buttons to place items in your Shopping Cart
[ HOME ] [ COMICS ] [ MOVIES ] [ NOVELS ] [ CD-ROM ] [ Order info ] [ Help ] [ ARTIST SITES ] [ SEARCH ]
[ Disclaimer ] [ CATALOGUE ] [ Copyright ]
FANSADOX COLLECTION 464
CLASSMATES 1: WET DREAM - KITTY HAND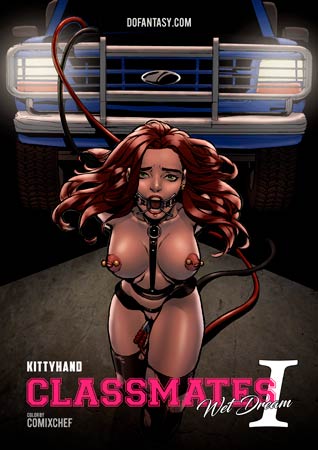 NEW IN PDF ELECTRONIC VERSION!
Adult Comic Album by KITTY HAND.
HIGH RESOLUTION PDF deluxe edition
49 full color comic pages!!!
-COMPLETE, UNABRIDGED VERSION-

THIS NERDIMUS MAXIMUS HITS IT BIG WHEN HE WINS THE LOTTERY. HE'LL FINALLY GET THE REDHEAD, HIGH SCHOOL HOTTIE, BUT NOT QUITE IN THE WAY HE WANTED…

LOSER LEONARD'S LIFE FINALLY TURNS AROUND! BUT THE LOTTERY HAS A WAY OF LEVELING THE PLAYING FIELD, AS LEONARD WILL FIND OUT… THE HARD WAY…





IMPORTANT NOTICE - DISCLAIMER
All characters are 18 years old or older.
This is an entirely fictional work based on
cartoon characters for adult entertainment.
It shows no real people or events.
The characters are shown participating in
CONSENSUAL role-play for their own
personal satisfaction, simulating activities
which involve sexual dominance and
submission. No actual toons were harmed
in the making of this comic.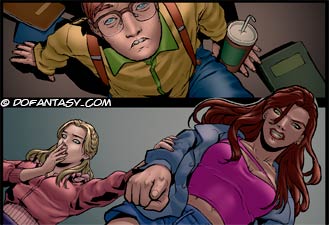 Leonard was just an ordinary kid in high school… an ordinary NERD kid that is. Jane Cosgrove was the beauty teen queen of the scene, and she wasn't about to hang out with a nervous nerd like "loser" Leonard. Quickly brushed aside and humiliated, Leonard watches as this naughty hottie passes him by. Life has a way of passing all of us by, and before long, Leonard finds himself on the wrong side of graduation, slumming it up in cramped quarters, working for pennies, and humiliating himself at the local burger bar. Still, he dreams of the girls from his bygone life, like pretty angelic Claire, a blonde beauty and hanger on who Leonard could never meet… not without Jane Cosgrove getting in the way… Life seems like a constant, downward spiral of humiliation and disappointment. He's trapped in this loser life.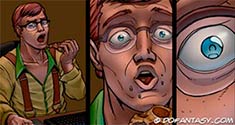 But all that changes when Leonard gets the winning lottery ticket! Quick to show the world just how much of a "loser" he isn't, Leonard rubs it in the face of all those who tried to make fun of him. Flashy cars, quick girls, and skyscraper hotels become Leonard's life, until he runs into an old friend that can promise him the thing he's "always wanted": Jane Cosgrove.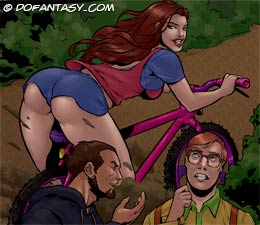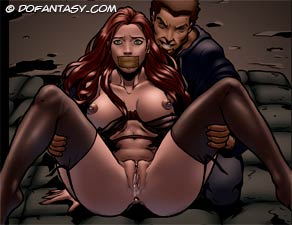 Unfortunately for Leonard, this "old friend" has gotten into even worse trouble than Leonard has. If Leonard thought it was hard being a retail drone in the poor zone, that's nothing compared to the criminal scene in this town. They'll break legs, break lives, and more. This "old friend" will get Jane Cosgrove alright…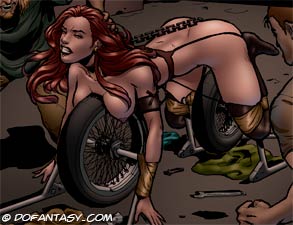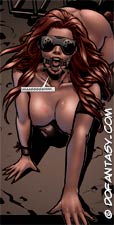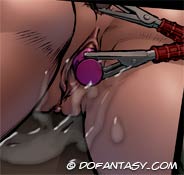 But Leonard didn't want her this way. Not like this…

KITTY HAND RETURNS WITH ANOTHER AMAZING ADVENTURE OF A GOOD LIFE GONE WRONG! THIS GOLDEN TICKET TURNS SOUR SUPER QUICK AS LEONARD LEARNS WHAT THE REAL WORLD IS LIKE! SHOCK AND HORROR FOLLOW IN THE LOTTERY'S WAKE AS LEONARD'S DREAM GIRLS ARE CAUGHT AND CAPTURED BY THE CRIMINAL CONVICTS IN THIS SEEDY SIDE OF TOWN! THINGS GET BAD, REAL BAD, AND WE HAVEN'T EVEN HIT ROCK BOTTOM YET! BUT WE MIGHT SOON… REAL SOON!
YOU DON'T WANT TO MISS THIS EPIC EXTRAVAGANZA, BROUGHT TO YOU HERE EXCLUSIVELY AT DOFANTASY.COM!