Use our On-Line 100% Secure EncryptedShopping Cart Ordering System. Simply browse
our site and Click the ADD TO SHOPPING CART buttons to place items in your Shopping Cart
[ HOME ] [ COMICS ] [ MOVIES ] [ NOVELS ] [ CD-ROM ] [ Order info ] [ Help ] [ ARTIST SITES ] [ SEARCH ]
[ Disclaimer ] [ CATALOGUE ] [ Copyright ]
FANSADOX COLLECTION 470
THE GAME - ERENISCH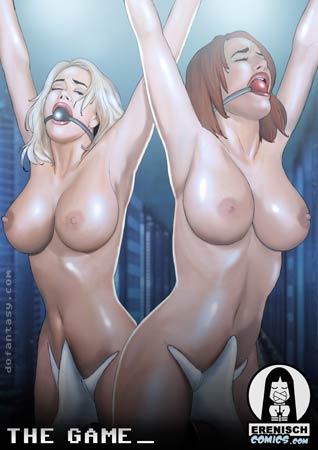 NEW IN PDF ELECTRONIC VERSION!
Adult Comic Album by ERENISCH.
HIGH RESOLUTION PDF deluxe edition
44- full color comic pages!!!
-COMPLETE, UNABRIDGED VERSION-

­JOURNEY TO THE ICONIC FUTURE WHERE WOMEN HAVE BEEN LEGALLY STRIPPED OF ALL RIGHTS AND TURNED INTO OBEDIENT SEXTOYS!

THE ERENISCHVERSE HAS GROWN INTO THE MOST COMPLEX EROTIC FANTASY WORLD EVER CREATED! COME EXPERIENCE THIS UNIQUE PHENOMENON!!!!­





IMPORTANT NOTICE - DISCLAIMER
All characters are 18 years old or older.
This is an entirely fictional work based on
cartoon characters for adult entertainment.
It shows no real people or events.
The characters are shown participating in
CONSENSUAL role-play for their own
personal satisfaction, simulating activities
which involve sexual dominance and
submission. No actual toons were harmed
in the making of this comic.




WHO DECIDES WHAT'S RIGHT AND WHAT'S WRONG?

In the near future, many countries have passed the 'Compulsory Female Slavery Law' and legalized the sexual use and trade of women over 18 years of age. When a girl reaches the age of legal enslavement, she can be bought and sold, hired and whored, and used in every imaginable way…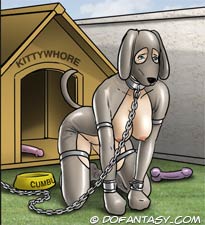 As more men and women grow up seeing female slavery as "normal," men and women's entire sense of right and wrong have changed to fit the new rules of society. Professional therapists are hired to "rehabilitate" women who don't conform to their definition of what a "good woman" is. A woman's closest male relative can have her committed, against her will, to professional facilities where she is raped and tortured, mentally and physically, until she breaks and accepts her "natural" place in life.
Imagine if you were told that women should all be obedient sex slaves. Imagine if you were told that same thing from your parents, TV shows, teachers, doctors, friends and psychiatrists. Imagine they all told you that a "good woman" was a submissive, slutty slave. Would you believe them?
WHO DECIDES WHAT IT MEANS TO BE A "GOOD MAN" OR A "GOOD WOMAN?"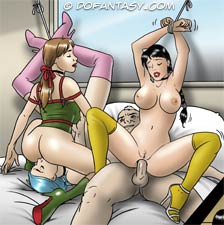 For Sherry Slutkitten, it has been a long journey. Once she was a rebellious high school girl, but now she is a married wife-slave. Her husband, Paul, has many other slaves, but Sherry has become his favorite and she plans to stay that way.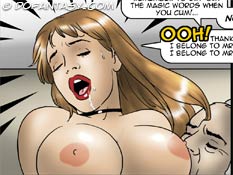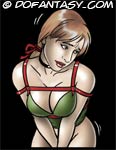 Where once Sherry was rebellious, and resentful of the men who owned her, now Sherry is resentful of the rival slave-girls in her harem. All she cares about is playing the "game" of being a slave in a harem, and making sure her master doesn't get too interested in any of the other cunts he owns.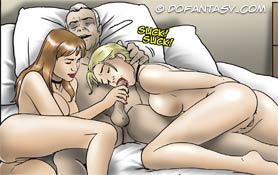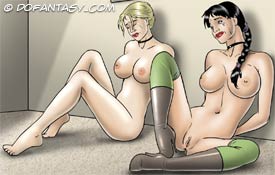 But Sherry is in for a surprise; the newest women to enter her husband's home are Sherry's own mother and sister! But Paul hasn't enslaved them yet. What game is he playing?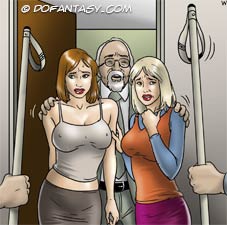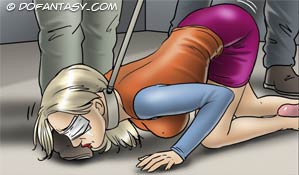 WHO WRITES THE RULES THAT YOUR SOCIETY FOLLOWS?
Erenisch comics have become the standard that erotic comics are compared to. The detailed artwork makes full use of body language and facial expressions, to make the slave-girls feel like real women that you can imagine actually knowing. And the characters and stories are famously complex, as if they were all real girls, who just happened born in a future time, when the rules of what is "normal" are different.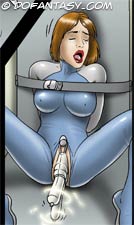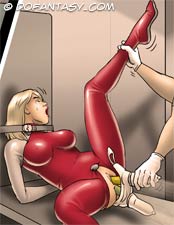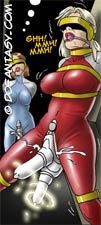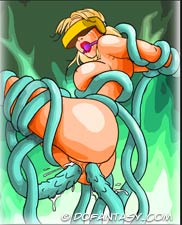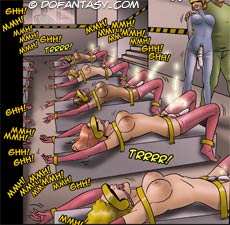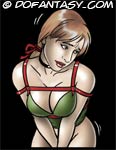 There has never been an erotic comic that felt so real! Fans of this series are so drawn in by the fantasy that they've been writing fan-fiction set in the same universe for over 10 years now. And it keeps getting better!
Fans of Erenisch will recognize many of their favorite characters in this comic, while first time fans will be able to jump right in and enjoy this comic as a stand-alone. Special focus in this issue is given to slave-girls competing with each other for their master's affection and clinical fucking, torturing and indoctrination and the use of technology to sexually violate women.