Use our On-Line 100% Secure EncryptedShopping Cart Ordering System. Simply browse
our site and Click the ADD TO SHOPPING CART buttons to place items in your Shopping Cart
[ HOME ] [ COMICS ] [ MOVIES ] [ NOVELS ] [ CD-ROM ] [ Order info ] [ Help ] [ ARTIST SITES ] [ SEARCH ]
[ Disclaimer ] [ CATALOGUE ] [ Copyright ]
FANSADOX COLLECTION 477
LIBRARIAN 3: STACKED & BOUND - LESBI K LEIH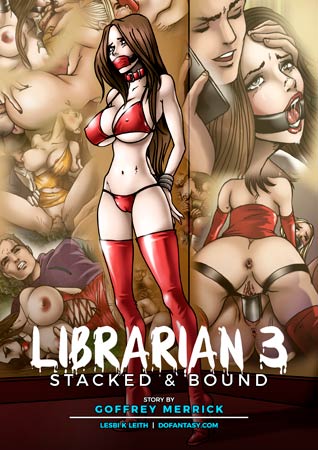 NEW IN PDF ELECTRONIC VERSION!
Adult Comic Album by LESBI K LEIH
Story by GEOFFREY MERRICK
HIGH RESOLUTION PDF deluxe edition
43 full color comic.
-COMPLETE, UNABRIDGED VERSION-
AN INCREDIBLE COLLABORATION, A SEX FILLED STORYLINE, AND A SHOCKING CONCLUSION TO THE LEGENDARY "LIBRARIAN" SERIES!
FANS OF THE LOVELY LIBRARIAN HAVE BEEN WAITING A LONG TIME FOR THIS FANTASTIC, FINAL EPISODE! GET IT NOW WHILE YOU CAN!
IMPORTANT NOTICE - DISCLAIMER
All characters are 18 years old or older.
This is an entirely fictional work based on
cartoon characters for adult entertainment.
It shows no real people or events.
The characters are shown participating in
CONSENSUAL role-play for their own
personal satisfaction, simulating activities
which involve sexual dominance and
submission. No actual toons were harmed in the making of this comic.
THE STORY SO FAR…

In the quiet suburbs of Anytown, USA, Claire Coleman, a lovely, sweet, innocent, bookish, and young girl just starting out in the world hoped to become a librarian, her dream job. She had the job, she had nailed it, and her life was just starting. On her walk home, she saw a cute boy who seemed really interested in her. Claire Coleman stopped to talk to him.
Big mistake!
That fateful day began a life of bondage, pain, and humiliation. Help was cruelly dangled just around the corner at every turn, but cutie Claire was always denied. Try as hard as she might to escape, Claire just found herself wrapped tighter and tighter and tighter into a web of awful sex, latex, and enslavement! Is there any hope for poor Claire? Will she finally be saved, or is this her final curtain call?
IN THIS COMIC…
Poor Claire Coleman is in it deep. Her captors have no cares for her body or her life. If she doesn't get out soon, she could find herself at death's door… or worse… Desperate and driven to the edge of human endurance, Claire tries to find a way out of the madhouse of depravity.
Dressed in the sluttiest of outfits and fucked in every sweet hole she has until she's a disgusting, drooling, cum covered mess, Claire can't take it any longer. The drugs… the towering high heels… the enormous, choking gags… it's too much! One girl can't take it all! These two psychos could kill her! She has to get out! She has to get away!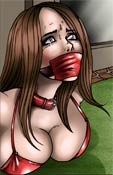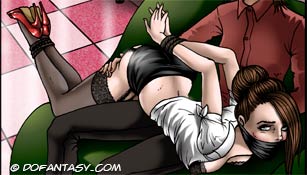 Her captors are getting lazy. They're taking too many risks. Surely someone would have seen her… surely someone would have heard her… right? Help is so close, and yet so far away. Claire just needs one person to see her… all it takes is one person to save her… but will she be saved in time? Or is it already too late?!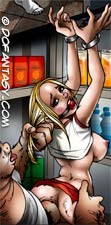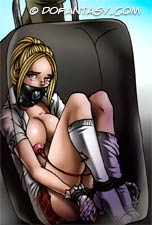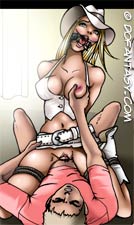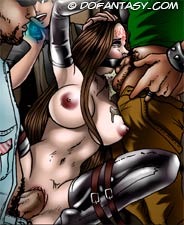 THE LIBRARIAN SERIES REACHES ITS FINAL, DRAMATIC CONCLUSION IN THIS ABSOLUTELY THRILLING COMIC! GEOFFREY MERRICK IS A MASTER STORYTELLER OF SUSPENSE, ANTICIPATION, AND DESPERATION, AND ALL OF IT IS LOVINGLY CRAFTED BY THE SKILLFUL, SUCCULENT, AND EROTIC ARTWORK OF LESBI K LEIH! THIS COMIC ISN'T ONE YOU'LL FORGET!
YOU DON'T WANT TO MISS EVERY DISGUSTING DROP, EVERY HOT AND TIGHT OUTFIT, AND EVERY TEARDROP OF DESPAIR IN THIS UNDENIABLY AMAZING ISSUE, BROUGHT TO YOU HERE EXCLUSIVELY AT DOFANTASY.COM!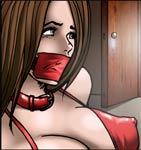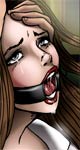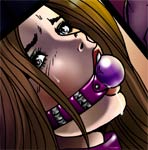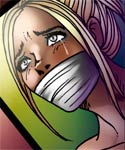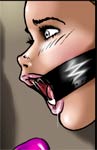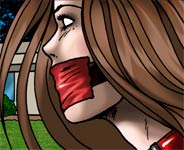 DON'T MISS THE PREVIOUS CHAPTERS:
**** BUY THE PREVIOUS COMICS AND GET 10% DISCOUNT! ****