Use our On-Line 100% Secure Encrypted Shopping Cart Ordering System. Simply browse
our site and Click the ADD TO SHOPPING CART buttons to place items in your Shopping Cart
[ HOME ] [ COMICS ] [ MOVIES ] [ NOVELS ] [ CD-ROM ] [ Order info ] [ Help ] [ ARTIST SITES ] [ SEARCH ]
[ Disclaimer ] [ CATALOGUE ] [ Copyright ]
FANSADOX COLLECTION 490
PRIVATE DICK part 1 - HAWKE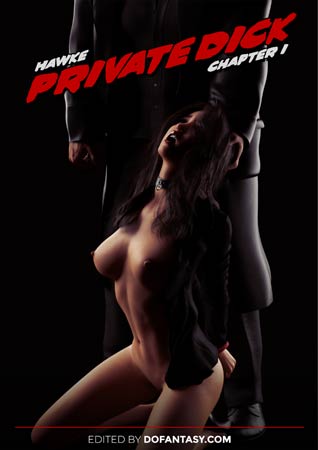 NEW IN PDF ELECTRONIC VERSION!
Adult Comic 3D Album by HAWKE.
HIGH RESOLUTION PDF deluxe edition
22 full color comic 3D pages!
-COMPLETE, UNABRIDGED VERSION-
PRIVATE DETECTIVE MARCUS COLT IS ON THE PROWL FOR A STOOL PIGEON ACCOUNTANT, BUT A TASTY TART IN A TINY, TIGHT DRESS WILL SERVE AS A NICE APPETIZER.


TINY VERA CARTER IS A PARALEGAL AT A LAW FIRM HOPING TO BRING DOWN A SMALL TIME THUG. UNFORTUNATELY FOR HER, SHE WAS IN THE WRONG PLACE AT THE WRONG TIME.

IMPORTANT NOTICE - DISCLAIMER
All characters are 18 years old or older.
This is an entirely fictional work based on
cartoon characters for adult entertainment.
It shows no real people or events.
The characters are shown participating in
CONSENSUAL role-play for their own
personal satisfaction, simulating activities
which involve sexual dominance and
submission. No actual toons were harmed
in the making of this comic.
Things are tough in this town. When a small time thug, big on ego but small on brains, loses his books to a mob accountant trying to get out of "the business," he hires the brutal and vicious private detective, Marcus Colt. This private dick knows plenty of dirty tricks, having worked in "the business" himself as an enforcer with a mean streak a mile wide. A little footwork leads him to the doorstep of the law firm shielding this stool pigeon accountant, and it seems like a simple matter: just break in after the cleaning crew finish up, grab the ledger, and scram.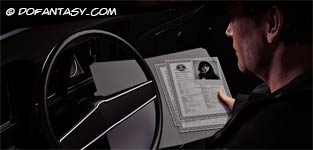 But Marcus Colt has a little bonus for his trouble: tasty little Vera Carter is staying late that night, building the case for her boss. There's nobody around to hear her screams, and it's late at night with all the lights down low. Marcus Colt has plenty of time to play with little Vera Carter, and play with her he does. But Marcus Colt was always a mean kid, and he always broke a lot of toys. What is he going to do to poor little Vera Carter? You'd best play nice, girlie, if you want to keep your teeth… and your life!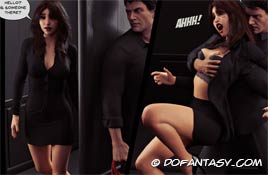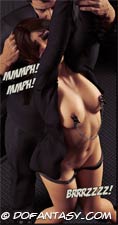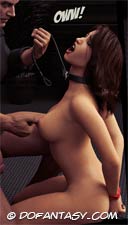 THIS HIGH STAKES FILM NOIR EPIC WILL LEAVE YOU HANGING ON THE EDGE OF YOUR SEAT AND WANTING MORE, MORE, MORE!!! MARCUS COLT IS A VICIOUS BRUTE IN A TRILBY AND A TRENCHCOAT WITH THE MEAN MUG AND MORALS TO MATCH!! CRIME IS HARD IN THIS PART OF TOWN, AS HELPLESS LITTLE VERA CARTER WILL FIND OUT TO HER DESPAIR! MARCUS COLT WILL USE HER AND ABUSE HER TO MAKE SURE HE AND HIS CLIENT GETS HIS WAY… BUT WHAT WILL HAPPEN TO LITTLE VERA WHEN THE JOB IS DONE???


YOU DON'T WANT TO MISS THIS AMAZING ADVENTURE, BROUGHT TO YOU HERE EXCLUSIVELY AT DOFANTASY.COM!