Use our On-Line 100% Secure EncryptedShopping Cart Ordering System. Simply browse
our site and Click the ADD TO SHOPPING CART buttons to place items in your Shopping Cart
[ HOME ] [ COMICS ] [ MOVIES ] [ NOVELS ] [ CD-ROM ] [ Order info ] [ Help ] [ ARTIST SITES ] [ SEARCH ]
[ Disclaimer ] [ CATALOGUE ] [ Copyright ]
FANSADOX COLLECTION 496
TIGER JANE - CAGRI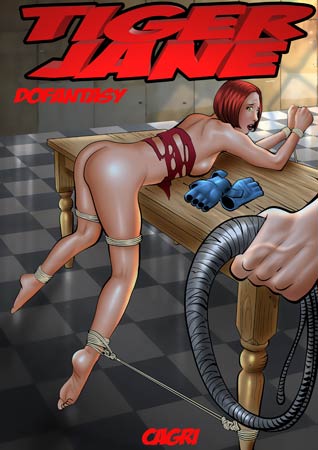 NEW IN PDF ELECTRONIC VERSION!
Adult Comic Album by CAGRI.
HIGH RESOLUTION PDF deluxe edition
40 color comic pages!!!
-COMPLETE, UNABRIDGED VERSION-
SPUNKY AND SASSY MMA FEMALE FIGHTER JANE "TIGER" CAMPBELL WON'T TAKE THE FALL FOR NOBODY! MAYBE THIS HOT REDHEADED HOTTIE SHOULD'VE FOLLOWED THE SCRIPT…
THINGS GO FROM GREAT TO THE GUTTER WHEN JANE FLIPS THE FIGHT ON ITS HEAD! ALL THAT PRIZE MONEY WAS FUN WHILE IT LASTED, BUT THE FIXERS BEHIND THE SCENES WANT THEIR REVENGE!

IMPORTANT NOTICE - DISCLAIMER
All characters are 18 years old or older.
This is an entirely fictional work based on
cartoon characters for adult entertainment.
It shows no real people or events.
The characters are shown participating in
CONSENSUAL role-play for their own
personal satisfaction, simulating activities
which involve sexual dominance and
submission. No actual toons were harmed
in the making of this comic.
"Tiger Jane" Campbell was one of the best fighters in the business, but a secret deal had been made in the shadows: Jane would take the fall for a blonde bimbo in the ring. She'd crumple like wet paper, a cool mountain of cash would be made by the big boys, and everyone would walk away happy. Unfortunately for the fixers, Jane Campbell didn't feel like following the script… or the rules! She not only beats the blonde bimbo but knocks her out cold, winning the belt and the title of World Champion!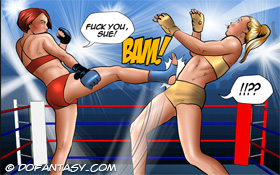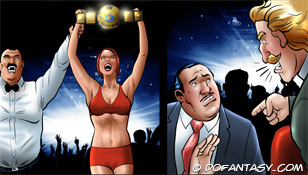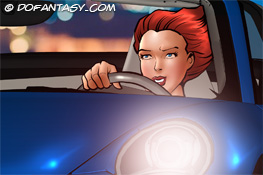 All that prize money feels real good, and Jane is living the high life. Unfortunately for her, her fixers are angry. They want that money, and they feel they were robbed by this redheaded rugmuncher who didn't do what she was told! Revenge is sweet for the big boys, and though Tiger Jane is one of the fiercest fighters in the world… she can't do much when she's bound helplessly into a ball of female fuckmeat. Jane will scream and scream when the whip, the cane, and the chains are applied to her sweating, sinewy body. She will scream long and hard before the end…

…but what an end it will be!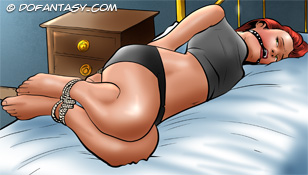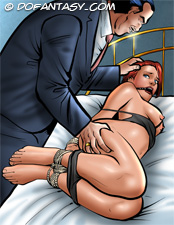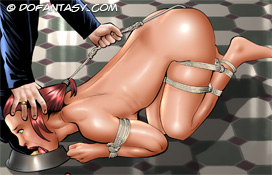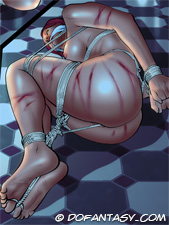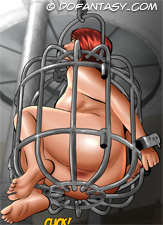 THINGS GET HOT AND HEAVY IN THIS ELECTRIFYING ISSUE OF A FUCKABLE, FEMALE FIGHTER WHO GETS IN OVER HER HEAD! THIS RED HOT, REDHEADED HOTTIE WILL GET WHAT SHE DESERVES WHEN SHE SCREWS OVER POWERFUL MEN WITH POWERFUL DESIRES AND A POWERFUL NEED TO GET BACK THEIR CASH… AT ANY COST! THESE MEN WANT THEIR MONEY BACK… WITH INTEREST, AND JANE WILL PAY WITH HER BODY, HER HOLES… AND MAYBE… HER LIFE! WHAT WILL HAPPEN TO PRETTY JANE CAMPBELL? WILL SHE SURVIVE THE "FIGHT" OF HER LIFE, OR WILL SHE BE PUT OUT TO PASTURE? YOU CAN ONLY FIND OUT WITHIN THESE INCREDIBLE, EROTIC PAGES, BROUGHT TO YOU HERE EXCLUSIVELY AT DOFANTASY.COM!!
PICK THIS QUICK! IT'S HOT, HOT, HOT!