Use our On-Line 100% Secure EncryptedShopping Cart Ordering System. Simply browse
our site and Click the ADD TO SHOPPING CART buttons to place items in your Shopping Cart
[ HOME ] [ COMICS ] [ MOVIES ] [ NOVELS ] [ CD-ROM ] [ Order info ] [ Help ] [ ARTIST SITES ] [ SEARCH ]
[ Disclaimer ] [ CATALOGUE ] [ Copyright ]
FANSADOX COLLECTION 499
RECKLESS - ERENISCH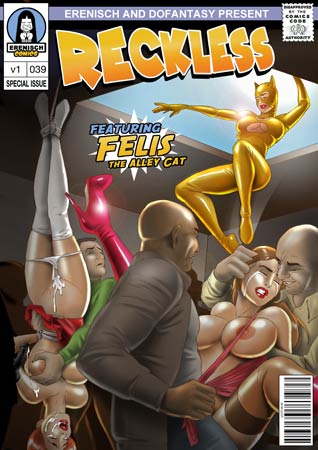 NEW IN PDF ELECTRONIC VERSION!
Adult Comic Album by ERENISCH.
HIGH RESOLUTION PDF deluxe edition
45 full color comic pages!!!
-COMPLETE, UNABRIDGED VERSION-
IN THIS WORLD IN THE NOT TOO DISTANT FUTURE, WOMEN HAVE BEEN LEGALLY ENSLAVED AND FORCED INTO A LIFE OF SEXUAL SLAVERY!

THE ERENISCHVERSE GROWS MORE INTRIGUING AND COMPLEX BY THE MOMENT! COME TAKE A TRIP AND EXPLORE THIS EPIC, FANTASY UNIVERSE FOR YOURSELF!


IMPORTANT NOTICE - DISCLAIMER
All characters are 18 years old or older.
This is an entirely fictional work based on
cartoon characters for adult entertainment.
It shows no real people or events.
The characters are shown participating in
CONSENSUAL role-play for their own
personal satisfaction, simulating activities
which involve sexual dominance and
submission. No actual toons were harmed
in the making of this comic.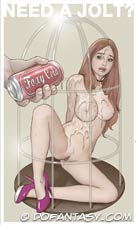 THE ERENISCH WORLD IS A HARSH AND UNFORGIVING PLACE FOR WOMEN……

In the near future, many countries have passed the "Compulsory Female Slavery Law" and legalized the sexual use and trade of women over 18 years of age. When a girl reaches the age of legal enslavement, she can be bought and sold, hired and whored, and used in every way possible… no matter how perverted or twisted…

It's amazing what can happen over the course of generations. Where once, women sought to become equals to their male counterparts, in this world, they're nothing more than submissive slaves seeking to serve someone compassionate and kind… but often, these slavegirls have no choice in who buys or owns them. Society itself has changed, and women find themselves in a worse place than they have ever been before.

IN THIS COMIC…
But even in this cruel and unforgiving world, there must still be entertainment and excitement! But in a universe where females are regularly enslaved and made into helpless sex kittens, the art, advertisements, film, and comics of the world must change as well. The scenes and stories are eerily familiar, but they've taken on their own, twisted take in the ERENISCHVERSE!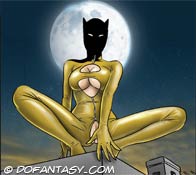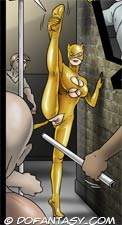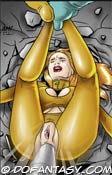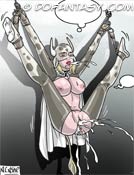 A.C. Ashe is a young, upcoming, and aspiring artist seeking work at one of the biggest comic book companies in the world. She gets treated as a girl in this world would. But even a "free" woman doesn't have much freedom in Pussania. It's hard enough being a woman under the "Compulsory Female Slavery Law," but it's even worse to be an ambitious artist with dreams and hopes.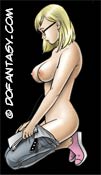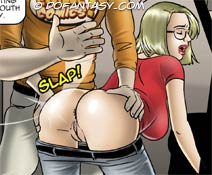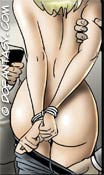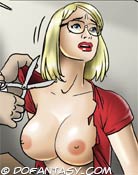 But A.C. Ashe might find out her world isn't quite as cruel as it seems… nor as kind…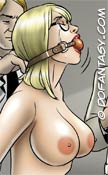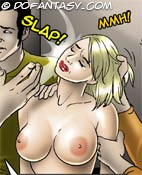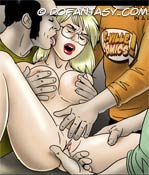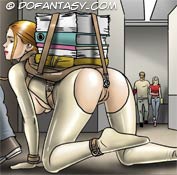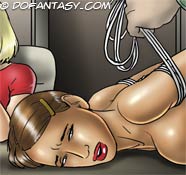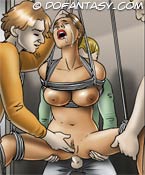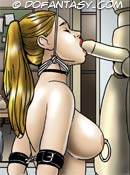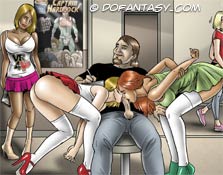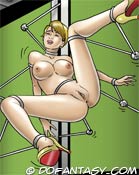 ERENISCH IS A MASTER OF THE EROTIC AND EXCITING AND MAKES ANOTHER AMAZING, COMPLEX, AND SATISFYING COMIC IN THIS INCREDIBLE ISSUE! AN AMAZING STORYTELLER WITH LIMITLESS POSSIBILITIES, ERENISCH NEVER FAILS TO DELIVER! THIS META COMIC WILL GIVE YOU A NEW PERSPECTIVE NOT JUST ON THE ERENISCHVERSE BUT PERHAPS OUR OWN AS WELL! YOU DON'T WANT TO MISS THIS INCREDIBLE, INDELIBLE, AND ORGASMIC COMIC SURE TO PLEASE YOU FROM YOUR HEADS DOWN TO YOUR TOES, BROUGHT TO YOU HERE EXCLUSIVELY AT DOFANTASY.COM!!

THE ERENISCHVERSE IS FULL OF COMPLEX STORYTELLING THAT'S SEXY AS HELL! PREPARE YOURSELF FOR A FUTURE FULL OF UNIMAGINABLE POSSIBLITIES…
VISIT
ERENISCH SITE
FOR A COMPLETE LIST OF ERENISCH COMICS AND OFFERS