Use our On-Line 100% Secure EncryptedShopping Cart Ordering System. Simply browse
our site and Click the ADD TO SHOPPING CART buttons to place items in your Shopping Cart
[ HOME ] [ COMICS ] [ MOVIES ] [ NOVELS ] [ CD-ROM ] [ Order info ] [ Help ] [ ARTIST SITES ] [ SEARCH ]
[ Disclaimer ] [ CATALOGUE ] [ Copyright ]
FANSADOX COLLECTION 50
JUNTA HELL - TEMPLETON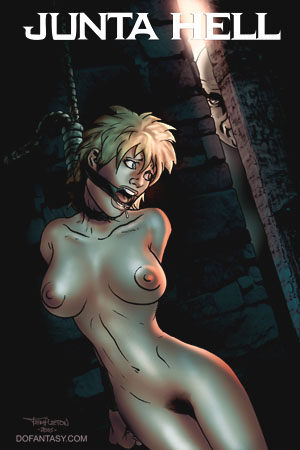 NEW IN PDF ELECTRONIC VERSION!
Adult Comic Album by TEMPLETON

HIGH RESOLUTION PDF deluxe edition
44 full comic pages by TEMPLETON
-COMPLETE, UNABRIDGED VERSION-






44 FULL-COLOR,
ACTION-PACKED PAGES!




DISCLAIMER
All characters are 18 years old or older.
This is an entirely fictional work based on
cartoon characters for adult entertainment.
It shows no real people or events.
The characters are shown participating in
CONSENSUAL role-play for their own
personal satisfaction, simulating activities
which involve sexual dominance and
submission. No actual toons were harmed
in the making of this comic.






Life is not easy under the Junta. The oppressive government allows no individual freedom, no human rights, no law...

People are detained and disappear for reason other than the suspicion they might be related to the underground resistance.

There are rumors that the ruling military Junta is behind the mysterious kidnappings of beautiful young women. These kidnappings have been going on for years now. In most cases, the disappearance is not even reported in the highly censored press.

But life goes on, as always, even in these desperate circumstances…

Young Clara is walking down the street with her arm round her boyfriend. The street seems safe enough that quite summer evening. To Clara's surprise, her boyfriend walks past the cinema. He has the keys to a friend's house, he says. Why don't they go there instead? Clara laughs. He's not going to find it so easy to get her into bed, she says.

At that moment, there is a screech of tires. Masked men jump out of a military vehicle. They seize Clara and take her to a warehouse in the port area.

Arbitrarily classified as an "insurgent", Clara is the latest victim of the Junta. No one tells her family. Officially, she is listed as "missing".

And so it is that Clara, a young woman who has never made love with anybody in her life, is locked in a small shower booth at the mercy of the military. Especially by Fat Guy, her warden.

When Clara's attractive mother seeks official help in tracing her daughter, she too disappears. Mother and daughter are reunited in the unhappiest of circumstances. They are kept together, naked and bound in a small cell, where they are forced watch each other being questioned.

And things get no better when an officer's wife seeks revenge and pleasure...

_________________

The detainees, blindfolded and standing up, wait for hours under the leering stares of the guards...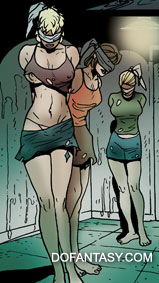 ...They're filed. Naked!

And are then assigned a warden. Clara is not the luckiest, Fat Guy is going to take care of her...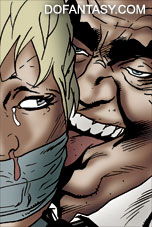 ...She's locked up in a cold and dirty shower booth...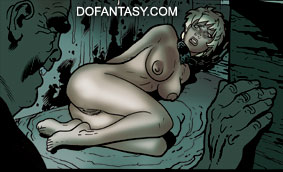 ...only Fat Guy has the key...
The girl receives a thorough interrogation from officials...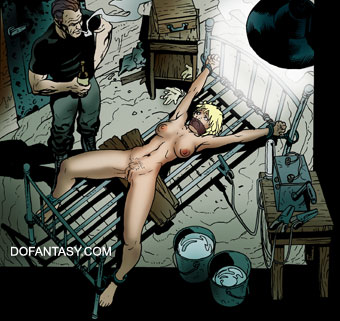 ...but even in this hell, there is also time for partying...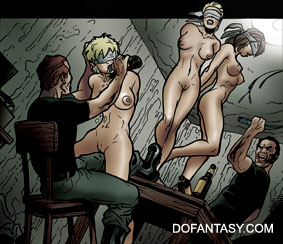 Weekends are the worst, when only Clara and Fat Guy are at the secret warehouse...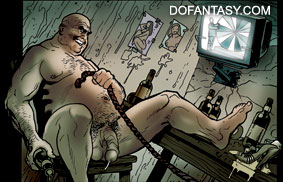 ...and the beauty.
Clara's mother tries to find her daughter. She asks the military, the police, she goes to the press... and finally she finds her. But she ends up in the same shower booth as her daughter and Fat Boy takes care of her too...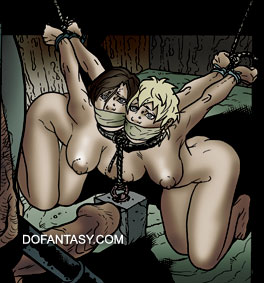 Events just start now...
JUNTA HELL
Junta Hell is a spine-chilling story of the horrors of a lawless land,
made all too real by Templeton's magnificent artwork.
VISIT TEMPLETON SITE FOR A COMPLETE LIST
OF TEMPLETON COMICS AND OFFERS