Use our On-Line 100% Secure EncryptedShopping Cart Ordering System. Simply browse
our site and Click the ADD TO SHOPPING CART buttons to place items in your Shopping Cart
[ HOME ] [ COMICS ] [ MOVIES ] [ NOVELS ] [ CD-ROM ] [ Order info ] [ Help ] [ ARTIST SITES ] [ SEARCH ]
[ Disclaimer ] [ CATALOGUE ] [ Copyright ]
FANSADOX COLLECTION 54
SLAVE CARAVAN - TEMPLETON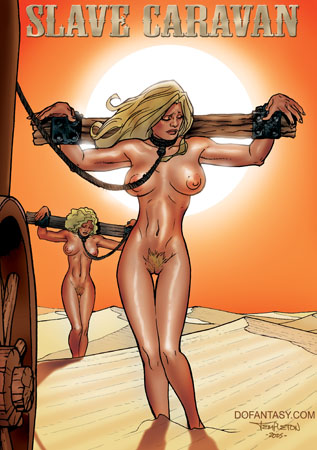 SLAVE CARAVAN
NEW IN PDF ELECTRONIC VERSION!
Adult Comic Album by TEMPLETON
HIGH RESOLUTION PDF deluxe edition
43 full comic pages by Templeton
-COMPLETE, UNABRIDGED VERSION-
43 FULL-COLOR,
ACTION-PACKED PAGES!
IMPORTANT NOTICE:
All characters are 18 years old or older.
All action is simulated and involves
no real people.
The authors/publishers do not condone
violence of any kind.
These are completely fictional comics
for adult entertainment.
East Africa...
A revolt breaks out on the coast. The black tribesmen have risen up against the Arabs who control the economy of the region... The few European residents still in the area are getting out as fast as they can…
Two young sisters, blond and beautiful, flee from a burning town, with the help of their slave Ali. Once in the desert, however, Ali proves to be a very unfaithful servant…
The sisters cross the desert in chains under the whip and humiliating treatment of their captors. The terrible journey ends in the remote village of Tan Raset, famous for its exclusively feminine slave market. White, Western women are unknown in these parts and the potential buyers, mostly old men, are astonished at the beauty of the naked blond sisters…
An awful, degrading public auction is being held…
Caravan Slaves is a dark tale of sexual humiliation and abuse in a land where nothing and nobody acts as a restraint on primitive, animal impulses…
This world of naked terror and merciless abuse is brought to life for you by Templeton's energetic, explicit drawings.
___________________
Midday and the sun beats down pitilessly on the burning sand and on the young women's soft, white flesh...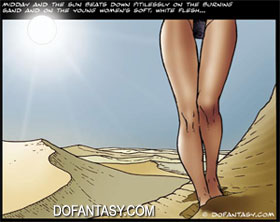 The slave traders show no mercy...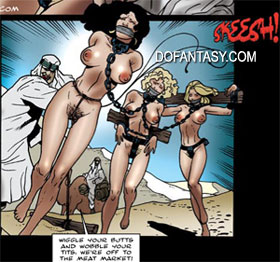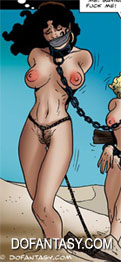 At night the slaves are forced to perform for their captors...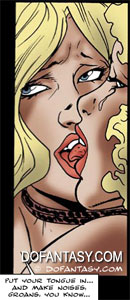 Finally, the horrible journey ends and the caravan arrives at the most awful place in Earth for a naked young woman: Tan Raset slave market.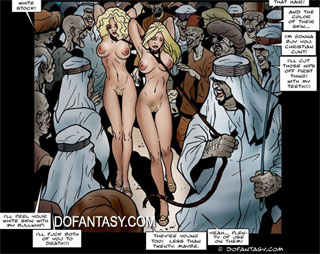 The slaves are humiliatingly auctioned...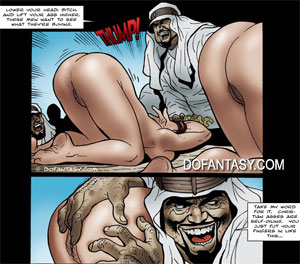 and sold to the most pervert sadists...

SLAVE CARAVAN
A very popular fantasy never related and illustrated so well!
DON'T MISS THE SECOND PART: HAREM PLAYTHINGS

VISIT TEMPLETON SITE FOR A COMPLETE
LIST OF TEMPLETON COMICS AND OFFERS