Use our On-Line 100% Secure EncryptedShopping Cart Ordering System. Simply browse
our site and Click the ADD TO SHOPPING CART buttons to place items in your Shopping Cart
[ HOME ] [ COMICS ] [ MOVIES ] [ NOVELS ] [ CD-ROM ] [ Order info ] [ Help ] [ ARTIST SITES ] [ SEARCH ]
[ Disclaimer ] [ CATALOGUE ] [ Copyright ]
FANSADOX COLLECTION 57
HAREM PLAYTHINGS - TEMPLETON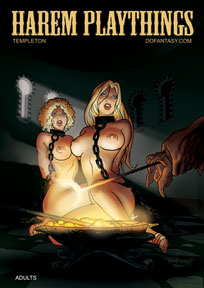 NEW IN PDF ELECTRONIC VERSION!
Adult Comic Album by TEMPLETON
HIGH RESOLUTION PDF deluxe edition
43 full comic pages by TEMPLETON
-COMPLETE, UNABRIDGED VERSION-
43 FULL-COLOR, ACTION-PACKED PAGES!
IMPORTANT NOTICE:
All characters are 18 years old or older.
All action is simulated and involves
no real people.
The authors/publishers do not condone
violence of any kind.
These are completely fictional comics
for adult entertainment.
Two young European sisters, Elizabeth and Diana, are caught in a civil war in East Africa.
They flee from their house with the help of a servant, but are betrayed by the servant and handed over to slave traders.
They are then obliged to walk through the burning desert, completely naked and in chains.
The trip becomes a nightmare of pain, sexual humiliation as abuse.
When they reach the village of Tan Raset they are auctioned off to the highest bidder.
The Emir Badul Mohadi, known to his people as the Dirty One, takes his new slaves to his palace and hands them over to giant Mandingo servant to be trained as sexual slaves.
HAREM PLAYTHINGS begins when the young sisters are brought to the presence of their owner, the repugnant Badul Mohadi...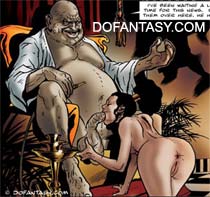 The old bastard makes his choice...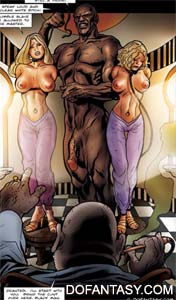 He's not an easy Master...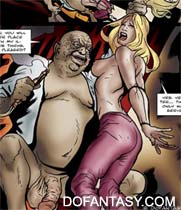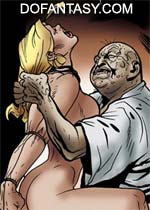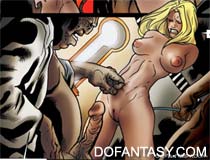 Life turns into a hellish nightmare for the girls.
They are kept in a hole under their Master's playroom ready...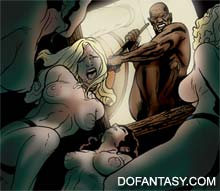 ...to perform the most abject acts for the fun of their owner...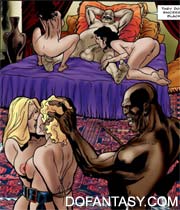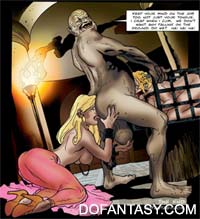 ...and that of his old, sadistic wives that help him with the Christian slaves. One day the Emir decides that one of them will breed for him. Of course he provides the stud...
...and life becomes even worse for the young Christian slaves. One is shut in her breeding cage and the other is at the beck and call of her depraved Master...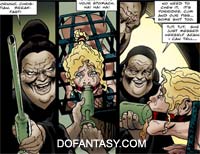 HAREM PLAYTHINGS
The untold story that you can't miss!
VISIT TEMPLETON SITE FOR A COMPLETE
LIST OF TEMPLETON COMICS AND OFFERS