Use our On-Line 100% Secure EncryptedShopping Cart Ordering System. Simply browse
our site and Click the ADD TO SHOPPING CART buttons to place items in your Shopping Cart
[ HOME ] [ COMICS ] [ MOVIES ] [ NOVELS ] [ CD-ROM ] [ Order info ] [ Help ] [ ARTIST SITES ] [ SEARCH ]
[ Disclaimer ] [ CATALOGUE ] [ Copyright ]
FANSADOX COLLECTION 68
THE BASEMENT - LESBI K LEIH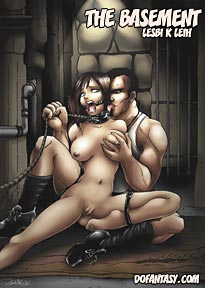 THE BASEMENT
NEW IN PDF ELECTRONIC VERSION!
Adult Comic Album by LESBI K LEIH
HIGH RESOLUTION PDF deluxe edition
51 full comic pages by LESBI LEHI
-COMPLETE, UNABRIDGED VERSION-
IMPORTANT NOTICE:
All characters are 18 years old or older.
All action is simulated and no
actual people are involved in it.
The authors/publishers do not condone
any kind of violence.
These comics are completely fiction
and for adult entertainment.
Only two days ago, Jill was the focus of male attention at her college. She was the smartest and certainly the most desired girl in her year. Her clothes were famous all over the small provincial town. People talked about the skirts that were so short they never quite made it down to the top of her thighs, offering little glimpses of her underwear from the front. From the back you could see the pert rounded cheeks of her very touchable bottom. And when she turned round, you could see how the satiny material of her dresses seemed about to slip right off her sleek, shiny young breasts. Wherever she went, eyes turned and jaws dropped. Men who could hardly remember what an erection was just sat there staring and fantasizing.
Meanwhile, one muscular psychopath, bored with his fat, pot-bellied wife, had taken up a new and sinister hobby. He had become a stalkerů
___________________________
The air is heavy in the sordid basement. Jill wakes up severely tied, painfully gagged and hooded. She can barely breath. She doesn't know where she is...
The place is humid and extremely hot. She lies on her back, tethered to the floor by a rope around her neck.
Time passes very slowly for the tied girl. The only sound in the sinister basement is the heavy ticking of a wall clock.
After two days in this miserable predicament, Jill hears footsteps approaching. She's terrified...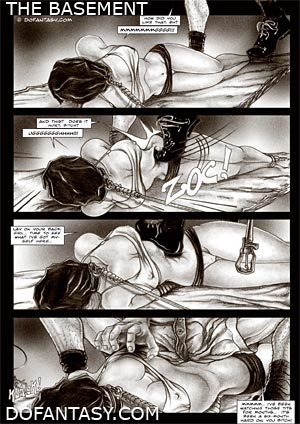 ...and a horrendous nightmare starts for the girl...
The first night together comes finally to an end and the man departs leaving Jill alone again, sternly tied and gagged and even more frightened than before, crying in her misery...
The second night arrives and we find Jill laying on a thick wooden workbench. She lays on her front, her feet strapped tight against her bottom, her torso stuck out over the side of the workbench...
She learns of her evil fate. There's no escape. He has chosen her for ever...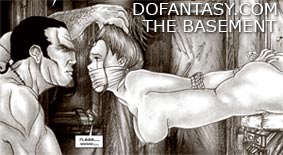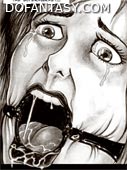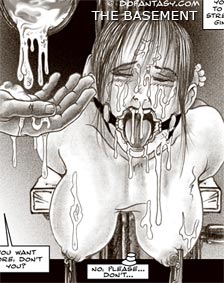 THE BASEMENT
A NEW HARDCORE FANTASY
DON'T MISS
LOCKED IN HELL
THE SECOND PART OF THIS STORY