Use our On-Line 100% Secure EncryptedShopping Cart Ordering System. Simply browse
our site and Click the ADD TO SHOPPING CART buttons to place items in your Shopping Cart
[ HOME ] [ COMICS ] [ MOVIES ] [ NOVELS ] [ CD-ROM ] [ Order info ] [ Help ] [ ARTIST SITES ] [ SEARCH ]
[ Disclaimer ] [ CATALOGUE ] [ Copyright ]
FANSADOX COLLECTION 70
EVIL CREW - TEMPLETON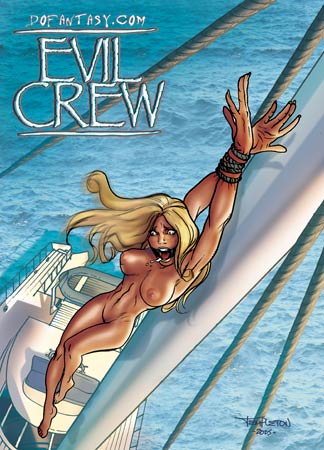 EVIL CREW
NEW IN PDF ELECTRONIC VERSION!
Adult Comic Album by TEMPLETON
HIGH RESOLUTION PDF deluxe edition
49 full comic color pages by Templeton
-COMPLETE, UNABRIDGED VERSION-
A MUTINY NIGHTMARE
IN DEAD CALM SEAS
IMPORTANT NOTICE:
All characters are 18 years old or older.
All action is simulated and no
actual people are involved in it.
The authors/publishers do not condone
any kind of violence.
These comics are completely fiction
and for adult entertainment.
Mike and Nicole were taking it easy on their way back to Australia. They stopped here and there in small fishing ports, sunbathing and enjoying each other's company… Nicole had agreed to marry Mike a few months earlier, and the wedding was to be back home in Sydney…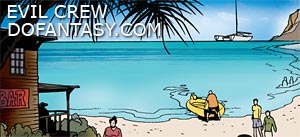 Nicole loved the sense of freedom on the wonderful sailing boat. She enjoyed being able to take all her clothes off and sunbathe on deck. She enjoyed showing her generous curves to Mike and she enjoyed the way he looked at them.
Neither of them noticed the binoculars that were trained on them from the terrace of a beach bar…
The time was drawing near when they would have to set sail for Sydney. Mike had broken his hand, and stormy weather was forecast, so he didn't want to do the voyage without a crew.
He got into his dinghy and went to the bar. He found two rather disreputable-looking sailors, father and son, who were willing to do the journey. They agreed terms. It was a decision that Mike was to regret…
From the beginning, Nicole felt uncomfortable with the sailors on board.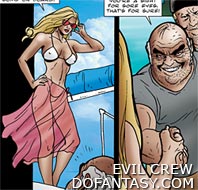 She had to make love with Mike in the cabin now, and she knew that the men were listening to them…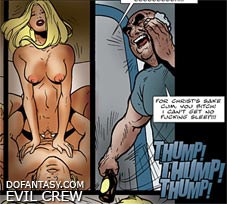 As the days passed, Mike and Nicole found themselves doing most of the work on the boat, while the sailors drank… Then one day the older man started making obscene suggestions. Soon Nicole was grossly harassed, she was both angry and frightened.
A brutal mutiny took place and her worst fears were about to come true. So were the drunken sailors' most perverse, sadistic fantasies.
Mike is locked in the trash hole under a closed latch and Nicole is taken by the mutineers...

Soon the new rules are explained to the girl. She's now the whore of the boat...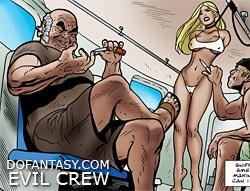 And is going to be treated as such . A nightmare of humiliation and abuse starts for the girl and her boyfriend...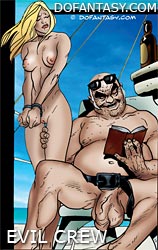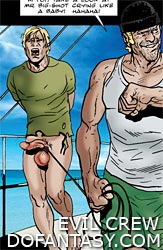 She's forced to serve the mutineers as a working slave...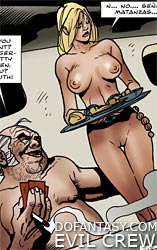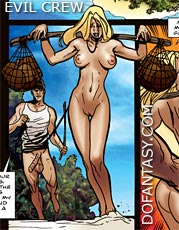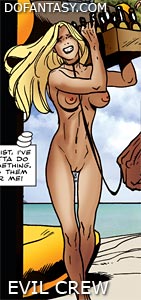 There's no limit to the men's perversity...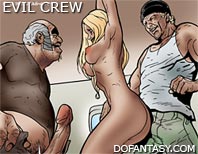 Desperate, the girl tries to escape...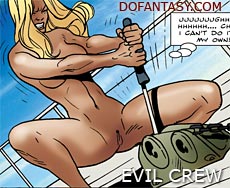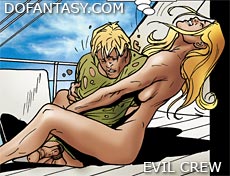 ...but the attempt fails and things get even worse...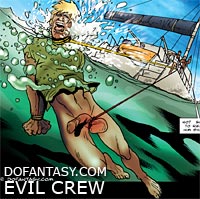 ...much worse...
ONE OF THE WILDEST STORIES IN THIS COLLECTION!
DON'T MISS THE SECOND PART OF THIS EXCITING COMIC: OCEAN CATCH!
VISIT TEMPLETON SITE FOR A COMPLETE
LIST OF TEMPLETON COMICS AND OFFERS