Use our On-Line 100% Secure EncryptedShopping Cart Ordering System. Simply browse
our site and Click the ADD TO SHOPPING CART buttons to place items in your Shopping Cart
[ HOME ] [ COMICS ] [ MOVIES ] [ NOVELS ] [ CD-ROM ] [ Order info ] [ Help ] [ ARTIST SITES ] [ SEARCH ]
[ Disclaimer ] [ CATALOGUE ] [ Copyright ]
FANSADOX COLLECTION 77
NIGHT STALKER 2 - WAYNE WINE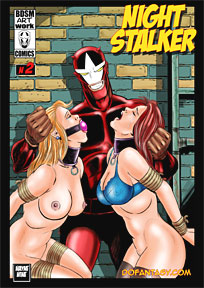 NEW IN PDF ELECTRONIC VERSION!
Adult Comic Album by WAYNE WINE
HIGH RESOLUTION PDF deluxe edition
41 full comic color pages by Wayne Wine
-COMPLETE, UNABRIDGED VERSION-
A SUPERHERO BDSM COMIC!
IMPORTANT NOTICE - DISCLAIMER
All characters are 18 years old or older.
This is an entirely fictional work based on
cartoon characters for adult entertainment.
It shows no real people or events.
The characters are shown participating in
CONSENSUAL role-play for their own
personal satisfaction, simulating activities
which involve sexual dominance and
submission. No actual toons were harmed
in the making of this comic.
Night Stalker, the bizarre anti-hero, is on the hunt again...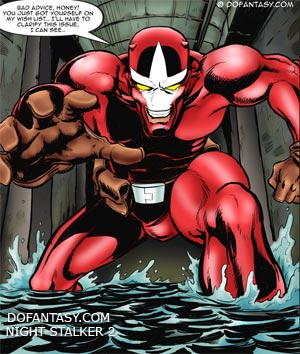 He has spotted new prey - a rich girl who had humiliated his alter ego on the subway that very same day.
The place and the time for the hunt are perfect. His victim is walking down a deserted alley with her boyfriend at night…
In seconds the girl is caught and smuggled into the city sewers, where the villain has his hideaway.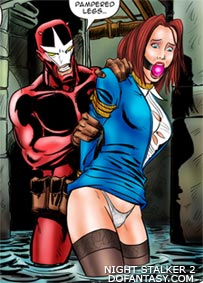 Night Stalker introduces his new catch to Slave Number One, the blonde beauty he captured in the preceding book of this saga.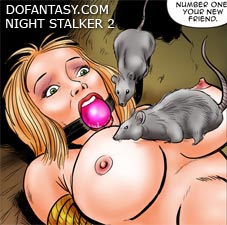 He'll make both slaves play around for him and play around with him too, and they'll do a good job… For their own good!
He likes them tightly bound and gagged. And stark naked, of course…
The poor girls will submit to his captor's whim…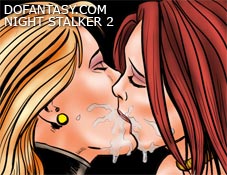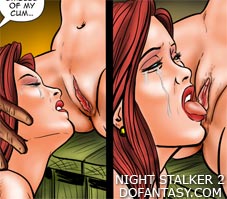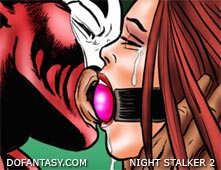 Life as the girls knew it is over now. They are confined in tiny, dark cells below the city streets. A thick iron door makes sure of that.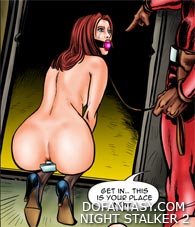 From the outside, each girl is just a pretty face wearing a tight gag on a picture. Their slave numbers are glued to the massive iron door too...
More than a door, it looks like a coffin cover…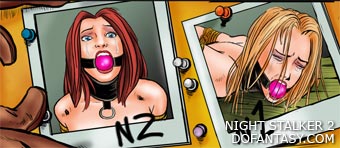 NIGHT STALKER TWO
A SUPERHERO BDSM FANTASY
Life is hell just a few meters below the city!
DO NOT MISS PARTS ONE AND THREE OF THIS FABULOUS SERIES