Use our On-Line 100% Secure EncryptedShopping Cart Ordering System. Simply browse
our site and Click the ADD TO SHOPPING CART buttons to place items in your Shopping Cart
[ HOME ] [ COMICS ] [ MOVIES ] [ NOVELS ] [ CD-ROM ] [ Order info ] [ Help ] [ ARTIST SITES ] [ SEARCH ]
[ Disclaimer ] [ CATALOGUE ] [ Copyright ]
FANSADOX COLLECTION 79
AFRICAN WHORE CAMP - TEMPLETON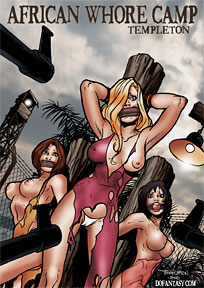 NEW IN PDF ELECTRONIC VERSION!
Adult Comic Album by TEMPLETON
HIGH RESOLUTION PDF deluxe edition
42 full comic pages by TEMPLETON
-COMPLETE, UNABRIDGED VERSION-
42 FULL-COLOR, ACTION-PACKED PAGES
BY THIS WORLD CLASS ARTIST!
IMPORTANT NOTICE - DISCLAIMER
All characters are 18 years old or older.
This is an entirely fictional work based on
cartoon characters for adult entertainment.
It shows no real people or events.
The characters are shown participating in
CONSENSUAL role-play for their own personal satisfaction, simulating activities which involve sexual dominance and submission.
No actual toons were harmed in the making
of this comic.
Miss World contest 2043. Nairobi.
The country is at civil war but nobody is interested in acknowledging the situation...
"The proof that the country is at peace is the fact that we are here today, on this magnificent occasion. Look at these beauties! Miss Italy, Miss America, Miss France... would these ladies be here if there was a war on?"
______________________
They are at the top. They are the most beautiful and sought after young women on Earth... They have everything: fame, money, beauty, social recognition and a brilliant future...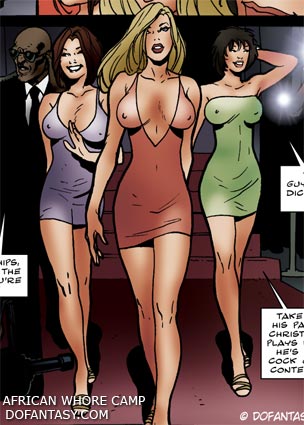 But disaster strikes on their way from the Luxor World Business Hotel to the Opera House where the contest is going to be held...
Their Van will never reach the place...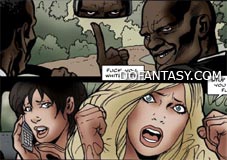 Detained at gun point, roughly shackled and obscenely manhandled they are taken into a truck full of rough, dirty, sweaty insurgents.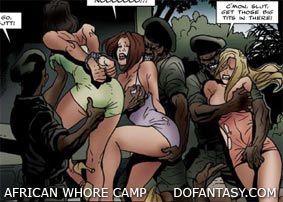 The contrast between the smelly, dirty, leering soldiers and the sexily dressed panic-stricken beauties is striking...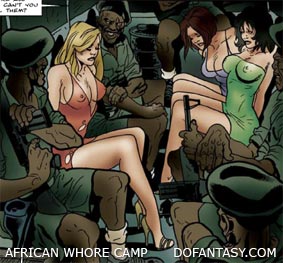 Soon our heroines discover their fate. They're bound for Whore Camp One where they'll serve the insurgency officers...
Chained naked to a filthy bed, they discover that life in Whore Camp One is not going to be easy....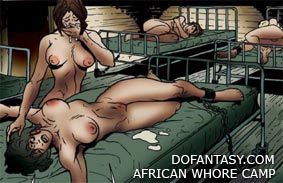 They have to exhibit themselves every time a leering lecherous soldier enters the barracks...
Their life has certainly changed. They still show their beauty to the audiences but in a very different way and for a very different purpose...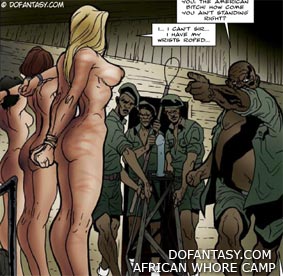 The visitors take their time selecting... There's no hurry... Choosing a naked, chained young woman to humiliate is already part of the pleasure...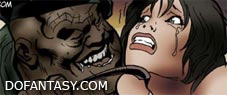 They probe... They explore... They feel... They humiliate...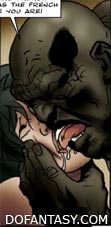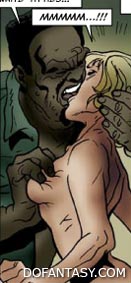 Revenge and humiliation are the name of the game... And if any of the women fails to please or is wrongly accused of lack of zeal...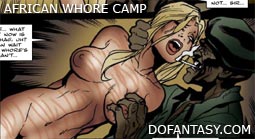 ...she'll be punished in front her mates. This is the case of Miss America who's accused of mouthing at evil Sergeant Mikele, the hideous warden in charge of the captives...
AFRICAN WHORE CAMP
You'll never forget this comic You'll read it over and over again.
One of the hottest comics EVER by
TEMPLETON
VISIT TEMPLETON SITE FOR A COMPLETE
LIST OF TEMPLETON COMICS AND OFFERS