The action develops in the deepest Colombian Jungle. It's the rainy season. A couple of young American doctors are evacuating wounded locals after a bloody crash between drug lord rivals.
At some point, the convoy is stopped and the American doctors seized. They are now in Señor Barraza's hands. He is the bloodiest and most feared drug lord in the region. Criminal Bazarra employs slaves in his coca fields... some of them are lovely young girls like Maria, the daughter of one of his enemies...
The Americans are brought to the presence of criminal Bazarra, almost naked and in chains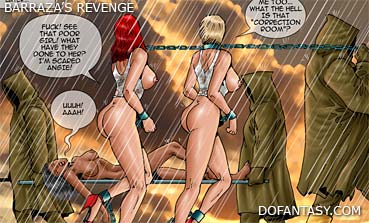 Bazarra is delighted! The girls are his first white American slaves. And they are real beauties!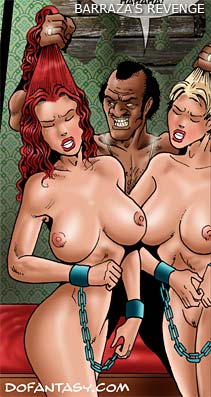 The girls are welcomed in a nasty way. Disgusting Barraza take his time humiliating them before sending them out to work in the coca fields under the watchful eyes of lustful guards.
In the downpour the girls work hard to collect their daily quota of coca. It's not easy, the quota demanded is high and the guards will leave them very little time for coca picking...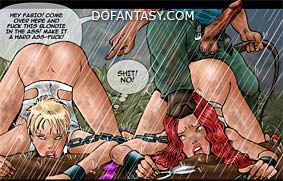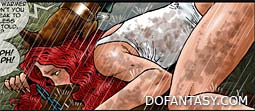 Finally Barraza offers the girls to his retarded son as birthday gift... A new nightmare of sick humiliation starts...
BAZARRA'S REVENGE
The latest Cagri comic, packed with action!
ONLY IN THIS SITE!
[ CAGRI SITE ] [ HOME ]