Use our On-Line 100% Secure EncryptedShopping Cart Ordering System. Simply browse
our site and Click the ADD TO SHOPPING CART buttons to place items in your Shopping Cart
[ HOME ] [ COMICS ] [ MOVIES ] [ NOVELS ] [ CD-ROM ] [ Order info ] [ Help ] [ ARTIST SITES ] [ SEARCH ]
[ Disclaimer ] [ CATALOGUE ] [ Copyright ]
FANSADOX COLLECTION 85
COCKTEASER'S PUNISHMENT - LESBI K LEIH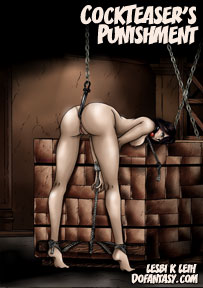 NEW IN PDF ELECTRONIC VERSION!
Adult Comic Album by LESBI K LEIH
HIGH RESOLUTION PDF deluxe edition
43 full comic pages by LESBI LEHI
-COMPLETE, UNABRIDGED VERSION-
SHE'S WAITING FOR HIM ALONE
IN THAT DARK CAGE ... PANICKING!
IMPORTANT NOTICE - DISCLAIMER
All characters are 18 years old or older.
This is an entirely fictional work based on
cartoon characters for adult entertainment.
It shows no real people or events.
The characters are shown participating in
CONSENSUAL role-play for their own personal
satisfaction, simulating activities which involve
sexual dominance and submission.
No actual toons were harmed in the making
of this comic.
Jill has been waiting for him naked and in chains, in a horrible basement. Worst of all, she's been waiting in a panicking. She's been alone for 2 days in complete darkness since the man's last visit. Her only company has been rats and the water dripping onto her shackled body…
She has lost track of time, but she feels that the dreaded visitor will come sometime soon…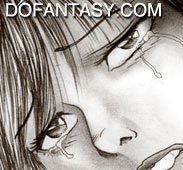 And he does: drunk, randy, furious, demented… and violent! Completely out of his mind!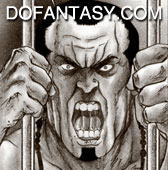 And the horror starts again…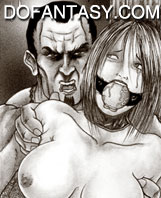 The guy is seriously mad… which makes him even more dangerous.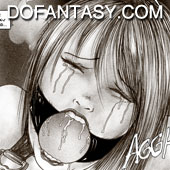 The never-ending humiliation…

It's punishment, he says, for calling him names…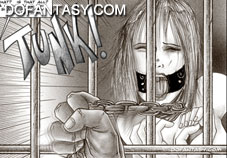 Jill has committed the greatest sin in his insane, twisted world: she was a cockteaser and still is…
"I hate nymphomaniacs and cockteasers! You're both!"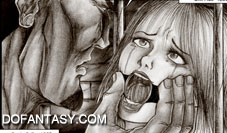 And then an unexpected twist! He says he loves her…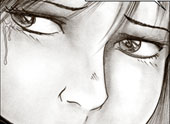 ...and he keeps right on whipping her!
Jill will undergo a different sort of treatment now. The old bastard's mad logic takes his young prisoner down into more shameful, more embarrassing humiliation. He's going to take care of her most basic physical needs…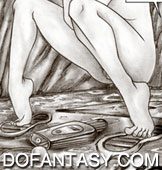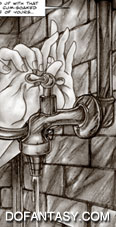 Jill cannot make sense of her fate… she feels that none of it is real, but the pain, the constant fear and the her captor's demented screaming tell her that it is.
Be sure not to miss this disturbing comic. The masterful illustrations by Lesbi K Lehi show naked abuse and deep humiliation as only a woman can illustrate them!
A SEQUEL TO 'THE BASEMENT' and 'LOCKED IN HELL'
ALSO IN THIS COLLECTION
DON'T MISS
PARTY OVER
THE FOURTH AND FINAL PART OF THIS STORY