a FANSADOX 4 story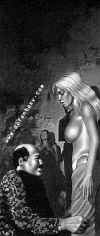 —What's this? —asked the single Customs officer.
—It's red lipstick —Mónica replied, surprised at the question.
The official opened it, sniffed it and applied it to his tongue. He put it to one side, murmuring in an unknown language.
—And this?
—Sanitary towels.
—What?
—Hygiene. F... for the time of the month... period...— she stammered.
—Too many! You sell? You sell dirty things? Illegal. —the officer said, separating the two boxes of Adanx.
—And this?
—Can't you see what it is? —she replied, feeling indignant and uncomfortable.
—I ask, you answer. —he said curtly.
—They're panties. Don't women wear panties in this place?
The Customs officer put them along with the other objects.
—And for your face? Where is?
Three native ladies were standing near, looking with great interest at the variety of objects coming out of her case. He pointed at the black veils that they were wearing.
Monica turned round. A lot of people were looking at her.
She realised that she was the only Westerner on the flight and also the only woman without a veil. Even pre-adolescent girls had their faces covered.
—We don't wear them in Europe, —she said, beginning to feel very uneasy.
The Customs officer looked her up and down in a way that increased her discomfort. It was hot and the young Spanish girl was wearing a short dress and leather sandals.
The policeman took out a Walkman, a book, a magazine and the girl's personal diary.
—What? —he asked.
Monica explained that it was her personal notes and that they were in Spanish, not Arabic.
—You read, Miss? You read and write? —he asked.
She nodded. It was his lucky day. He had caught a revolutionary heretic or maybe a prostitute. That would be worth a few points in his career.