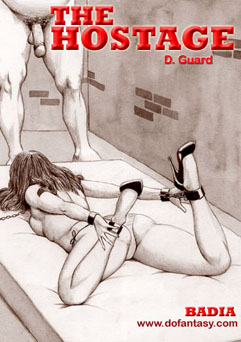 New in English!!!
by D. GUARD
de luxe edition
Illustrated by Badia

In ENGLISH. Available electronically in PDF format. See bottom of page.

IMPORTANT NOTICE - DISCLAIMER
All characters are 18 years old or older.
This is an entirely fictional work based on
fantasy characters for adult entertainment.
It shows no real people or events.
The characters are shown participating in
CONSENSUAL role-play for their own personal
satisfaction, simulating activities which involve
sexual dominance and submission.
No actual characters were harmed in the making
of this novel

Hostage is the story of a disco-loving young woman, Belen. Belen is the star of the nightlife in a coastal town. Her breasts are the stuff of fantasies: full and firm, large but uplifted... They have wobbled and shaken their way across the disco floor many times, causing a thousand men to lick their lips and reach for their tissues...

Belen is the daughter of a weird prison governor, well-known for his abuse of female prisoners. She is seized in an attempt to force the governor to release one of his prisoners.

The criminals video the sessions in which Belen is ill-treated. They send the video to her father.

Unfortunately, her father does not react as expected. He makes himself comfortable and settles down to enjoy them in the company of one of his female prisoners...

The prisoner, a French woman called Margot, has ďagreedĒ to be the governorís sex-slave in the hope of obtaining news of her daughters, who are also being held in the prison...

Hostage was originally a script written for the cinema. This gives it a strong visual quality and a tense pace and rhythm as action, humiliation and sadism pass before our eyes. It is lavishly illustrated with fifteen specially commissioned drawings by artist Badia.
FROM THE BOOK:
Lidia now opened her legs wide again. Belen did not know where to look. "Look at me!" Lidia said. "Look at my cunt! Put your head over it, just above it, and look at it! Donít be shy! Put your nose closer and sniff if you want to! Itís only cunt juice and my period! By the way, do you use tampons, dear?"
Belen nodded. Everybody used them, more or less, it was a stupid question!
"Well what the fuck are you waiting for? You can see the string I suppose?"
Belen nodded. She had indeed noticed it. It was stuck to a tangled mass of hairs and folds of female flesh, intricate and repugnant to her...
She looked down at the swollen, purple lips of the womanís vagina, where the flesh was a brighter redder colour like the inside of a ripe fig, and she observed the thick, smelly mucous that was coming down from deep inside and covering everything...
To make things easier, Lidia slid down the armchair a little and brought her ankles up to the front corners of the chair, opening her legs wider still. She looked down and saw the lips of her vagina wrinkled and stuck together slightly at the top. She pulled them apart, revealing the long clitoris curling up like a monkeyís long, thin penis.
"Can you see it OK now?"
The obscene posture brought with it a wave of heat and smell. Belen nodded. She felt dizzy.
"Well get on with the job then."
Belen held her breath again and lowered her head slowly towards the open vagina. She put out her tongue and tried to pick up the thread.
Lidia gave a little jerk that lifted her breasts, a kind of first small spasm caused by this intimate contact. She turned her head sideways and half-closed her eyes. She took a deeper breath and lay back, waiting for the next touch of the girlís mouth...
Belen could not catch the thread on her tongue however many times she tried. In the end she had no choice but to put her mouth down on the smelly vagina and pick the repugnant tampon up between her front teeth.
Lidia gazed in fascination at the beautiful face that came up holding an Extra-super Tampon dangling on the end of its thread. Blood dripped onto the floor...
She smiled. "Your father used to make me eat his toilet paper. After heíd used it."
Belenís stomach heaved. She twisted her head sideways, releasing the tampon, which fell heavily to the floor.
Lidia ran two fingertips up between the lips of her own vagina, stopping at the almost manly clitoris and playing with it.
"Now youíre going to pick that jamrag up and eat it! And when you finish, youíre going to clean the floor with your lovely little tongue. Understand?"
Belen shook her head. She couldnít do it! The tampon was so filthy, so wet, so red...
"Remember your elbows darling! You donít want to spend another week like that, do you? You donít want another night under my fiancť, do you?"
Belen gave in. She could not stand the pain in her elbows or the thought of that mad bastard fucking and torturing her all night...
She bent down and picked the tampon up in her mouth, trying to get it in without touching the lips too much. Finally she stood up, chewed it and swallowed all she could.
She turned her eyes to Lidia. Lidia saw the look of a beaten, submissive dog, its will sapped. The girl has my mark now, she thought, my menstruation is on her chin and inside her...
"On your knees! Lick the floor clean! Iím going to download a turd or two. You donít want Mummy to drop them in your toilet, do you?"
Belen burst into tears and wailed like a wolf, a cry of despair which shook her shoulders...
But she leaned forwards and began licking.
"Doesnít the chain work, dear?"
"No. It ... it doesnít.
"You should have told me. Too late now. Youíll have to sleep with the smell, Iím afraid. You donít know how sorry I am! Now I think of it, my fiancť did say something about it..."
Belen swallowed nervously. The smell had just reached her.
"No paper either?"
This time, Belen did not bother to answer...
She saw a nasty gleam in Lidiaís eyes when she came out of the toilet after dirtying it. The woman didnít say anything, didnít give any orders. She just grabbed her by the hair and pulled her back to the armchair. She made her sit on the floor, her back resting against the front of the chair, and she pulled her head up. Then she opened her legs wide on either side of the girlís face and squatted down, her vagina just in front of her eyes. Then she lowered her hot, burning vagina until it was over the girlís mouth, and she went down on her, lips against lips, rubbing her juices over her, choking her...
Belen smelt the smell of old sex, of sperm and menstruation as Lidia masturbated on her face, pressing her vagina onto her mouth and rubbing it all over her face.
From time to time Lidia pulled the girlís head up so she could suck her nipplesÖ
She had seven orgasms, the last one on the girlís nose, until she finally fell forwards onto the chair and let Belen slip out from under her.
Belen sat on the floor weeping, her face covered with the filth from Lidiaís ass as well as her menstruation and her female secretions. She sobbed and fell into a deep despair.
When Lidia recovered she untied the girl and gave her a hamburger from a bar that Belen used to go to, and she let her eat and drink before she shut her up again in the toilet.
And there Belen remained, feeling slightly comforted after eating and drinking, trying not to sit in Lidiaís excrement.