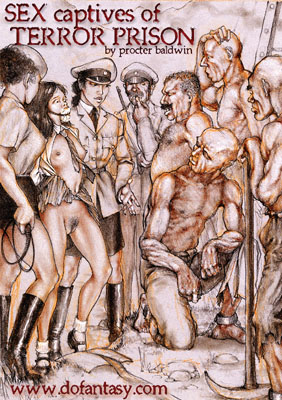 New in English!!!
by PROCTER BALDWIN
de luxe edition

Illustrated by TIM
12 ORIGINAL FULL COLOR MASTERPIECES
Incredible artwork!

IMPORTANT NOTICE - DISCLAIMER
All characters are 18 years old or older.
This is an entirely fictional work based on
cartoon characters for adult entertainment.
It shows no real people or events.
The characters are shown participating in
CONSENSUAL role-play for their own
personal satisfaction, simulating activities
which involve sexual dominance and
submission. No actual toons were harmed
in the making of this comic.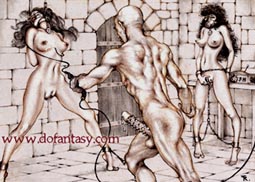 FROM THE BOOK...
Melosa shrugged and walked back to the other side of the derrick. She waved the prisoners back. "One moment more, you bastard. One moment more and you can have her." She turned to Guardia Isabella. "Give me your whip, Guardia."
Melosa uncoiled the long supple braid of ox leather and flicked it experimentally. Its crack reverberated across the valley. Then, backhand and forehand, she slashed it across and over the backs of the girl's thighs until Angelita's screams became so hoarse and so deep that it seemed she could scream no more, but merely groan her dismay to the unlistening world.
Melosa stopped at last. Glanced briefly at the livid blue-black stripes down the girl's pale thighs. Then she pressed the tip of her middle finger against Angelita's crinkle-tightened ass-hole, and pushed the finger slowly inside as far as the knuckle. "Just here, prisoner. Fuck her here."
Angelita's shrieks began again. She knew now what was coming next....
And it wasn't long in coming. The chained prisoners closed in on her, and the tall, thin one laid the tip of his long, thin cock against the girl's finger-violated ass-hole, and forced it inside her. She tightened herself as hard as she could, fighting its entry all the way. But first the tip disappeared inside, then, grinning with a less sardonic pleasure, the man eased himself into her inch by so slow inch. He held her ass cheeks roughly apart, letting everyone see the depth of his penetration.
Long his cock may have been, but this little convent girl, this little innocent, took it all, every inch and millimeter until his hips were hard against her buns and his balls rested on the opened slit of her cunt. And thin it might have been, but not so thin that her tiny rosebud was not stretched to its limit. Indeed, the longer the man stayed deep inside her the more it seemed to thicken, so that when he began to make his move, to slide in and out, to pump into her, she felt almost torn apart. There was nothing she could do about it, her ass-hole was locked around his cock, she could not move, so firmly was she bound, and must endure him pistoning into her, pounding her soft buns so hard that one of the other prisoners said, "Hey, guys, we don't need this pile driver. We'll get this guy to drive the posts into the ground with his cock!"