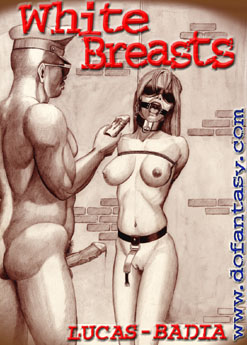 New in English!!!
by LUCAS
Illustrated by BADIA

HIGH RESOLUTION PDF deluxe edition
150 pages beautifully illustrated by BADIA

IMPORTANT NOTICE - DISCLAIMER
All characters are 18 years old or older.
This is an entirely fictional work based on
cartoon characters for adult entertainment.
It shows no real people or events.
The characters are shown participating in
CONSENSUAL role-play for their own
personal satisfaction, simulating activities
which involve sexual dominance and
submission. No actual toons were harmed in the making of this comic.
THE NOVEL:
White Breasts is set in Black Africa. It narrates the imprisonment of two white women by the insane General of a rebel army.
Laura is a volunteer schoolteacher. Margaret is an American journalist. Their paths cross again and again when they are captured by the rebel forces.
Here is Laura's meeting with the General after her capture...
FROM THE NOVEL:
There was a long silence. Neither of them looked away.
"My dear Miss Jones," he said, "I will conduct the body search myself. I am sure you would prefer that to having an ordinary Officer put his hands all over you. I wish to avoid you suffering any unnecessary humiliation."
Margaret bit her lip. She was furious. The sweat on her T-shirt was showing every detail, including the nipples on her heavy breasts.
Not for the first time, she wished her breasts were not quite so large.
She felt very embarrassed and as the seconds ticked by it got worse.
She wanted the earth to open up and swallow her.
"The regulations say you must raise both arms, Miss Jones. But given the circumstances, I don't think it will be necessary." His eyes were fixed on the young journalist's breasts.
Her hands were cuffed behind her back. She could hardly have lifted her arms if she had wanted to…