BURIED ALIVE

by Templeton
That disgusting bastard had a very well-kept secret buried in a hole dug in the cellar of his house...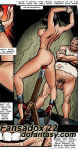 click

CHERISHED DAUGHTER

by Cagri
That morning, Colonel Mendoza couldn't sleep any longer. Silently, without wakening his wife, he left the room. He had decided to pay a visit to Susan, his cherished stepdaughter. The girl had disappeared some days before...
THE DISENCHANTMENT, by Ferres
The lovely, enchanting Baroness meets her future husband, the King of Aachen, a vicious, sadistic sovereign...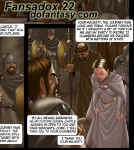 click
THE TRESPASSERS, by Slasher
The girls are out for the weekend, camping in the woods. Hours later, a horrendous, never ending nightmare begins...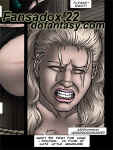 OLD BERNARD'S PONYGIRL, by Thorn
Old Bernard hated winter at the farm, the darkness, the freezing, whining gales and bloody, endless rain so he headed south as quickly as possible. He locked Dripping Cunt, his preferred pony-name for Susan, in a small cage in the cave beneath the house with a week's supply of water and dry dog biscuits...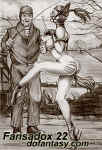 MATERNAL BLACKMAIL, by Paul
The nightmare of the young mother and her twin daughters continues. The sadistic Governor now has the young woman and one of the daughters in prison. He'll take advantage of the situation to sadistically blackmail the mother, forcing her to perform the most humiliating acts in front of the girl...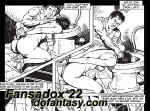 BLACK VAN is BACK! by Roberts
Great exclusive chapter of this exciting comic by this celebrated artist. The young policewoman takes the worse part of the action...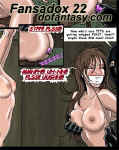 click

HER BIGGEST FANS


by Geoffrey Merrick
Illustrations by Templeton
He had been in town two years when he saw her. She was just walking down the street carrying her books. Carrying them. They weren't in a book bag or knapsack. She was carrying them next to her prodigious chest. That was the last straw. Her face and body were the first straws.... Illustrated by TEMPLETON!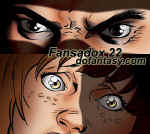 BUY FANSADOX 22 NOW
In ENGLISH. Available electronically in PDF format. See bottom of page