Use our On-Line 100% Secure EncryptedShopping Cart Ordering System. Simply browse
our site and Click the ADD TO SHOPPING CART buttons to place items in your Shopping Cart
[ HOME ] [ COMICS ] [ MOVIES ] [ NOVELS ] [ CD-ROM ] [ Order info ] [ Help ] [ ARTIST SITES ] [ SEARCH ]
[ Disclaimer ] [ CATALOGUE ] [ Copyright ]
FANSADOX COLLECTION 218
CRACKED BOMBSHELL - MONTAL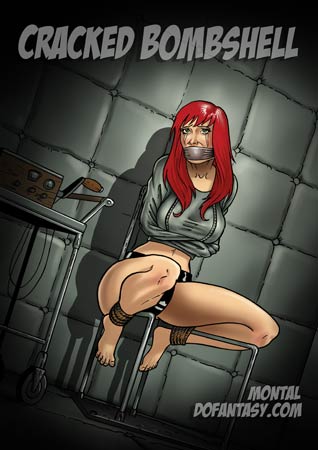 NEW IN PDF ELECTRONIC VERSION!
Adult Comic Album by MONTAL
HIGH RESOLUTION PDF deluxe edition
44 full color comic pages.
-COMPLETE, UNABRIDGED VERSION-
LOCKED IN A WEIRD MADHOUSE,
NICOLE IS SUBMITTED TO WEIRD,
EXTREMELY HUMILIATING THERAPIES
.
IMPORTANT NOTICE - DISCLAIMER
All characters are 18 years old or older.
This is an entirely fictional work based on
cartoon characters for adult entertainment.
It shows no real people or events.
The characters are shown participating in
CONSENSUAL role-play for their own
personal satisfaction, simulating activities
which involve sexual dominance and
submission. No actual toons were harmed in the making of this comic.
GAGGED AND RESTRAINED AT ALL

TIMES, SHE CAN'T PROVE SHE'S NOT

INSANE.
ONLY HER SICK AND DEPRAVED WARDEN KNOWS THE TRUTH!
Like every morning, Nicole, a young bombshell aged 21, is jogging before going to the school where she works as a teacher.
But this morning is not like every other morning. A red Emergency Van pulls up...
"Are you Miss Whiteman?"
"Yes..." she says, looking surprised.
"We're from the Psychiatric Hospital. You're coming with us 'cause you're fuckin' mad!"
"What? Are you kidding? I... I'm a school teacher!"
"I don't give a fuck what you are. I'm just doing my job!"
Nicole resists and is savagely reduced with a tazer.
She wakes up lying on her back, her neck collared to a nail on the concrete floor. The chain is so short that she can barely lift her head two inches.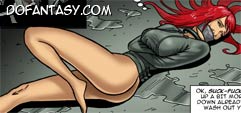 The place is cold and dark. "Where am I? Oh my God... My head, it hurts!"
Then she realizes... She's wearing a tight and extremely uncomfortable strait-jacket and she's severely gagged. Something long, rubbery and sticky keeps her jaws apart and tickles the back of her throat. And what's worse, her most intimate holes are plugged! Something is buzzing hard inside her, driving her mad...
Nicole is left alone in this scary predicament for several hours. Then Mr Smith, her personal caretaker, appears...
"Hi, gaga... Let me introduce myself, Iím your personal nurse. As you are unable to take care of yourself, itís my job to keep you clean, healthy and happy..."

From that moment on, the completely sane girl is submitted to the strict discipline of a madhouse whose Director, Mr Madman, does not trust modern medicine. Instead, he favors traditional and often inhuman practices. These include electroshock to put stray neurones in place, cold high-pressure hosing to calm patients down, and lots of sexual activity to help them into the society again...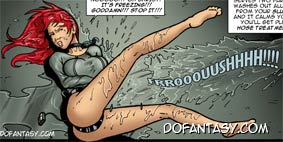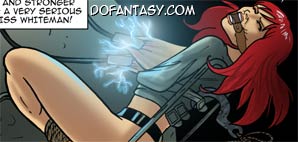 Needless to say, the health care professionals on the payroll show great interest in 'treating' the lovely young Nicole...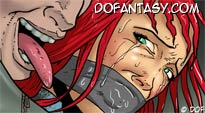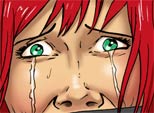 Nicole desperately wants to tell somebody that she is in her right mind, that she has an IQ of over 140, and that she is constantly being subjected to perverted abuse by her caretaker, Warden Smith. But she can't. She is kept gagged and restrained at all times. "So you don't bite your tongue or other people's more precious things", they say.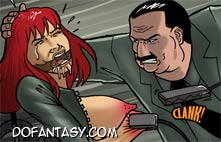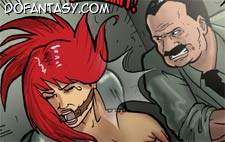 When she finally meets the Director, she discovers that he is only interested in seeing how hot she looks standing naked in her strait-jacketÖ
And when the medical board assesses her clinical history, it only takes into account Smith's observations... "The patient is very aggressive, she's completely screwed up! She's a threat to public safety and should be kept restrained at all times and given continuous therapy, for the next 20 years at least..."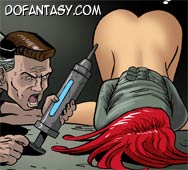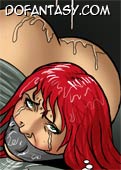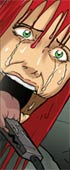 Young Nicole is caught in a weird trap she can't escape from.
Deprived of the use of her hands and mouth, she spends her days and nights in Smith's sadistic hands, in an endless nightmare of deep, unbearable humiliation...
Therapy is her carers' term for the sick abuse which she suffers...





This thrilling comic paints a vivid picture of a dark, cruel institution which has total power over the mind and body of a defenseless young woman who can't escape it...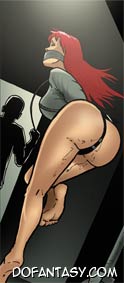 LOCKED IN A WEIRD MADHOUSE,
NICOLE IS SUBMITTED TO WEIRD,
EXTREMELY HUMILIATING THERAPIES.

GAGGED AND RESTRAINED AT ALL


TIMES, SHE CAN'T PROVE SHE'S NOT


INSANE. ONLY HER SICK AND DEPRAVED
WARDEN KNOWS THE TRUTH!

EXTREMELY HOT AND EXCITING!