Use our On-Line 100% Secure Encrypted Shopping Cart Ordering System. Simply browse
our site and Click the ADD TO SHOPPING CART buttons to place items in your Shopping Cart
[ HOME ] [ COMICS ] [ MOVIES ] [ NOVELS ] [ CD-ROM ] [ Order info ] [ Help ] [ ARTIST SITES ] [ SEARCH ]
[ Disclaimer ] [ CATALOGUE ] [ Copyright ]
FANSADOX COLLECTION 250
MAMA'S BOY - THE WEDDING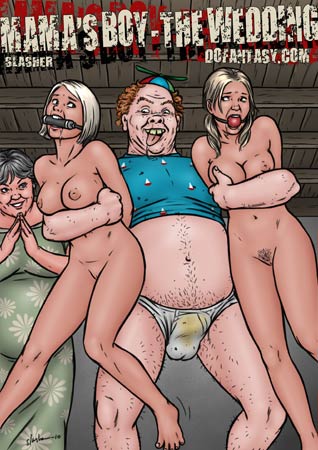 NEW IN PDF ELECTRONIC VERSION!
Adult Comic Album by SLASHER
HIGH RESOLUTION PDF deluxe edition
47 full color comic pages.
-COMPLETE, UNABRIDGED VERSION-
A HOUSE OF HUMILIATION RULED
BY A SINISTER MOTHER!
A TWISTED FREAK OF A SON,
IN SEARCH OF A NEW TOY!
THERE'S NOTHING MOTHER ISN'T WILLING
TO DO TO MAKE HER BABY BOY HAPPY, AND
GIVE HIM THE ONE THING THAT'S MISSING
IN HIS LIFE: A BEAUTIFUL, BLUSHING BRIDE!
IMPORTANT NOTICE - DISCLAIMER
All characters are 18 years old or older.
This is an entirely fictional work based on
cartoon characters for adult entertainment.
It shows no real people or events.
The characters are shown participating in
CONSENSUAL role-play for their own
personal satisfaction, simulating activities
which involve sexual dominance and
submission. No actual toons were harmed
in the making of this comic.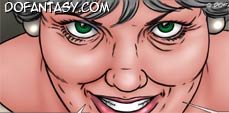 In Mama's house, mother's word is law! And when mother decides her son needs a wife to play with, there are no lines she won't cross in her quest to find a beautiful bride for her twisted offspring. She'll stop at nothing to get her hands on a woman to marry her son, and keep him entertained in the most humiliating ways possible.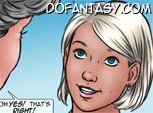 All young Rosalie is looking for is an easy way to make some money for the summer. When she sees an advertisement looking for a babysitter, she thinks she's struck gold. After all, how hard can it be to take care of Mama's son for a few hours each day? Of course, Mama is looking for a longer commitment than that… a lifetime contract as her new daughter-in-law!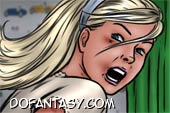 Sonny-boy doesn't know why the beautiful stranger has come to visit him, the only thing he's thinking about is all the fun he'll have playing with his new playmate. Of course, they'll have to play the games he likes best, and he makes all the rules! His last play-pal didn't seem to like his games that much, but now he's got a new friend to have fun with. And he's going to have lots of fun with this one!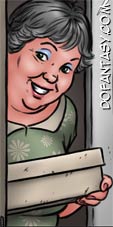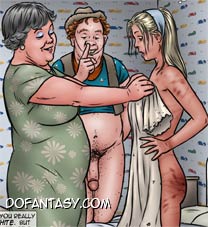 It's your wedding dress! It belonged to my mother, then me... and now it's yours!
You know dearie, you really shouldn't wear white. but since you've made
my little boy so happy, I'll allow it.
Rosalie is stunned when she finally meets the boy she's been hired to baby-sit for, and starts to realize that she's in way over her head. No summer job is worth the price she'll have to pay to stay in Mama's house. What she hasn't realized is that no one every says NO to Mama!
Kim is starting college in the fall, and knows that she'll need some extra money for books and study supplies. Taking a job as a babysitter for a friendly but stern woman sounds like a great way to make some cash for the coming school year. She answers an advertisement in the local paper, and is suddenly caught in Mama's web.
Mama doesn't like leftovers, and won't let anything, or anybody, go to waste! When she finds herself having to choose between two sexy young women for her son, she has a flash of inspiration and designs a game of her own. A game which will test the limits of what Rosalie and Kim can endure both physically and emotionally!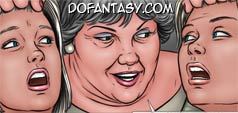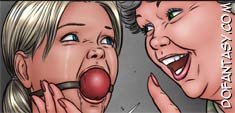 Well now! you two lucky young ladies are in a tough competition
for my precious baby boy... The winner wil will marry him. she'll be his blushing bride!


Get it all... A good wife knows that cleaning up
after a man is her duty! Slurp it all up!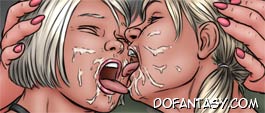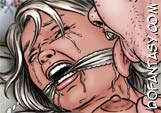 Clean each other up! I can't have you looking
like this in front of my angel!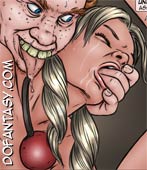 Nobody is good enough for Mama's baby boy, and the woman who wishes to prove herself as being a fit bride for the overgrown moron will have to win Mama's game before she can win his heart. Rosalie and Kim may not want to win mother's contest, but they're going to be forced to play whether they want to or not. Mama will see to that!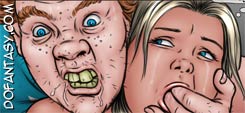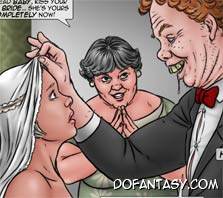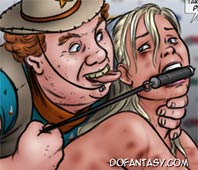 CHARACTERS THAT HAVE TO BE SEEN TO BE BELIEVED
AND A STORY BEYOND YOUR WILDEST IMAGINATION!
SLASHER HAS PULLED OUT ALL THE STOPS TO DELIVER A
COMIC DESTINED TO BECOME AN INSTANT CLASSIC!

TWO BABYSITTERS LEARN THAT TO KEEP MOTHER HAPPY MEANS KEEPING
HER PRECIOUS BABY BOY HAPPY, NO MATTER WHAT IT TAKES!
BUT MOST IMPORTANTLY: NO ONE EVER SAYS NO TO MAMA!

THIS COMIC IS A MUST FOR ANY COLLECTION,
AND WILL KEEP YOU READING IT AGAIN AND AGAIN!
DON'T MISS THE FIRST PART OF THIS GREAT COMIC: MAMA'S BABY BOY