Use our On-Line 100% Secure Encrypted Shopping Cart Ordering System. Simply browse
our site and Click the ADD TO SHOPPING CART buttons to place items in your Shopping Cart
[ HOME ] [ COMICS ] [ MOVIES ] [ NOVELS ] [ CD-ROM ] [ Order info ] [ Help ] [ ARTIST SITES ] [ SEARCH ]
[ Disclaimer ] [ CATALOGUE ] [ Copyright ]
FANSADOX COLLECTION 259 - OPERATION SILENT SCREAM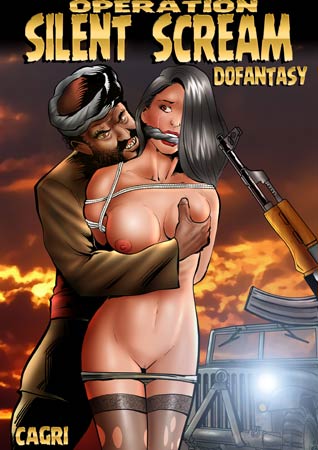 NEW IN PDF ELECTRONIC VERSION!
Adult Comic Album by CAGRI.
HIGH RESOLUTION PDF deluxe edition
42 full color comic pages!!!
-COMPLETE, UNABRIDGED VERSION-
A SECRET GAME OF CLOAK AND
DAGGER IS ABOUT TO CLAIM TWO MORE
VICTIMS! FOR CIA AGENTS LAURA AND
PAM, THE GREATEST DANGER OF BEING
A SPY, IS BEING EXPOSED!
WHEN THEIR TOP SECRET MISSION IS DISCOVERED, THE TWO UNDERCOVER
AGENTS FIND MORE TERROR IN THE
MIDDLE EAST DESERTS THAN THEY
EVER EXPECTED!
IMPORTANT NOTICE - DISCLAIMER
All characters are 18 years old or older.
This is an entirely fictional work based on
cartoon characters for adult entertainment.
It shows no real people or events.
The characters are shown participating in
CONSENSUAL role-play for their own
personal satisfaction, simulating activities
which involve sexual dominance and
submission. No actual toons were harmed
in the making of this comic.
The rugged mountains in the Middle East have been hiding criminals and rebels gangs for countless generations. Within the twisting border lie hidden sanctuaries and ancient fortresses where the most extreme elements of society can hide and plot from the shadows.
Centuries have changed the world, but the barren clefts of the Middle East house villains who nurse a timeless hate. A hate for all things civilized… especially women!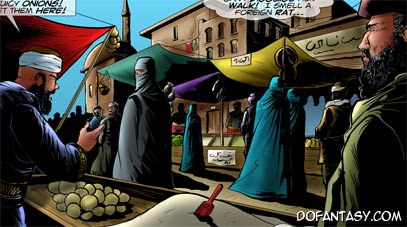 Humm... she looks like a local, but that burqa
can't disguise her walk! I smell a foreign rat...
When the "War on Terror" proves no match for the porous border regions, America turns to the shadowy offices of the C.I.A. to get results.
Operating undercover and with Top Secret clearance, two sexy agents are smuggled into the country under the cover of the benevolent international aid agency: The Red Cross.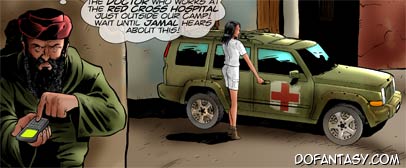 The Assignment: Operation Silent Scream!
Officially denied by the United States and United Nations, this operation has been created to locate and eliminate the top terrorists in the region by any means necessary.
The Target: Jamal Rashak, the self-styled leader of a gang of terrorists and thugs operating in the mountain regions.
Believed to be holed up in a training camp high in the mountains, he's managed to escape every attempt to dig him out of the contested border regions. To catch a rat this sly will require the most cunning of traps…
Agent Pam is a medical doctor and holds a special PhD: Pretty Hot and Dangerous!
Trained to use lethal force to counter any threat, the busty healer slips easily into the roll as a Red Cross doctor. Her flashing green eyes are always alert for signs of trouble!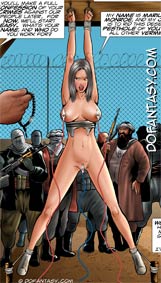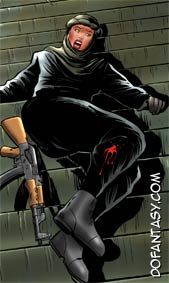 Agent Laura Evans is the C.I.A.'s top undercover asset, and no wonder!
As a young women with the body of a porn-star, more than one international assassin has underestimated her sharp mind and quick reflexes. She has no problems with pulling the trigger on those who would terrorize the planet for their own sick pleasure.
Together, the two women make contacts and close in on the sinister Jamal.
They mingle with local women who live in terror under the barbaric beliefs of Jamal's gang. When they finally discover the coordinates to Jamal's terrorist camp, they just have to pass the information to the military forces, and Jamal will be history.
But cruelty flourishes in the arid desert country, and there is a reason that great nations have perished on its endless dunes.
Laura and Pam are about to learn that some places will remain uncivilized forever!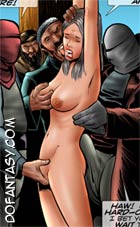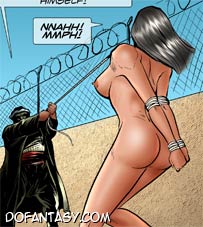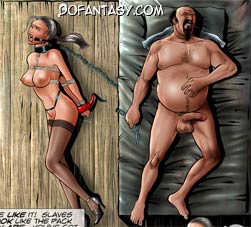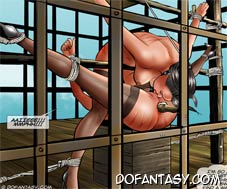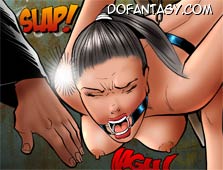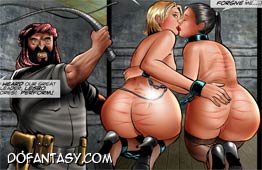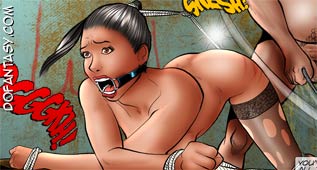 You've got to pay for all the food you eat, and dicks you suck! Understand, bitches?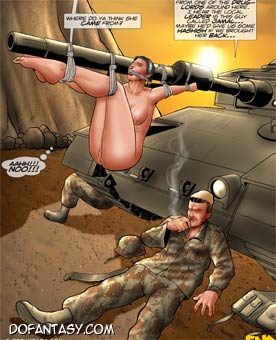 The bitch probably ran away from one of the druglords
around here. I hear the local leader is this guy called Jamal...
maybe he'd give us some hashish if we brought her back...
SECRET WARS HAVE NO RULES OF ENGAGEMENT, AND NO MERCY FOR WOMEN TAKEN
AS PRISONERS! WITH A STORY THAT COULD COME FROM TODAY'S HEADLINES,
THIS COMIC EXPOSES WHAT HAPPENS WHEN BEAUTIFUL CIA AGENTS FALL INTO
THE HANDS OF RUTHLESS TERRORIST DRUGLORDS!




A COMIC THAT BLAZES WITH THE HOTTEST EROTIC ARTWORK FROM CAGRI!
KNOWN FOR SHOWING THE SEXIEST OF WOMEN IN RAW, GRAPHIC SITUATIONS,
THIS ARTIST HAS A FOLLOWING THAT GROWS WITH EACH COMIC RELEASED.
THIS COMIC IS NOT TO BE MISSED!

[ CAGRI SITE ] [ HOME ]
PDF by DOWNLOAD. The PDF electronic version contains the same images and text as the paperback edition (if a paperback exists). Please be aware that most of the ENGLISH VERSIONS are in PDF version exclusively. You'll have instant access to your files just after the credit card transaction is approved. You'll receive a confirmation e-mail with directions to download if you prefer to download at a later time. To open PDF files you need Adobe Acrobat Reader. Download it for free by clicking here!
PDF in a CD. If you prefer, we'll burn a CD-ROM e specially for you with the PDF files that you choose. Postage (14.99 Euro) will be added to the total cost of the books. If you want to order on a CD-ROM please check the corresponding check-box in the shopping cart.
Copyright © 1998-2011 Dofantasy - ETHAN ltd