Use our On-Line 100% Secure Encrypted Shopping Cart Ordering System. Simply browse
our site and Click the ADD TO SHOPPING CART buttons to place items in your Shopping Cart
[ HOME ] [ COMICS ] [ MOVIES ] [ NOVELS ] [ CD-ROM ] [ Order info ] [ Help ] [ ARTIST SITES ] [ SEARCH ]
[ Disclaimer ] [ CATALOGUE ] [ Copyright ]
FANSADOX COLLECTION 265
MARS PENAL COLONY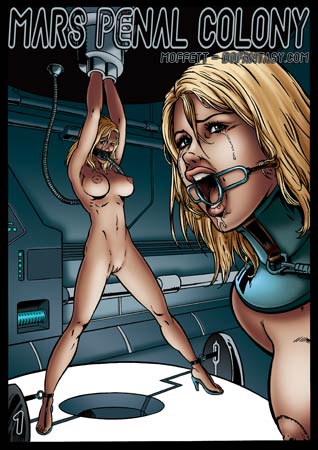 NEW IN PDF ELECTRONIC VERSION!
Adult Comic Album by MOFFETT.
HIGH RESOLUTION PDF deluxe edition
43 full color comic pages!!!
-COMPLETE, UNABRIDGED VERSION-
SEXY YOUNG WOMEN DETAINED AND
HANDED OVER TO A PSYCHOPATH IN A
MAXIMUM SECURITY PRISON!
FORCED INTO SLAVERY IN THE HELLISH
MINES OF THE MARTIAN PENAL COLONY "COPERNICUS".
IMPORTANT NOTICE - DISCLAIMER
All characters are 18 years old or older.
This is an entirely fictional work based on
cartoon characters for adult entertainment.
It shows no real people or events.
The characters are shown participating in
CONSENSUAL role-play for their own
personal satisfaction, simulating activities
which involve sexual dominance and
submission. No actual toons were harmed
in the making of this comic.
ONE MAD-MAN'S PARADISE IS A FESTERING HOLE OF SADISM, WHERE IMPRISONED
YOUNG WOMEN ARE TREATED AS PRISON CONTRABAND, PASSED AROUND FROM INMATE
TO INMATE UNDER THE MENACING EYE OF THE WORLD'S MOST VICIOUS KILLER:
MAD SATAN!
__________________________________
BACKGROUND
The beginning of the 21st Century was shaped by a revolution few could have imagined.
The revolution came not from political anarchy or military bloodshed; it arrived in the form of Martinite. This rare element was found in vast quantities deep under the irradiated sands of Mars. With Martinite, microchips could be reduced in size by a factor of 1 million, and their speed increased by 1 million as well. Computer systems which could handle the processing needs of an entire spaceport could suddenly be made as small as a kitchen toaster. Almost overnight limits of high-tech processors were no longer contained by physical limitations, but by the imaginations of engineers and designers alone.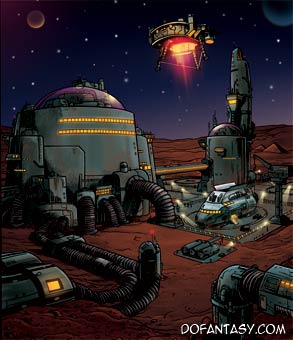 For the company that could get their hands on a source of Martinite, there were no limits. But Martinite was only found on Mars.
Realizing the staggering costs involved in tearing the priceless ore from the red planet and shipping it back to Earth, the ultra right-wing governments of North American Federation turned to the free market for a solution. The most radical idea came from the Marsexxon Corporation who proposed the establishment of a Martian Penal Colony nicknamed "Copernicus".
Copernicus was to be a self contained mining and refining facility built and staffed by the most violent criminal offenders vomited up from the seething mass of humanity crawling over Earth's surface. Marsexxon Corp. had established itself as a worldwide mega-corporation with ties to every dictatorship and underworld organization known to exist. Their power came from an unwavering dedication to the bottom line. Money. This new project would be a marvel of human ingenuity and machine like efficiency.
Sprawling over three square miles of Mars' cratered landscape and burrowing almost a mile beneath its red soil, Copernicus would squeeze every dollar out of the alien sands while working countless criminals to death. Finding labor was easy. Prisoners who had been condemned to execution were given the choice of frying in the electric chair, or taking their chances on a distant planet, slaving for a faceless corporation who would profit from their backbreaking work. For the dregs of condemned scum, the choice was easy.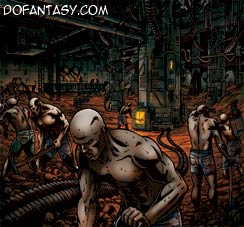 Prisoners, or as the Marsexxon Corp. referred to them, "Unlimited Contract Employees", were encouraged to work through a combination of relentless punishment and threats to their continued existence. Underperforming convicts would have their food rations withheld. In the most extreme cases, their daily air allowance was restricted as well. To work was to live. To resist was to die a long and agonizing death by starvation and asphyxiation.
More direct punishment was handled through WHIP-ONE, the station's self-aware computer system. Designed to manage every aspect of the prisoner's behavior, WHIP-ONE was directly linked to company slaves by an electronic harness wired to each prisoner's genitalia. These devices were a wonder of miniaturization technology. The harness not only let WHIP-ONE locate each prisoner within the vast refining complex, but also let the computer monitor the subject's mental state, stress levels and rebellious thoughts. Electrodes delivered punishments ranging from a debilitating shock to the gonads, all the way to an excruciating death. The decision as to what punishment was appropriate was left completely up to the factory's digital overlord.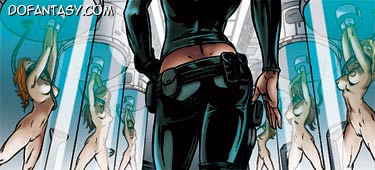 Control over the prisoners was so complete that a mere handful of corporate guards could effectively rule over a convict population numbering in the hundreds. These guards were to be housed in a control tower rising from the surface of Mars, and connected to the main factory through a high-tech security tube where incoming shipments of food and water would flow. The metal umbilical cord would also deliver replacement contract workers, or "pigs". Once a prisoner arrived on the hostile planet and walked down the metal corridor, they knew it was a one-way trip. The only thing coming up the tube would be high-grade, refined Martinite.
Escape from the Martian penal colony was impossible, and the profit margin promised to be enormous. The fascist government of the North American Federation quickly agreed to this plan and by 2040 Penal Colony Copernicus was a reality.
The guards chosen to work in the distant prison were lesbians.
All expressions of homosexuality had been banned from earth under the authoritarian regime, and finding beautiful lesbians to take a job so far away from family and friends wasn't difficult.
The women viewed the assignment as an opportunity to indulge in their deviant lusts, far from the prying eyes of Big Brother. Marsexxon Corp. was willing to look the other way, since having a staff of lesbian guards minimized the risk of any relationships forming between prisoners and supervisors...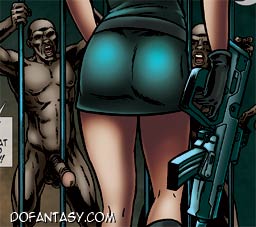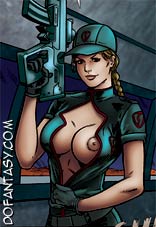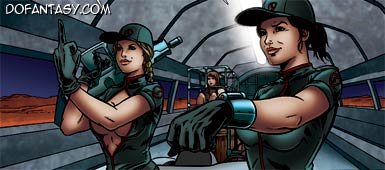 All potential hazards of this offworld project were thought to have been solved, but one flaw found its way into the system turning the Mars Penal Colony into a howling nightmare: Mad Satan.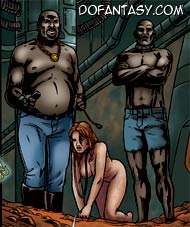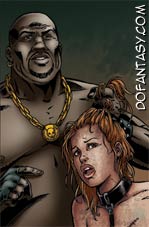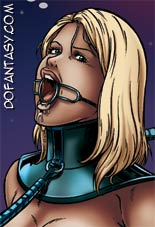 Recognized as the most vicious, immoral, psychotic killer the world had ever seen, Mad Satan left a trail of blood and wailing sorrow across 4 continents before his capture and exile to Copernicus. It was hoped that he'd die beneath the Martian crust. But Mad Satan had talents he'd never shared. The hulking monster was not only a warped genius, but his twisted brain was mildly telepathic. Once locked inside the colony, he used his abilities to hack into WHIP-ONE and seize control. In an instant, he was both ruler and undisputed dictator of the small city.
With Mad Satan controlling the mining project, the Marsexxon Corp. had few options. But the mega-corporation's history of successfully working with tyrants and mobsters meant they were quick to come to an agreement satisfying both sides. Mad Satan would keep the supply of Martinite flowing to Earth. In exchange, Marsexxon would keep him stocked with everything he needed to indulge in a life of sadistic hedonism. No longer would Earth send just condemned filth to slave away in the mines. They would also send beautiful young fuckslaves to keep him and his minions happy.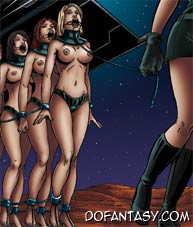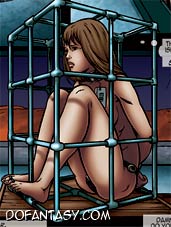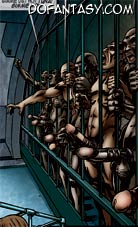 Under Earth's repressive governments, all are considered terrorists unless proven otherwise. And the penalty for terrorism is death or exile. Rounding up a supply of sexy women to appease the lusts of degenerates and convicts would be the easiest deal the Marsexxon Corp. ever made.
__________________________________
THE COMIC
Some called it "The Discovery of the Millennium": Martinite. The exotic element that revolutionized computers in the early part of the 21st century. With Martinite, ultra high-tech computer systems could be built at a fraction of their size, with capabilities that could have only been dreamed of a decade ago. The discovery changed technology forever, but what never changes is the strong dominating the weak and defenseless.
Andrea Collins had never gotten over the sudden arrest and rendition of her parents years ago.
The bright, strong willed blonde has used every contact she has to track down the real story behind her parent's departure. She must move stealthily, as anyone who shows too much curiosity about the workings of the Governmental Anti-Terrorism Police Force can find themselves on a one-way trip to the off world Penal Colony.
Colonel Wasp has volunteered to take a year-long duty assignment a director of "Copernicus". The mission is clear: give Mad Satan everything he demands as long as he continues to force the inmates to mine the scarce element from the Red Planet's irradiated sands. But it's the second objective which really drives the latex clad lesbian. If possible, Mad Satan should be eliminated with extreme prejudice! For the man-hating brunette, this is one mission she'll complete or die trying!
When a meeting with an informant turns out to be a trap, Andrea is snatched from the crowded streets of Neo-Chinatown and locked in a squalid cell, blindfolded and helpless.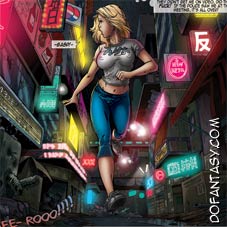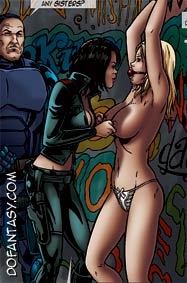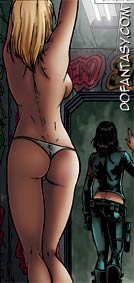 Fear creeps up her spine and the buxom bombshell breaks out in a cold sweat. Visions of her parents race through her panicked mind, and their final screams ring in her ears. Will she join her parent's fate? Is she destined to become another faceless woman who was 'disappeared' by the police? The prison walls echo with the cries from other prisoners, but give no answers to the fear-maddened young woman.
Colonel Wasp doesn't limit her cruelty to men, but glorifies in the power she holds over her shipment of female captives.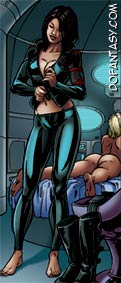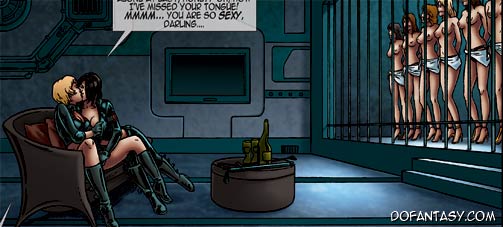 Whether they are actually guilty of the crimes they've been accused of is of no importance to her.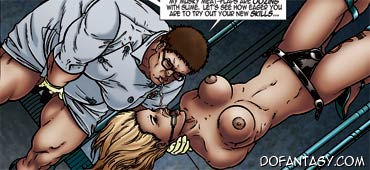 What matters is that they provide her with feminine entertainment for the long journey to the Martian Penal Colony.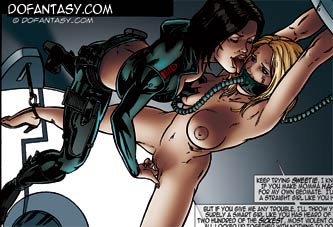 As the delivery ship blazes towards Mars, Mad Satan sits in the middle of the colony awaiting their arrival like a fat spider in a steel web.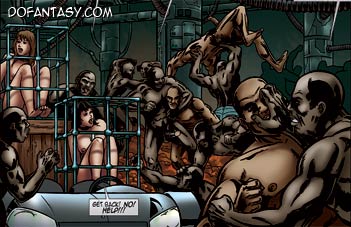 His last shipment of sexy captives didn't last long, and if the new young inmates don't satisfy his cravings, there will be hell to pay!
THIS IS THE START OF AN EPIC STORYLINE PAINSTAKINGLY ILLUSTRATED BY DOFANTASY
ARTIST MOFFETT. USING GRITTY ARTWORK TO PRESENT A SHOCKING STORY OF THE NEAR
FUTURE, MOFFETT HAS CREATED AN EXTREMELY GRAPHIC NOVEL THAT WILL PUSH YOUR
IMAGINATION FURTHER THAN YOU THOUGHT POSSIBLE!



A DETAILED NIGHTMARE FUTURE UNFOLDS ON EVERY PAGE, WHERE WOMEN ARE
TRADED AND USED BY THE EVILEST CRIMINALS THE FUTURE HAS EVER SEEN!
CLEVER, FANTASTIC DIALOGS BY SANDOW!
_______________________________
DON'T MISS THE 2ND PART OF THIS WONDERFUL COMIC:
MARS PENAL COLONY 2 - THE MUTINY
VISIT MOFFETT SITE FOR A COMPLETE LIST OF MOFFETT COMICS AND OFFERS
PDF by DOWNLOAD. The PDF electronic version contains the same images and text as the paperback edition (if a paperback exists). Please be aware that most of the ENGLISH VERSIONS are in PDF version exclusively. You'll have instant access to your files just after the credit card transaction is approved. You'll receive a confirmation e-mail with directions to download if you prefer to download at a later time. To open PDF files you need Adobe Acrobat Reader. Download it for free by clicking here!
PDF in a CD. If you prefer, we'll burn a CD-ROM e specially for you with the PDF files that you choose. Postage (14.99 Euro) will be added to the total cost of the books. If you want to order on a CD-ROM please check the corresponding check-box in the shopping cart.
Copyright © 1998-2011 Dofantasy - ETHAN ltd