Use our On-Line 100% Secure Encrypted Shopping Cart Ordering System. Simply browse
our site and Click the ADD TO SHOPPING CART buttons to place items in your Shopping Cart
[ HOME ] [ COMICS ] [ MOVIES ] [ NOVELS ] [ CD-ROM ] [ Order info ] [ Help ] [ ARTIST SITES ] [ SEARCH ]
[ Disclaimer ] [ CATALOGUE ] [ Copyright ]
FANSADOX COLLECTION 267
THE STEPFATHER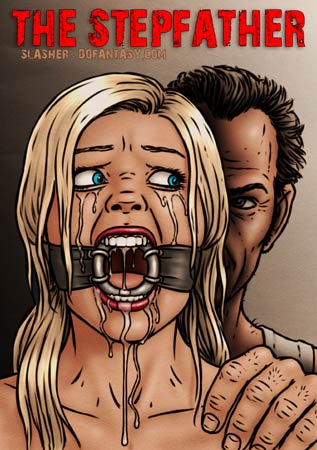 NEW IN PDF ELECTRONIC VERSION!
Adult Comic Album by SLASHER.
HIGH RESOLUTION PDF deluxe edition
45 full color comic pages!!!
-COMPLETE, UNABRIDGED VERSION-
A DEFIANT DAUGHTER MEETS THE ONE MAN
SHE WISHES SHE'D NEVER CROSSED;
HER NEW STEPFATHER!
A BULLYING STEPFATHER LAYS DOWN
THE LAW, AND JENNY IS ABOUT TO LEARN
WHAT HAPPENS WHEN YOU BREAK THE
RULES NOW THAT THERE'S A NEW MAN
AROUND THE HOUSE!
IMPORTANT NOTICE - DISCLAIMER
All characters are 18 years old or older.
This is an entirely fictional work based on
cartoon characters for adult entertainment.
It shows no real people or events.
The characters are shown participating in
CONSENSUAL role-play for their own
personal satisfaction, simulating activities
which involve sexual dominance and
submission. No actual toons were harmed
in the making of this comic.
Jenny hates the creep her mother married. Her new step-father is a slob and is exactly the sort of guy her mother always warned her to stay away from. He's loud, obnoxious and the way he looks at her makes her skin crawl. She expected her mother to come to her senses and dump the deadbeat, but instead she married him. Now the jerk is living under the same roof as her!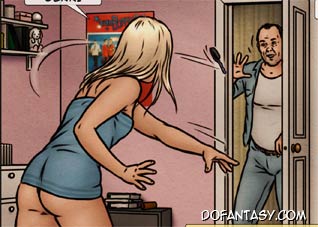 "Now beat it, jerk!"
Every day she fights with the new man in her mother's life, and she thought this day would be no different. She couldn't have been more wrong! What started out as a simple argument suddenly escalates in a way the young woman never could have imagined.
"Now you listen to me! When your mother's away,
I'm in charge! Got it?"
hen her constant teasing and snotty attitude pushes Richard over the edge, she discovers a side of her stepfather she never expected.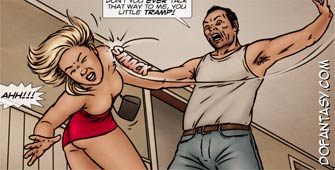 "Don't you ever talk that way to me, you little tramp!"
A terrifying dark side that turns her world upside down!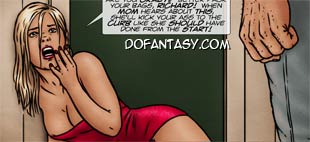 "Are you crazy? Better pack your bags, Richard!
When mom hears about this, she'll kick your ass to the curb
like she should have done from the start!"
Jenny's ears ring with the blow and she tumbles to the floor of her bedroom. Her mind whirls in surprise and panic. The jerk hit her! She's seen him angry before, in fact she's enjoys making Richard loose his temper. Normally he'll bellow and swear, but this is the first time he's raised his hand to her.
Fear gnaws her stomach as she realizes that this time she's gone to far. What the buxom young woman doesn't realize is how much further Richard is about to go!
Adjusting to married life hasn't been easy for Richard. His new step-daughter keeps nagging at him to get a job and to quit freeloading of her mother. Seeing the shapely young woman trembling at his feet, he's filled with a new found power. The tables have been turned, and his new family will see what it means to have him as the man of the house! Looking deep into her wide terror-stricken eyes, he loosens his belt. If he's in charge that means any disobedience is going to be met with severe punishment! And he's had more than he can take from his bratty stepdaughter.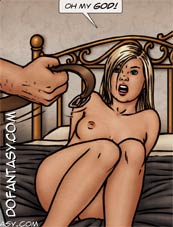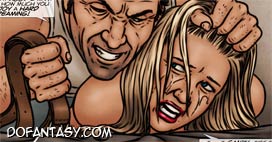 "Your momma thought she was better than me at one time,
but I set her straight... the same way I'll teach you
who's the boss around here!"
With no where to run to, Jenny can only guess what her enraged stepfather has planned for her...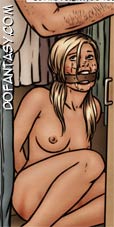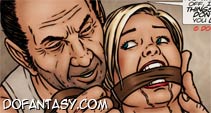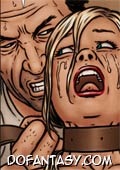 "Just think, If you hadn't been such a stuck-up bitch,
this never would have happened. You''ve only got
yourself to blame, you smug whore!"
She knows he remembers every insult she's ever given him, and every time she's made him feel like a deadbeat in front of her mother.
In the back of her mind she wonders what will happen when his loser friends show up later to watch the game...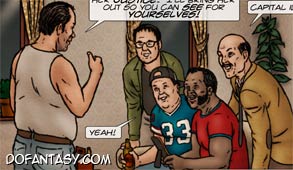 Certainly he'll leave her alone then, right?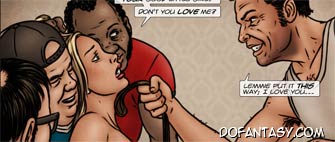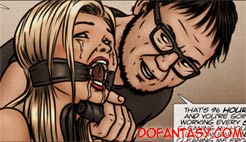 GOING BEYOND ANYTHING YOU'VE SEEN BEFORE, SLASHER HAS CREATED ANOTHER
STUNNING COMIC WHICH WILL LEAVE YOU BREATHLESS! THIS IS A SHOCKING STORY,
FULLY ILLUSTRATED AND COMPLETE. NOTHING HAS BEEN LEFT OUT!




"Aw... don't cry sweetheart. I don't blame you for being such a smart-ass.
you've just been spoiled rotten... no real discipline...
You just needed attention, didn't ya sugar?"
IF YOU'RE HUNGRY FOR A COMIC THAT PUSHES THE ENVELOPE IN EVERY WAY POSSIBLE,
LOOK NO FURTHER. THIS IS IT!

CLEVER, EXCITING DIALOGS BY SANDOW!