Use our On-Line 100% Secure Encrypted Shopping Cart Ordering System. Simply browse
our site and Click the ADD TO SHOPPING CART buttons to place items in your Shopping Cart
[ HOME ] [ COMICS ] [ MOVIES ] [ NOVELS ] [ CD-ROM ] [ Order info ] [ Help ] [ ARTIST SITES ] [ SEARCH ]
[ Disclaimer ] [ CATALOGUE ] [ Copyright ]
FANSADOX COLLECTION 270
CHEERLEADERS 8 - MOST WANTED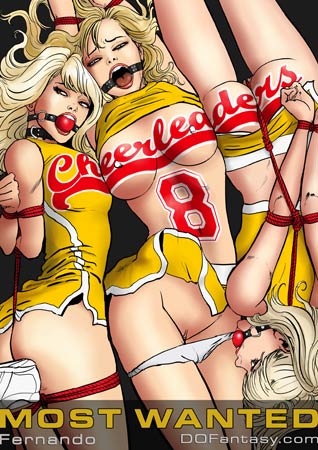 NEW IN PDF ELECTRONIC VERSION!
Adult Comic Album by FERNANDO.
HIGH RESOLUTION PDF deluxe edition
50 full color comic pages!!!
-COMPLETE, UNABRIDGED VERSION-
ACTION EXPLODES SOUTH OF THE BORDER
WHEN A SEXY CHEERLEADING SQUAD TAKES
A ROAD TRIP INTO OUTLAW TERRITORY!
THE GORGEOUS ANNA AND HER
SISTER DAWN ARE MISSING IN MEXICO,
AND DISCOVER THE LAWLESS DESERT IS
NO PLACE FOR TWO YOUNG WOMEN
LOST AND ALONE!
IMPORTANT NOTICE - DISCLAIMER
All characters are 18 years old or older.
This is an entirely fictional work based on
cartoon characters for adult entertainment.
It shows no real people or events.
The characters are shown participating in
CONSENSUAL role-play for their own
personal satisfaction, simulating activities
which involve sexual dominance and
submission. No actual toons were harmed
in the making of this comic.

Skimpy skirts, bare midriffs and big smiles! More people watch the sprightly crowd pleasers dancing on the sidelines than the game, and that's the way these cheerleaders want it! Whipping up a stadium into a frenzy is part of the job, but the real reward is being showered with attention. Seeing a hot guy ignore his girlfriend while he stares open-mouthed at the performance is icing on the cake!
But when the squad takes the show on the road, their destination will be a million miles from what they expected. The hot bus rattles over the broken pavement of the Mexican highway, and all the cheerleaders are eager to strut their stuff. Tight skirts cling to their glistening legs as they try to focus on the show ahead....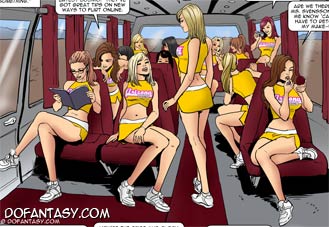 With playful teasing, they fix their makeup and hair while trying to ignore the jolting of the bus. A sudden swerve throws them against their seats, and the young women instantly become alert. Is it a flat tire? Did the bus swerve around a pothole in the neglected road? Only the bus driver knows, and for some reason he's not talking….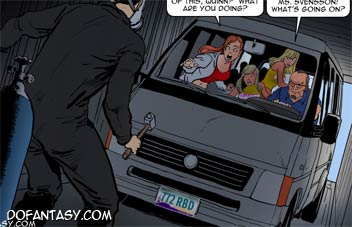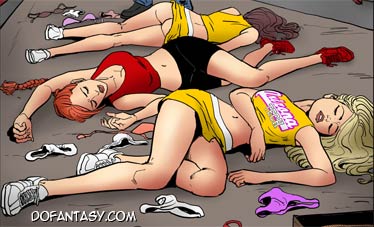 Lorena tries to shut out the horrible scene before her, but a sharp yank on the tight leather collar makes her eyes spring open in panic. Dogface, that disgusting gang member is giving her another order she'll have to obey. She has no choice, especially if she wants to save her daughter from further humiliation at their grimy hands. Lowering her head, she nods and swallows her pride. Ever since she and her daughter became toys for this gang of criminals, she's had to swallow much worse than that…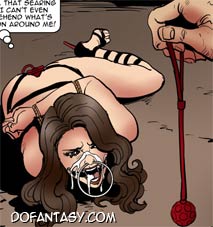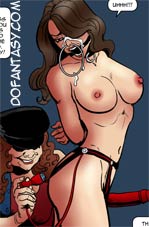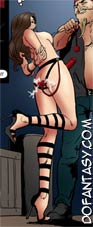 Her bombshell good looks and golden hair all but guaranteed Anna a place on the cheerleading squad. Even without wearing the micro-mini outfit that left nothing to the imagination, the athletic young woman could make men come to attention with one sway of her hips or wide, friendly smile.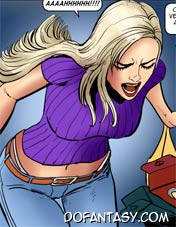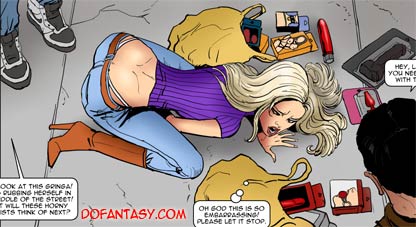 She can't believe that instead of being chased by the school jocks, she's been reduced to pleading with an old, slovenly man for affection. Begging for him to hold her, trying with all her might to convince him that she wants him…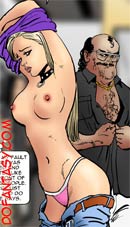 It's too much. But his violent temper and explosions of rage are all the encouragement she needs to surrender to his depraved lust...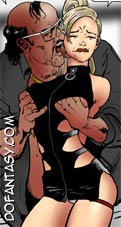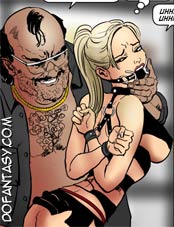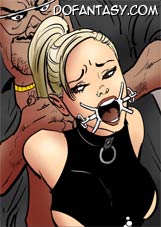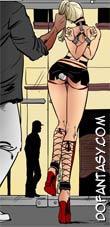 Out there somewhere, across the endless Mexican desert populated by drug lords and criminal thugs, is her sister...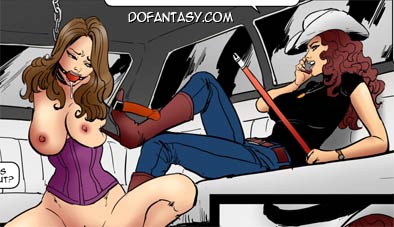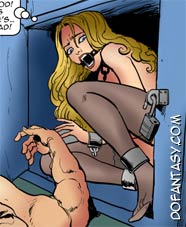 Not content to play safely from the sidelines, Fernando takes his readers on the wildest ride of their lives. A busload of cheerleading beauties, a ruthless underworld drug lord expanding his criminal empire, a desperate gang who procures American beauties and samples them as well… what could possibly go wrong?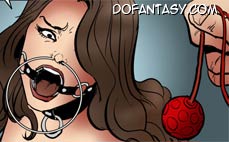 CHEERLEADERS 8 WILL HAVE YOU STANDING ON YOUR SEATS AND CHANTING FOR FERNANDO!
THE MASTER STORYTELLER AND EROTIC ARTIST PRESENTS A MASTERPIECE OF HOT ACTION
AND THRILLING SCENES THAT WILL LEAVE YOU BREATHLESS.
SEE FOR YOURSELF WHY SO MANY READERS POINT TO THE CHEERLEADERS SERIES AS ONE
OF THE FINEST EXAMPLES OF BDSM ARTWORK AVAILABLE. CHECK OUT THE PLAY-BY-PLAY
ACTION, AND YOU'LL BE A FAN FOR LIFE!
______________________________________
********** COMIC SALE!!! **********
BUY THE FIRST 7 PARTS OF THIS COMIC
AND GET 30% DISCOUNT - ONLY FOR A FEW DAYS!
BUY THESE SPLENDID 7 COMICS FOR ONLY 97.95 Euros (30% OFF)
VISIT FERNANDO SITE FOR A COMPLETE LIST OF
FERNANDO COMICS AND OFFERS
[ HOME ]
PDF by DOWNLOAD. The PDF electronic version contains the same images and text as the paperback edition (if a paperback exists). Please be aware that most of the ENGLISH VERSIONS are in PDF version exclusively. You'll have instant access to your files just after the credit card transaction is approved. You'll receive a confirmation e-mail with directions to download if you prefer to download at a later time. To open PDF files you need Adobe Acrobat Reader. Download it for free by clicking here!
PDF in a CD. If you prefer, we'll burn a CD-ROM e specially for you with the PDF files that you choose. Postage (14.99 Euro) will be added to the total cost of the books. If you want to order on a CD-ROM please check the corresponding check-box in the shopping cart.
Copyright © 1998-2011 Dofantasy - ETHAN ltd