Use our On-Line 100% Secure Encrypted Shopping Cart Ordering System. Simply browse
our site and Click the ADD TO SHOPPING CART buttons to place items in your Shopping Cart
[ HOME ] [ COMICS ] [ MOVIES ] [ NOVELS ] [ CD-ROM ] [ Order info ] [ Help ] [ ARTIST SITES ] [ SEARCH ]
[ Disclaimer ] [ CATALOGUE ] [ Copyright ]
FANSADOX COLLECTION 273
SNATCHED! HAREM HORROR HELL - PREDONDO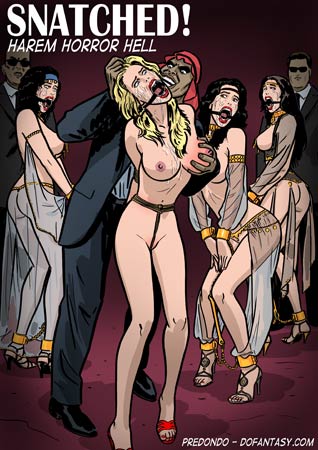 NEW IN PDF ELECTRONIC VERSION!
Adult Comic Album by PREDONDO.
HIGH RESOLUTION PDF deluxe edition
51 full color comic pages!!!
-COMPLETE, UNABRIDGED VERSION-
THE BRIGHT COLLEGE BEAUTY CATCHES
THE EYE OF A POWERFUL EMIR LOOKING
TO FILL HIS HAREM WITH GORGEOUS
WOMEN, AT ANY COST!
NO CLASSES ON INTERNATIONAL
RELATIONSHIP COULD HAVE PREPARED
KNOCKOUT OLIVIA HAMILTON FOR THIS!
IMPORTANT NOTICE - DISCLAIMER
All characters are 18 years old or older.
This is an entirely fictional work based on
cartoon characters for adult entertainment.
It shows no real people or events.
The characters are shown participating in
CONSENSUAL role-play for their own
personal satisfaction, simulating activities
which involve sexual dominance and
submission. No actual toons were harmed
in the making of this comic.
When Olivia was recruited by an Ivy League college she knew sheíd have to prove herself against students from all over the world. But the buxom young woman wasnít worried in the slightest. With a stellar GPA and a body to die for, the bright college girl quickly became the most popular girl on campus. And now sheís just been promoted to head the cheerleading squad! Life couldnít get any better for her, and sheís ready for any challenge thatís thrown her way.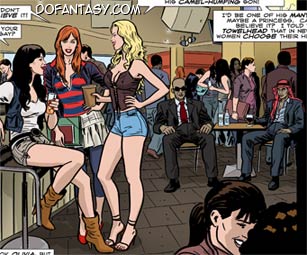 "Itís totally true! The slimeballís father called daddy and said he was the emir
of butt-fuckistan or something. He wanted me to marry his camel-humping son!"
Amehd eyes the perky blonde from across the cafeteria. He knows that his fellow students think of him as a slow witted clown. Heís only been in the country for a few months, and isnít eager to make friends. Back in Barafain the people line the streets to watch the swarthy young prince pass by...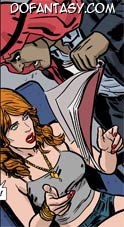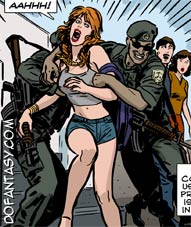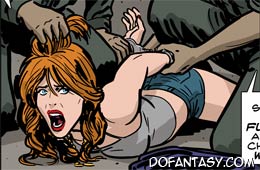 "Dammit! Donít you western chicks know your manners? When a prince is flirting with you,
you owe him your undivided attention! You are very lucky honeycakes.
Not only do you get to ride my plane, you get to ride my 15Ē boner!"
But over here itís a different story. The women are rude and willful. But that new girl who turns all the guys heads might be worth the effort. After all, what college girl isnít impressed by wealth, right?
The guy couldn't be more wrong ...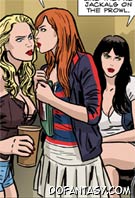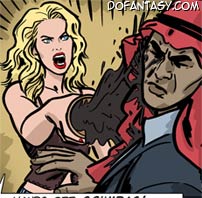 "Hands off, scumbag! If youíre so horny, go fuck a camel!
You donít need a harem, you need a freaking zoo!"
And Olivia couldn't have made a worse mistake.
Wearing the burka felt like being stuffed in a canvas sack. The shapeless cloth scratched her bare skin and rubbed her raw with every movement. Olivia struggled to control her breathing.
The burka was hot and clung to her shapely figure. Where was she? The last thing she remembered was having a drink while waiting for her friends to arrive at the local bar. Suddenly her stomach tied itself in knots and her vision blurred. After thatÖ nothing.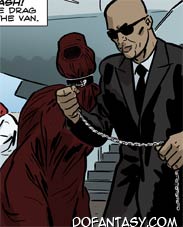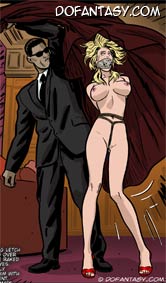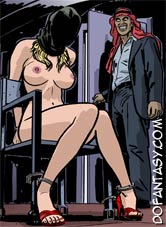 Wow! The old son-of-a-bitch got me an American cunt all tied up and shaking with fear!
Ha! Sheís blonde too. My favorite color for tail!
The marble lining the walls of the harem room sweated from the heat generated by the bodies crawling on the floor.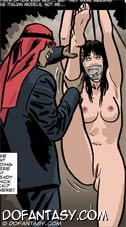 Mmmm... you're fit! All those weeks at cheerleading camp... were you just
secretly getting ready for me, Vicki? I bet you were!"
Dozens of young women crawled across the richly carpeted floor, their eyes wide with fright. Olivia wrinkled her nose at the thick musk in the air. It was a mixture of sweat and fear. She gagged when she realized that it was coming from her.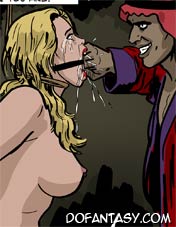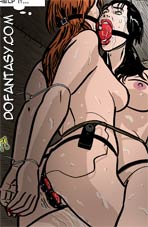 "Lick off my fingers, Olivia. Show me what a perverted skank you are."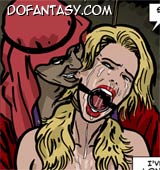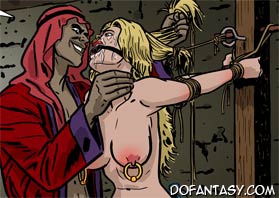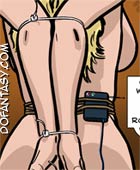 "One tug on the ring and the most willful wildcat becomes as meek and submissive as a beaten-up
street whore. You donít look much like the campus queen anymore... Can you imagine what your
snotty friends would say if they saw you now?"
Emir Abdul shifted his massive bulk in the custom designed chair and enjoyed the site before him.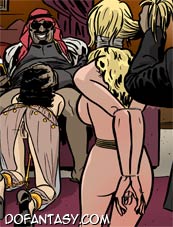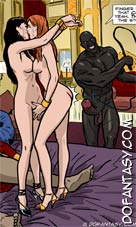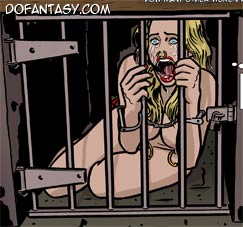 "Put more into it, infidel sluts! If I donít believe you are horny
for each other Iíll have your tits whipped off!"
The three new women were trying to hide behind each other, eager to avoid attracting his attention. The silver bells sewn into their harem garments jingled with every nervous movement. He smiled and ran his tongue over his thick lips. Yes, these would do nicely for an evenings entertainment. Maybe the blonde huddled in the corner needed some company. Didnít she say something about waiting for some girlfriends at the bar?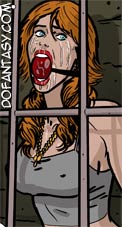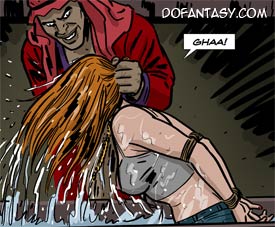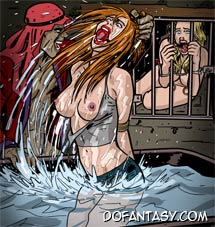 "I bet you want to talk to me now, eh? Tell me how sorry you are for being such a cocktease!
Well itís too late now, red. You had your chance and you screwed it up!"
SET IN AN EXOTIC HAREM WITH CHARACTERS THAT COULD ONLY COME FROM THE MIND OF
PREDONDO, THIS COMIC IS IMPOSSIBLE TO PUT DOWN. ONCE YOU START READING,
YOUíLL BE AS TRAPPED AS ITíS BEAUTIFUL BLONDE HEROINE!
A HOT STORY OF DREADFUL REVENGE AND
PERVERTED LUST IN A BIZARRE WORLD!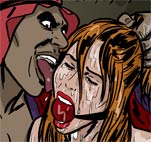 FANS OF DOFANTASYíS EXCITING COMICS WILL BE THRILLED TO DISCOVER PREDONDOíS
PRODUCED A FRESH STORY THAT CEMENTS HIS PLACE AS A MASTER OF THE CRAFT!
51 PAGES OF EXTREME HOT ACTION!
_______________________________________________
DON'T MISS THE SECOND PART: TRADED! - HAREM HORROR HELL PART 2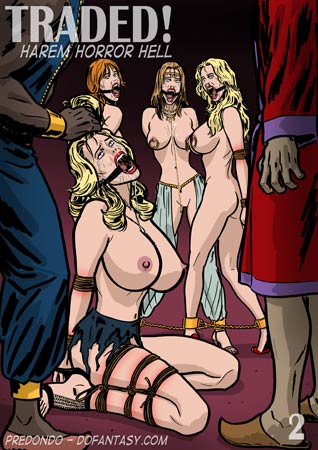 __________________________________
[ PREDONDO SITE ] [ HOME ]