Use our On-Line 100% Secure EncryptedShopping Cart Ordering System. Simply browse
our site and Click the ADD TO SHOPPING CART buttons to place items in your Shopping Cart
[ HOME ] [ COMICS ] [ MOVIES ] [ NOVELS ] [ CD-ROM ] [ Order info ] [ Help ] [ ARTIST SITES ] [ SEARCH ]
[ Disclaimer ] [ CATALOGUE ] [ Copyright ]
FANSADOX COLLECTION 292
THE DUNGEON NEXT DOOR by ROBERTS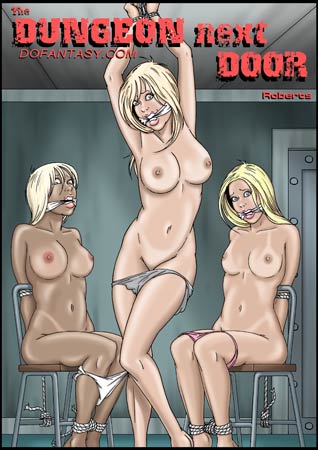 NEW IN PDF ELECTRONIC VERSION!
Adult Comic Album by ROBERTS.
HIGH RESOLUTION PDF deluxe edition
47 full color comic pages!!!
-COMPLETE, UNABRIDGED VERSION-
A SINGLE MOTHER AND HER TWO
BEAUTIFUL DAUGHTERS BECOME THE
VICTIMS OF A SLEAZY NEIGHBOR AND
HIS PERVERTED GIRLFRIEND!
JUST YARDS AWAY FROM HER HOME,
THE THREE WOMEN LIVE A NIGHTMARE
OF DREADFUL FEAR AND UTTER HUMILIATION!
IMPORTANT NOTICE - DISCLAIMER
All characters are 18 years old or older.
This is an entirely fictional work based on
cartoon characters for adult entertainment.
It shows no real people or events.
The characters are shown participating in
CONSENSUAL role-play for their own
personal satisfaction, simulating activities
which involve sexual dominance and
submission. No actual toons were harmed
in the making of this comic.
Amanda peacefully sleeps in her bed. Suddenly, a huge hand on her mouth wakes her up with a start. A masked man in dark clothes is next to her bed!
He roughly ties her....
He molests her....
He puts her to sleep again with a scarf soaked on chloroform....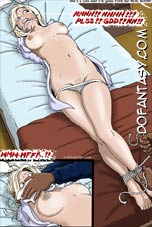 She wakes up. Where am I? The place has no furniture, it's cold. A single bulb illuminates the dreadful place. No windows, just a heavy iron door. She's stark naked... and bound!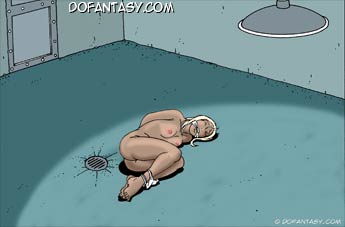 Heavy footsteps approach to the door. She curls in horror. A masked man, the same masked man, masked man, pulls her up painfully by her hair.
What follows makes her wish she were dead...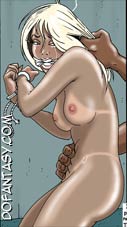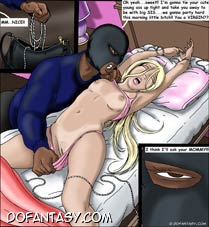 Hours after, the man stops the abominable assault. He chains her by the neck in a concrete cell as if she were his pet.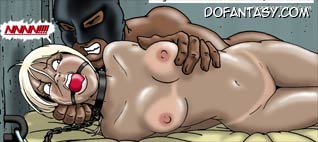 "It's almost morning and mom 'n lil sis wil get up and wonder where you are. So I'm gonna be their wake-up call! I think they'll love being part of our party, don't you think? I'll be right back with 'em, bicth!"
She can't believe her ears, the masked man is going to bring her mother and little sister to this awful place!
An unexpected visitor stops the girl's bitter thoughts. The masked man's girlfriend is right on the door...
"Oh my God! Look what my crazy man has gone and done now! Just look at you... such a cute little white girl! You so soft and pretty! That's good, honey! Me an' my man share! I love pretty lil' white girls like you!. I'm gonna teach you how to lick pussy 'n make me cum all over that pretty face!"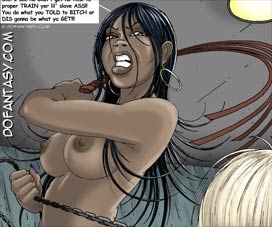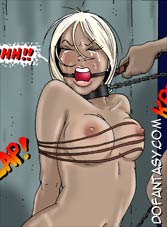 Amanda can't believe what follows next. The black girl is even more vicious and perverted than the masked man... much more dangerous!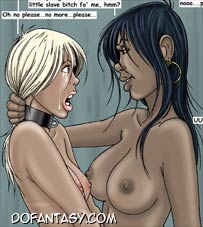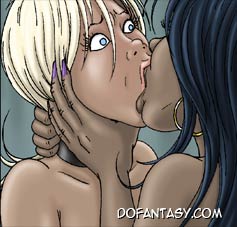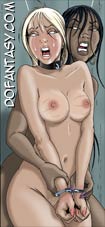 Amanda refuses the black girl's advances, but all her resistance goes down when she sees her mom and little sis naked and handcuffed in the hands of the masked man.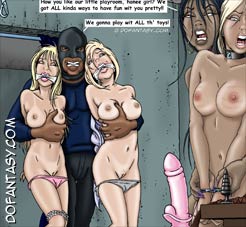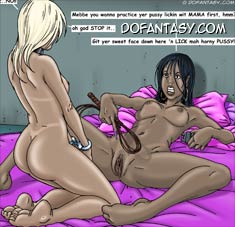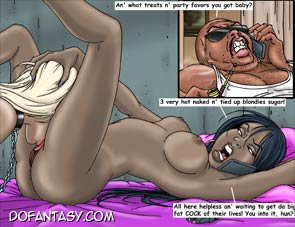 But the wild, odious party doesn't stop here...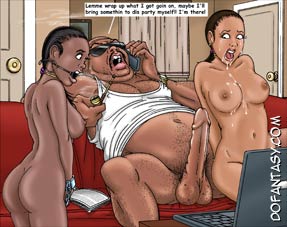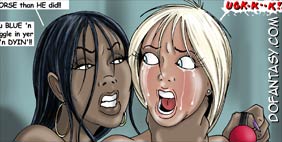 THE LATEST ROBERTS!
DON'T MISS IT!