Use our On-Line 100% Secure EncryptedShopping Cart Ordering System. Simply browse
our site and Click the ADD TO SHOPPING CART buttons to place items in your Shopping Cart
[ HOME ] [ COMICS ] [ MOVIES ] [ NOVELS ] [ CD-ROM ] [ Order info ] [ Help ] [ ARTIST SITES ] [ SEARCH ]
[ Disclaimer ] [ CATALOGUE ] [ Copyright ]
FANSADOX COLLECTION 316
WEDDING RAID - GLOWSESTER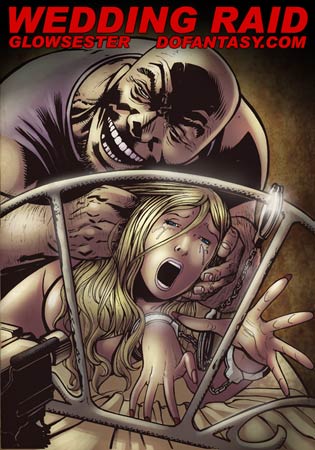 NEW IN PDF ELECTRONIC VERSION!
Adult Comic Album by VIKTOR.
HIGH RESOLUTION PDF deluxe edition
46 full color comic pages!!!
-COMPLETE, UNABRIDGED VERSION-
WITH TIME RUNNING OUT, SHELIA MUST
CHOOSE. DOES SHE RISK THE LIVES OF
EVERYONE SHE LOVES, OR BECOME THE
UNWILLING WIFE OF DEPRAVED
DRUG-RUNNING GANGSTER?
IMPORTANT NOTICE - DISCLAIMER
All characters are 18 years old or older.
This is an entirely fictional work based on
cartoon characters for adult entertainment.
It shows no real people or events.
The characters are shown participating in
CONSENSUAL role-play for their own
personal satisfaction, simulating activities
which involve sexual dominance and
submission. No actual toons were harmed
in the making of this comic.
TWO MEXICAN DRUG CARTELS BATTLE FOR SUPREMACY ON THE BORDER, WITH SEXY BLONDE SHEILA LIONS CAUGHT IN THE CROSSFIRE! BETWEEN PLOTS OF REVENGE AND RETRIBUTION, A CRUEL TRAP IS SPRUNG: MARRYING HER TO THE PERVERTED SON OF IMPERIO SALVAJA'S DRUGLORD!
An ocean of blood has been spilled in the sands of Jaurez as Imperio Salvaja and the Bolas Espumosas wage war for the drug routes into the American heartland. Bodies pile up as the forces seize any advantage they can over their rivals. Into this inferno of drug money and corruption, the border patrol chief's daughter Shelia Lions is taken!
The trunk of the speeding car was suffocating. The sun had turned the trunk into an oven, and the choking dust of the desert had made it next to impossible to breathe. Shelia struggled to her knees, but banged her head sharply on the hatch as the car plunged into another ravine. Her pulse raced. Where were they taking her? It must have been hours since the masked gunmen stormed her house. By now she could be halfway across the country, and no one even knew she was missing! She tried not to panic and gasped for a lungful of air around the filthy socks which had been shoved into her mouth as a gag. Scalding tears slid down her cheeks as the car sped on.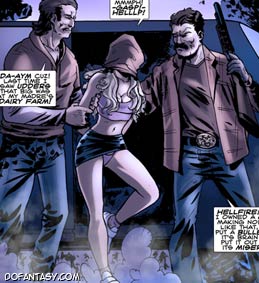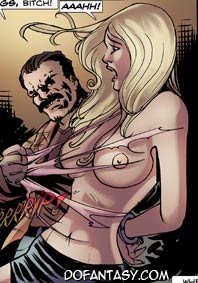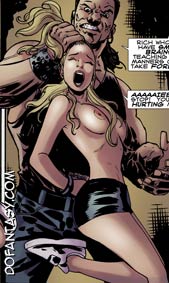 "Rich whores have small brains. teaching them manners could take forever!"
The druglord and his revolting son examined her naked body, making cruel and dehumanizing comments as they probed her. Slowly the look of fury in her eyes was replaced with fear.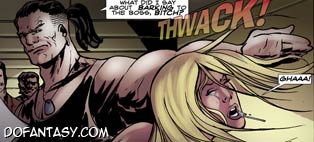 "You need to find a woman you can control," the elder man said to his drooling son. "A woman with silky skin is best. It means they've lived a pampered life and aren't used to pain. If a gringa has no bruises or scars they'll perform the most degrading acts imaginable. You've just got to provide a little pressure…" The son's eyes lit up with cruelty. "Sounds good to me, dad! Lemmie see what this bimbo can do. I don't want a wife who's impossible to train. I need a slut that's eager to learn her place!"
The wedding dress must have been designed as a sick joke. The corset shoved her already lush breasts up to her neck, and the skimpy stockings left her almost naked before the crowded church. Her cheeks burned with humiliation as she was dragged down the aisle…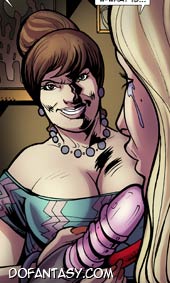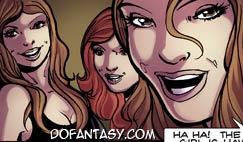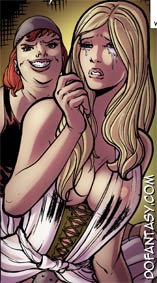 "Now for the icing on the wedding cake: the 'Tijuana puta-plug'"
The weeding lunch hell on earth for the young bride...


"Give them something to look at, honey! They're gonna riot unless they see some pink!"
The honeymoon was even worse...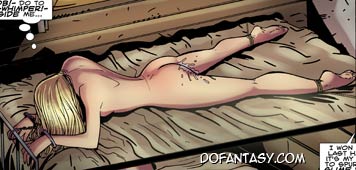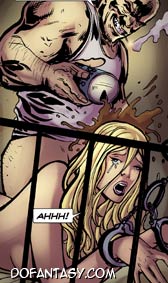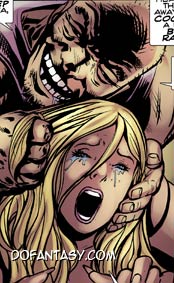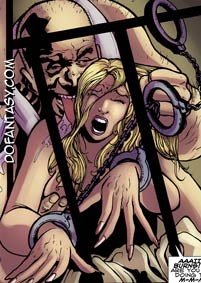 But South of the Border, things never get worse enough....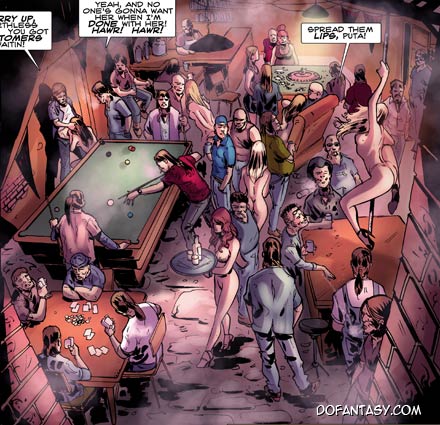 WHAT BREAKS FIRST?
THE BONDS OF MARRIAGE OR THE BRIDE HERSELF?
ORDER TODAY AND FIND OUT!
_________________________________
A SHOCKING STORY SET IN A LAWLESS UNDERWORLD!
EACH PAGE IS CRAMMED WITH HOT ACTION AND EXPLICIT GRAPHICS WHICH SETS THIS COMIC
APART AS ONE OF THE BEST, AND IT'S ONLY AVAILABLE THROUGH DOFANTASY!