Use our On-Line 100% Secure EncryptedShopping Cart Ordering System. Simply browse
our site and Click the ADD TO SHOPPING CART buttons to place items in your Shopping Cart
[ HOME ] [ COMICS ] [ MOVIES ] [ NOVELS ] [ CD-ROM ] [ Order info ] [ Help ] [ ARTIST SITES ] [ SEARCH ]
[ Disclaimer ] [ CATALOGUE ] [ Copyright ]
FANSADOX COLLECTION 320
DARK VENGEANCE 3 - FERNANDO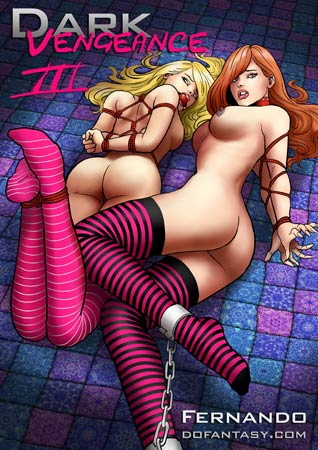 NEW IN PDF ELECTRONIC VERSION!
Adult Comic Album by FERNANDO.
HIGH RESOLUTION PDF deluxe edition
48 full color comic pages!!!
-COMPLETE, UNABRIDGED VERSION-
TWO SPOILED GIRLS ARE NOW CAPTIVES AT
THE MERCY OF A GANG OF HARDENED THUGS.
THESE MEN HAVE ONLY ONE GOAL IN MIND:
TO BREAK THE BEAUTIFUL GIRLS AND MAKE
THEM THEIR SLAVES!
IMPORTANT NOTICE - DISCLAIMER
All characters are 18 years old or older.
This is an entirely fictional work based on
cartoon characters for adult entertainment.
It shows no real people or events.
The characters are shown participating in
CONSENSUAL role-play for their own
personal satisfaction, simulating activities
which involve sexual dominance and
submission. No actual toons were harmed
in the making of this comic.
THE LATEST CHAPTER OF THE DARK VENGEANCE SAGA IS "BOUND" TO BE "SHOCKING"!
WILL HOLLY AND BROOKE SURVIVE?
VENGEANCE IS A DISH BEST SERVED COLD, BUT THESE HARDENED CONVICTS THINK IT'S SERVED
BETTER HOT AND HARD! IF HOLLY AND BROOKE HOPED FOR A REPRIEVE, THEY WERE SADLY
MISTAKEN! THE ROAD TO THE END IS LONG AND HARD, AND IT CAN ONLY END ONE WAY!
THE STORY SO FAR...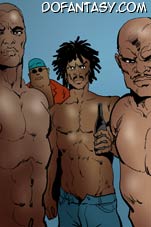 Holly Royce and Brooke Miller find themselves caught in a never-ending nightmare of unrest and deep humiliation! Best friends from college, they decided to spend their spring break on a private island owned by Holly's father, State Prosecutor Duncan Royce. It was the worst mistake of their young lives.
A trio of ex-convicts invaded the island, thirsting for vengeance against Holly's dad, the man responsible for their 15 year prison sentence. The plan had been a simple murder and robbery. Well, you know what they say... the best laid plans of thugs and bitches often go awry...
Now Marcus, the gang leader, has planned a little game for the two girls and all his friends: Holly Royce, the daughter of their hated enemy, is off-limits until her friend Brooke has been f..k ten times by each man! Brooke's entire world turns into a never-ending nightmare of humiliation and sex!
It'll be Holly's turn soon... better get ready, girl...
THE COMIC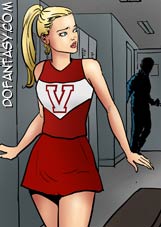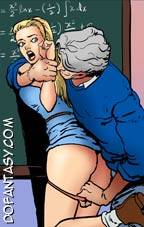 Brooke remembers.
Brooke remembers a simpler time, a time before this hellish nightmare started. She was a gorgeous, young, and popular girl at her high school. All the boys liked her, but more importantly, all the boys wanted her... even the teachers.
Brooke remembers Mr. Miller, her math teacher. She remembers how handsome he was. She remembers how much she wanted him.
She can almost imagine his touch. She can almost imagine his rock-hard cock, throbbing and desperate just for her.
She can almost...
Brooke snaps back to reality. The gang bang is so traumatic, so severe, that she phases in and out of reality!



Desperate to gain some semblance of control, some semblance of pleasure from the constant vicious sex she's been enduring again and again and again.
To escape from her humiliation, from the degradation, from the shame of being used as a worthless piece of fuckmeat, she remembers the teachers she longed for and adored back in high school. She imagines that they want her so much that they'd be willing to take her against her will, over and over and over again. Those men were handsomer, those men were different. It seemed like only yesterday that she was a young, innocent, and naïve girl with innocent dreams and innocent hopes. It seemed like another lifetime.

Now she's exhausted, drained, and every single inch of her body hurts more than she had ever believed possible. Poor, sweet Brooke is covered in sweat, marker, and cum, and the end is nowhere in sight.
"F..K this, Tyrone. Are you serious? I can't wait to come ten times before I get my way with the Royce bitch."
She's barely crossed the halfway mark! They can't possibly be serious! Every time Brooke almost slips into her fantasies, slips into the warm embrace of madness, some thuggish asshole pulls her back to this hell!
She imagines the Italian coach, Mr. Rocca, but big, fat, black Delroy forces Brooke to wake up!
These mad criminals, these thugs, these gang bangers they're having a GREAT time and the REAL fun is coming up!
Brooke's best friend, the drop-dead gorgeous redhead Holly Royce, can only stand there and watch. Forced to suck and f..k rubber dick in a glass box for the amusement of the thugs, Holly is completely and utterly unable to help her best friend in any way. If she doesn't perform to the satisfaction of these black criminals, Holly receives a painful shock! And sometimes, the violent ex-convicts decide to participate in the fun.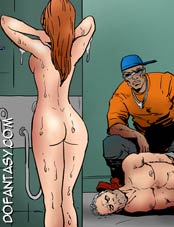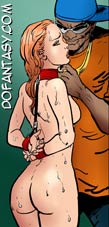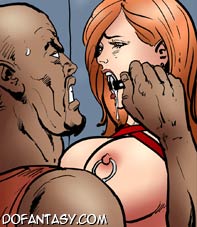 Worst of all, she can see Brooke's pretty eyes begin to deaden and fill with hate, hate for Holly! The former prisoners didn't plan for pretty, blonde Brooke to be a part of their fun, but they welcomed the opportunity to have more tight, hot holes to f..k!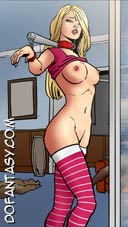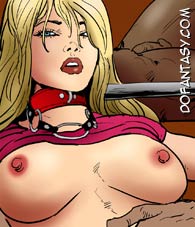 These depraved sadists have the most devious and perverted minds. One has a lot of time to think when locked up for 15 years. It turns out that some of the thugs' games are even more horrible than any innocent, young high school girl could possibly imagine.
The rules of the game change.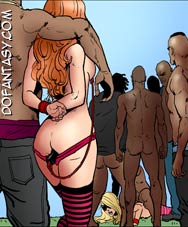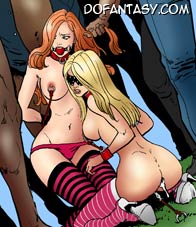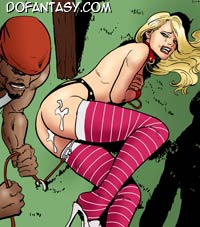 And the girls are the ones to pay!
Even Brooke isn't spared. Perhaps it's time to make some modifications...
Time to get the party started!
_________________________________
A GANG OF VIOLENT CRIMINALS HAS TWO CAPTURED BEAUTIES UNDER THEIR CONTROL.
IF SEXUAL VIOLENCE WAS A CRIME WORTHY OF THE DEATH PENALTY, THESE MEN
WOULD'VE BEEN KILLED HUNDREDS OF TIMES OVER!
THIS EXCITING AND THRILLING COMIC IS THE LATEST CHAPTER IN THE DARK VENGEANCE SAGA! BROUGHT TO YOU BY THE INCREDIBLY TALENTED FERNANDO AND HIS HOT, HOT, HOT ARTWORK, YOU WON'T WANT TO MISS THIS!
BEAUTIFUL GIRLS ARE BROUGHT TO PAINFUL AND HUMILIATING LOWS, AND THE SHOCKING
ENDING WILL MAKE THESE LOVELIES WISH THEY'D NEVER BEEN BORN! DON'T HESITATE!
BE SURE TO PICK UP THIS AMAZING AND FANTASTIC COMIC, BROUGHT TO YOU
BY THE DEDICATED TEAM AT DOFANTASY.COM!


BUY DARK VENGEANCE PARTS 1, 2 AND 3 AND GET 10% DISCCOUNT!
VISIT FERNANDO SITE
FOR A COMPLETE LIST OF FERNANDO COMICS AND OFFERS
[ HOME ]