Use our On-Line 100% Secure Encrypted Shopping Cart Ordering System. Simply browse
our site and Click the ADD TO SHOPPING CART buttons to place items in your Shopping Cart
[ HOME ] [ COMICS ] [ MOVIES ] [ NOVELS ] [ CD-ROM ] [ Order info ] [ Help ] [ ARTIST SITES ] [ SEARCH ]
[ Disclaimer ] [ CATALOGUE ] [ Copyright ]
FANSADOX COLLECTION 331
SMUGGLERS COVE - GLOWSESTER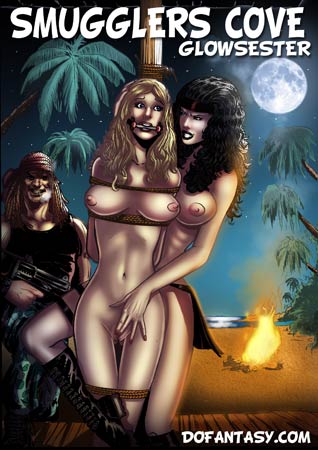 NEW IN PDF ELECTRONIC VERSION!
Adult Comic Album by GLOWSESTER.
HIGH RESOLUTION PDF deluxe edition
43 full color comic pages!
-COMPLETE, UNABRIDGED VERSION-
HOT SAND, TROPICAL SUN AND A VIOLENT DRUGLORD WHO TAKES WHAT HE WANTS AND SELLS THE REST!
THIS ACTION-PACKED TROPICAL ADVENTURE TURNS DEADLY WHEN RIVAL SMUGGLING GANGS COME UPON TWO WEALTHY VACATIONERS WHO'VE CHOSEN THE WRONG ISLAND FOR THEIR CARIBBEAN RETREAT!
IMPORTANT NOTICE - DISCLAIMER
All characters are 18 years old or older.
This is an entirely fictional work based on
cartoon characters for adult entertainment.
It shows no real people or events.
The characters are shown participating in
CONSENSUAL role-play for their own
personal satisfaction, simulating activities
which involve sexual dominance and
submission. No actual toons were harmed
in the making of this comic.
***** HOT STORY AND DIALOGS BY SANDOW *****
Gorgeous blonde Emily Connor has ambition and brains, and a smoking hot body to back them up! Getting into high society isn't difficult if you know how to use your natural talents, and Emily's curves are her ticket to the good life.
When her wealthy boyfriend whisks her away to a tropical island for the weekend, she knows her dreams are finally coming true. All she has to do is make HIS dreams true, and with her ample cleavage and long legs, that's not going to be a problem!

Her body still hummed from her recent tumble in the sand. Zack wasn't the largest man she'd ever conquered before, but he was the most energetic. She smiled and licked a salty drop from her full lips. If this was a preview to what the rest of the vacation was going to be like, she couldn't wait!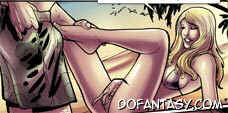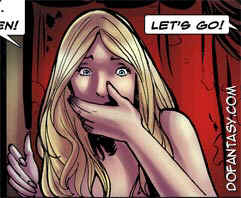 She walked along the beach, her long legs taking confident strides through the gentle surf. She wasn't like most girlfriends. She knew plenty of girls who teased and flirted but would clam up the second things got serious. Not her! If she wanted to feel a man throbbing and pulsing inside her, she made it happen. Zack had what she needed, and the fact he was loaded didn't hurt!

Then an awful nightmare of dread and humiliation begins....
"GHAAA!" The bullets stitched a gory line across the thug's chest and he crumpled to the ground gasping for air but only managing to spit bloody froth into the dirt. Emily recoiled in horror. They were killing everyone!
She ran for the forest, the jungle vines scratching her nude body and her breasts heaving in terror. From behind her she heard a scream that suddenly choked off into a gurgling sob. Zack!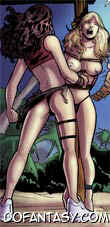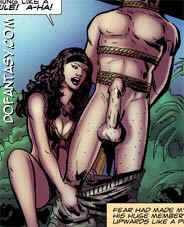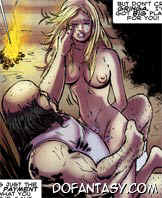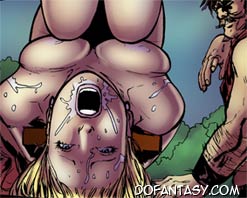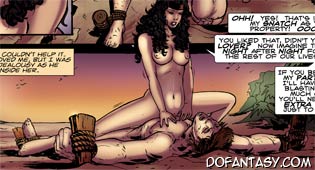 And gets worse and worse...
Cigarette smoke filled the choking air of the grimy bar. Emily grabbed for support from the greasy brass pole she'd been dancing on. Catcalls and jeers roared back at her from the crowd. They smelled her fear and drank it in like the cheap beer they'd been swilling all night.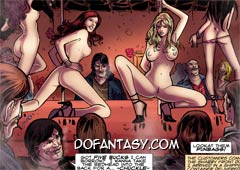 Who were these people? Everywhere she looked she met hostile stares from the coal-black eyes of the natives. Swallowing her pride she stood back up and started to sway her hips to the dance music.
The whistles and filthy jokes made her burn with humiliation.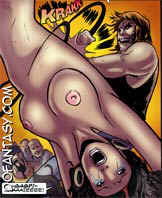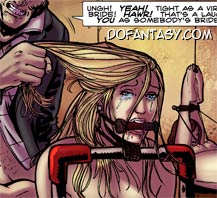 GLOWCESTER WEAVES A STORY OF DANGER AND DOMINATION WHICH HAS FANS OF ADULT GRAPHIC NOVELS COMING BACK FOR MORE! IF YOU'VE EVER FANTASIZED ABOUT WHAT HAPPENS WHEN THE 1% IS PUT AT THE MERCY OF THE 99%, THIS STORY IS THE ANSWER TO YOUR PRAYERS!
FROM THE AUTHOR OF WEDDING RAID!