Use our On-Line 100% Secure EncryptedShopping Cart Ordering System. Simply browse
our site and Click the ADD TO SHOPPING CART buttons to place items in your Shopping Cart
[ HOME ] [ COMICS ] [ MOVIES ] [ NOVELS ] [ CD-ROM ] [ Order info ] [ Help ] [ ARTIST SITES ] [ SEARCH ]
[ Disclaimer ] [ CATALOGUE ] [ Copyright ]
FANSADOX COLLECTION 332
UNCUT #1 - CONFISCATED TWINS - FERNANDO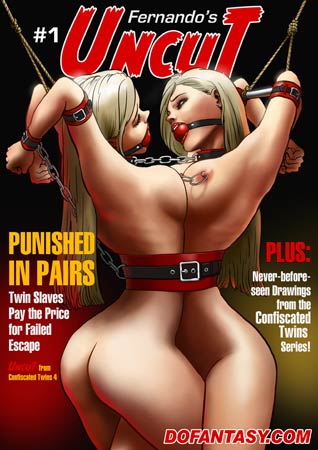 NEW IN PDF ELECTRONIC VERSION!
Adult Comic Album by FERNANDO.
HIGH RESOLUTION PDF deluxe edition
38 full color plus 8 B&W
stunning comic pages
-COMPLETE, UNABRIDGED VERSION-
THE LATEST SEARING CHAPTER IN A STORY
WHICH LEAVES NO TABOO UNBROKEN…
AND NO FANTASY UNFULFILLED!

DON'T MISS THE LATEST
CONFISCATED TWINS!!!
IMPORTANT NOTICE - DISCLAIMER
All characters are 18 years old or older.
This is an entirely fictional work based on
cartoon characters for adult entertainment.
It shows no real people or events.
The characters are shown participating in
CONSENSUAL role-play for their own
personal satisfaction, simulating activities
which involve sexual dominance and
submission. No actual toons were harmed
in the making of this comic.
Welcome to the new comic format UNCUT.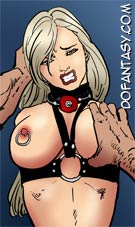 "Uncut" is my new comic format that will feature stories, art, concepts, and ideas that, for various reasons, were left out of my previously published works. Uncut gives me a chance to explore stories and scenarios that I couldn't do with my existing series. You could also think of it as the comics equivalent of a DVD movie's special features. More than just a vehicle for new stories, this comic series will give you more insight into the work that happens behind the scenes whenever I make a new comic.



This first issue of Uncut features a "what if?" story that happens in between the story pages 2 and 3 of "Confiscated Twins 4: Love Thy Neighbor". It's an "alternate reality" story that takes place after the twins Sara and Raquel Bauer are captured trying to escape from sexual slavery and before they are brought back to their owner.

This issue also features drawings and sketches for the Twins series that I ended up not using in the published comics, including notes describing each one. I plan to include more unpublished sketches in future issues.
Best regards,
Fernando
You can find the rest of the 'CONFISCATED TWINS' series at the top-rigth end of this page
_______________________________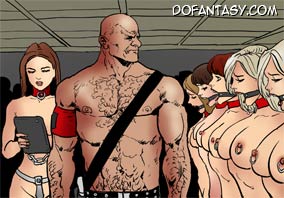 CONFISCATED TWINS - THE STORY SO FAR...
The economic crisis is deepening and an ever increasing number of middle class families are unable to pay their debts.
Fearing a financial crisis, the government has created the Federal Confiscation Agency (FCA), an underpaid corps of military officers whose job is to confiscate debtors' assets.
The aim of the FCA is to inject cash into the system by auctioning the seized assets to the few remaining cash holders, most of whom are rich and unscrupulous tax evaders.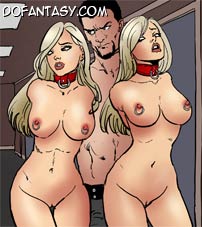 Auction Townhouses are created all over the country as pressure on ruined families builds up.
Houses, cars, plasma TV's, fridges, anything can be found and bought at bargain prices, including Indentured Servants…

When the assets of a family are insufficient to cover its debts, the members of the family themselves are confiscated and assigned to their debtors to work for them until the debt is paid back.
The law states that Indentured Servants lose all their constitutional rights and are legally the property of their assigned creditors, who can use them in any way they wish.
The most common job assigned to them is personal, in-house prostitution. As the servants have no legal rights, there are no limits on the services the young prostitutes can be ordered to perform on their owners or limits to what their owners can do to them...

In-house prostitutes are sex-slaves in a world where sexual fantasy and sexual perversion have become legal reality...
You can find the rest of the 'CONFISCATED TWINS' series at the top-rigth end of this page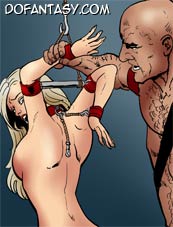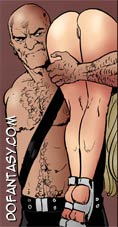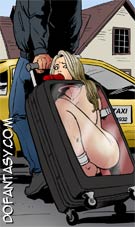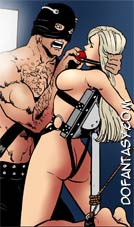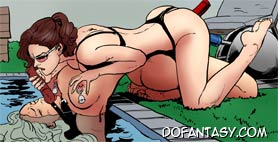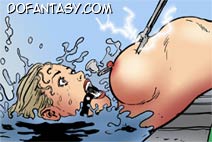 _________________________________
BEAUTIFUL GIRLS ARE BROUGHT TO PAINFUL AND HUMILIATING LOWS, AND THE SHOCKING
ENDING WILL MAKE THESE LOVELIES WISH THEY'D NEVER BEEN BORN! DON'T HESITATE!
BE SURE TO PICK UP THIS AMAZING AND FANTASTIC COMIC, BROUGHT TO YOU
BY THE DEDICATED TEAM AT DOFANTASY.COM!
DON'T MISS THIS WONDERFUL COMICS: FERNANDO'S IMAGES LEAP FROM THE PAGE AND INTO YOUR MIND LIKE NO OTHER!

BUY THIS COMIC WITH CONFISCATED TWINS PARTS 1, 2, 3 AND 4
AND GET 15% DISCCOUNT!
VISIT FERNANDO SITE
FOR A COMPLETE LIST OF FERNANDO COMICS AND OFFERS
[ HOME ]