Use our On-Line 100% Secure EncryptedShopping Cart Ordering System. Simply browse
our site and Click the ADD TO SHOPPING CART buttons to place items in your Shopping Cart
[ HOME ] [ COMICS ] [ MOVIES ] [ NOVELS ] [ CD-ROM ] [ Order info ] [ Help ] [ ARTIST SITES ] [ SEARCH ]
[ Disclaimer ] [ CATALOGUE ] [ Copyright ]
FANSADOX COLLECTION 376
UNCUT #2 - CONFISCATED TWINS - FERNANDO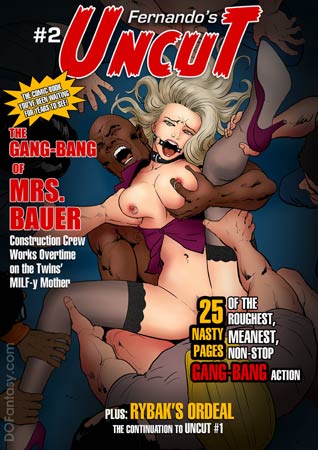 NEW IN PDF ELECTRONIC VERSION!
Adult Comic Album by FERNANDO.
HIGH RESOLUTION PDF deluxe edition
26 full color stunning comic pages
+ uncensored cover
-COMPLETE, UNABRIDGED VERSION-
THE LATEST SEARING CHAPTER IN A STORY
WHICH LEAVES NO TABOO UNBROKEN…
AND NO FANTASY UNFULFILLED!

DON'T MISS THE LATEST
CONFISCATED TWINS!!!
IMPORTANT NOTICE - DISCLAIMER
All characters are 18 years old or older.
This is an entirely fictional work based on
cartoon characters for adult entertainment.
It shows no real people or events.
The characters are shown participating in
CONSENSUAL role-play for their own
personal satisfaction, simulating activities
which involve sexual dominance and
submission. No actual toons were harmed
in the making of this comic.
Welcome to the comic format UNCUT.

"Uncut" is my new comic format that will feature stories, art, concepts, and ideas that, for various reasons, were left out of my previously published works. Uncut gives me a chance to explore stories and scenarios that I couldn't do with my existing series. You could also think of it as the comics equivalent of a DVD movie's special features. More than just a vehicle for new stories, this comic series will give you more insight into the work that happens behind the scenes whenever I make a new comic.

Best regards,
Fernando

You can find the rest of the 'CONFISCATED TWINS' series at the top-right end of this page
_______________________________
THE GANG BANG OF MRS. BAUER
In the hell that life has become for Mrs. Bauer and her twin daughters Sara and Raquel, things only go from bad to worse. Enslaved by law to the perverse and cruel O'Reilly family, their daily lives consist of punishment and perversion without let-up. When not subject to the torturous discipline of her new home, the stunning, scantily clad Mrs. Bauer is paraded around Mr. O'Reilly's office on a leash to serve his lusts and endure his twisted amusements. Adding to her misfortunes, Mrs. Bauer's charms inspire the jealousy of O'Reilly's kinky secretary, with whom he's having a torrid office affair. Left in the vengeful bitch's charge, Mrs. Bauer finds herself hand-cuffed, gagged, blind-folded and dispatched to the top floor of the building where a randy construction crew is about to have the most unforgettable lunch break of their lives.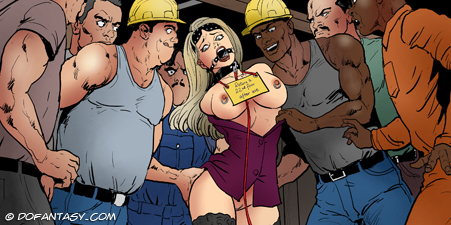 The sign hung around Mrs. Bauer's neck says it all. She's to be returned to the office after use, and use is just what she gets. These hardened men know just what to do with a shackled, collared babe and they do it to her in every possible way. No hole is left unoccupied as giant cocks pack her mouth, ass and pussy. Passed around among them, she's choked with male meat, double dicked in the ass and relentlessly pounded in her aching cunt. Even her hands and feet are put to work as she realizes that her only hope of deliverance is utterly humiliating submission of the most degrading kind. But that means yielding her much-penetrated ass to the mighty Moezilla, possessor of the biggest swinging dick on the crew.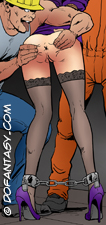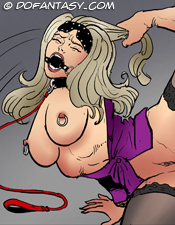 By the time the shift is over, Mrs. Bauer will have been brutally defiled to the limit of her endurance.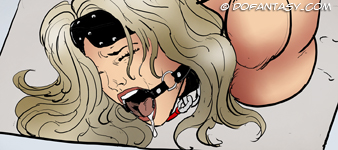 RYBAK'S ORDEAL

All is not well in the penal institution where George Rybak works as a federal punisher of runaway slaves. Though binding, tormenting and fucking beautiful delinquent babes might seem like a dream job, for Rybak it's a living, and a demanding one at that. Caught in their escape attempt, Sara and Raquel Bauer have been remanded into his custody for particularly harsh treatment due to a bureaucratic error that classifies them as repeat offenders. Bucking for a promotion, he spares them nothing in the way of high-tech torment and relentless sexual stimulation that wrings unwanted orgasms from them in nationally televised disciplinary sessions.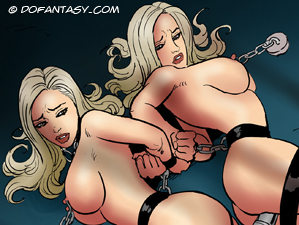 But Rybak's life takes a terrible turn when the twins somehow manage to disappear from their cell, triggering an inquest that threatens more than Rybak's job. When the squad of enforcers shows up to take possession of his beloved daughter Lili as security until the inquiry is concluded, he's made to watch while they show Lili the kind of justice the corrupt system for which her father works metes out to innocent and guilty alike.
_________________________________
IT'S RELENTLESS WALL-TO-WALL GANG-BANG ACTION IN THIS CAVALCADE OF CARNAL CRUELTY WHERE SEX AND SUFFERING ARE ALWAYS IN STORE FOR BOUND BEAUTIES AS ONLY FERNANDO CAN CREATE THEM ENDURE LIVES OF CONSTANT USE AND ABUSE FROM MEN AND WOMEN ALIKE. IF YOU'VE BEEN WAITING FOR A HOT HELPING OF MULTIPLE-MALE-ON-LONE-AND-HELPLESS-FEMALE EXCITEMENT IN THE ARTIST'S INIMITABLE STYLE, THE WAIT IS OVER!
Do not miss Uncut #2 – The Gang Bang of Mrs. Bauer and Rybak's Ordeal!
BUY THIS COMIC WITH CONFISCATED TWINS PARTS 1, 2, 3, 4, 5 and UNCUT #1 AND GET 15% DISCOUNT!
VISIT FERNANDO SITE
FOR A COMPLETE LIST OF FERNANDO COMICS AND OFFERS
[ HOME ]