Use our On-Line 100% Secure Encrypted Shopping Cart Ordering System. Simply browse
our site and Click the ADD TO SHOPPING CART buttons to place items in your Shopping Cart
[ HOME ] [ COMICS ] [ MOVIES ] [ NOVELS ] [ CD-ROM ] [ Order info ] [ Help ] [ ARTIST SITES ] [ SEARCH ]
[ Disclaimer ] [ CATALOGUE ] [ Copyright ]
FANSADOX COLLECTION 43
REVENGE - FERNANDO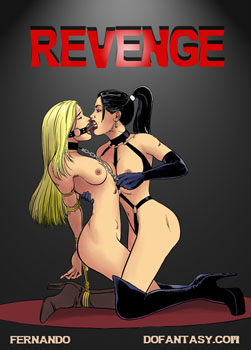 NEW IN PDF ELECTRONIC VERSION!
Adult Comic Album by FERNANDO

HIGH RESOLUTION PDF deluxe edition
45 full comic pages by FERNANDO
-COMPLETE, UNABRIDGED VERSION-

CRIME LORDS GO TO WAR...

IMPORTANT NOTICE:
All characters are 18 years old or older.
All action is simulated and involves
no real people.
The authors/publishers do not condone
violence of any kind.
These are completely fictional comics
for adult entertainment.

Franco Gallucci is a ruthless crime lord, who built an empire over the dead bodies of his enemies and competitors. Few of his foes are still alive to tell the tale.

Ray Morris is one of the few. An ex-undercover agent, he was left for dead a few years back, after having been forced to witness the abuse and murder of his own daughter by Franco Gallucci himself.

Leo Nelson, a muscular black hitman, holds a grudge against his former boss. Instead of a hand, he now wears a mean-looking hook: Gallucci had his hand chopped off after an argument…

Add Mr Hazegawa, a Japanese mobster who got turned down on a business deal by Gallucci, and you have a powerful congregation of mean-spirited characters looking for REVENGE!

Their chosen target: Amelia Gallucci, the crime lord's only daughter. A sweet 18 years old, true blonde and blue-eyed, beautiful body, built for speed and sex… A tempting prey for the wild bunch…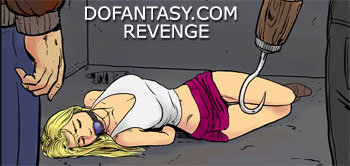 Amelia is abducted and brought to a deserted cabin, where she is chained and abused repeatedly by Leo and Ray: "How do you like this hook up your ass, bitch?"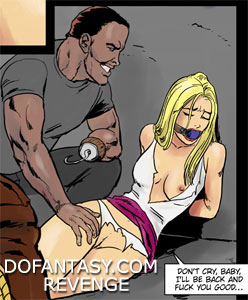 The steamy action is videotaped for Gallucci to see, and the tape used as bait to lure him into a trap.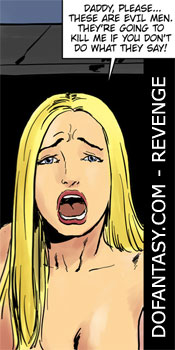 In the cabin, Amelia's abuse gets to the next level when Mrs Zharov takes charge of the show: she is pierced and ringed, and prepared for her next ordeal.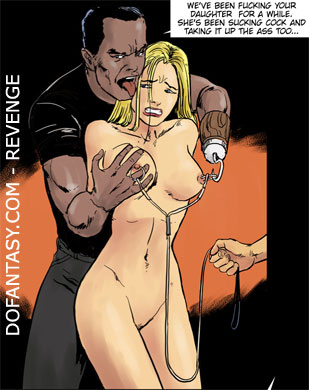 Gallucci has been taken: he rests naked and bound to a vertical pole. He is roughed up badly in front of Amelia who is forced to service her own father, back and front. A nice family show that ends up with Amelia witnessing the castration and slow death of Franco Gallucci…
Amelia is then sold at an auction: displayed as cattle, her body is intimately examined by the prospective buyers.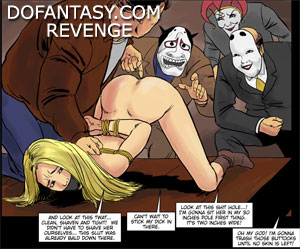 The highest bidder is Mr Hazegawa, the Japanese mobster who buys the girl as a sex toy for his own daughter Hitomi, also a lovely 18 years old girl.
Back in Japan, Amelia is trained and constantly humiliated by Hitomi and her servant.. Amelia is degraded into a lesbian whore and pain toy for her Mistress' pleasure...
Hitomi proudly shows her new toy to her friends for the further humiliation of her white slavegirl...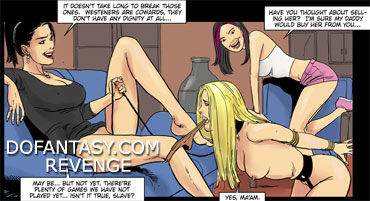 REVENGE
One of the best comics by Fernando!
VISIT FERNANDO SITE FOR A COMPLETE LIST OF
FERNANDO COMICS AND OFFERS
[ HOME ]