Use our On-Line 100% Secure EncryptedShopping Cart Ordering System. Simply browse
our site and Click the ADD TO SHOPPING CART buttons to place items in your Shopping Cart
[ HOME ] [ COMICS ] [ MOVIES ] [ NOVELS ] [ CD-ROM ] [ Order info ] [ Help ] [ ARTIST SITES ] [ SEARCH ]
[ Disclaimer ] [ CATALOGUE ] [ Copyright ]
ORIENTAL WORLD by DAMIAN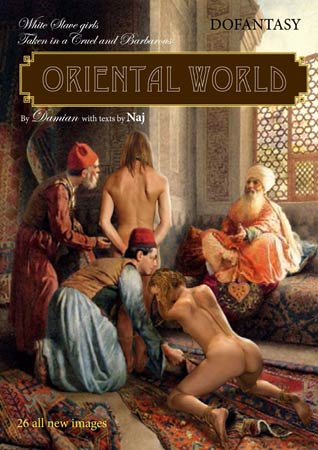 NEW IN PDF ELECTRONIC VERSION! Adult Album by DAMIAN. Shocking texts by NAJ
HIGH RESOLUTION PDF deluxe edition.
26 full color pages!!!
-COMPLETE, UNABRIDGED VERSION-
BEAUTIFUL WOMEN ARE TAKEN AND TRAINED TO BE HAREM SLAVE GIRLS AND PAIN SLUTS! THEY WILL SERVE THEIR MASTERS... OR THEY WILL PAY!
THESE PROPER ENGLISH LADIES WILL BE SHOCKED AND HORRIFIED AS THEY ARE STRIPPED OF THEIR PETTICOATS AND FORCED TO SPREAD THEIR LEGS FOR THEIR ORIENTAL MASTERS!
IMPORTANT NOTICE - DISCLAIMER
All characters are 18 years old or older. This is an entirely fictional work based on cartoon characters for adult entertainment. It shows no real people or events. The characters are shown participating in CONSENSUAL role-play for their own personal satisfaction, simulating activities which involve sexual dominance and submission. No actual toons were harmed in the making of this comic.
The year is 1910. A passenger liner, powered by the wonder of steam, heads off to the exotic lands of the east and the farthest reaches of the British Empire: distant India. On board, the passenger cabins are full of delicate and proper, English ladies. There are young, female students seeking to expand their horizons. There are young, Victorian ladies, going to meet prospective marriage partners. All of these ladies have their maids in tow, equally young and equally beautiful. As the ship leaves the safety of British waters and the excited girls wave their handkerchiefs farewell, they have no idea what is in store for them.
The telegraph operator is in cahoots with the Turk slavers of the Ottoman Empire! Both him and his Turkish masters salivate at the thought of an entire passenger liner full of beautiful white women and their lovely handmaids. A slaver galley waits for the unsuspecting, female passengers just beyond sight of the Suez Canal. The girls donít know it yet, but they have indeed booked a one way trip, but not to some exotic, distant adventure but to the darkest, most perverted harems of the Orient...
This is their story... this is their fate...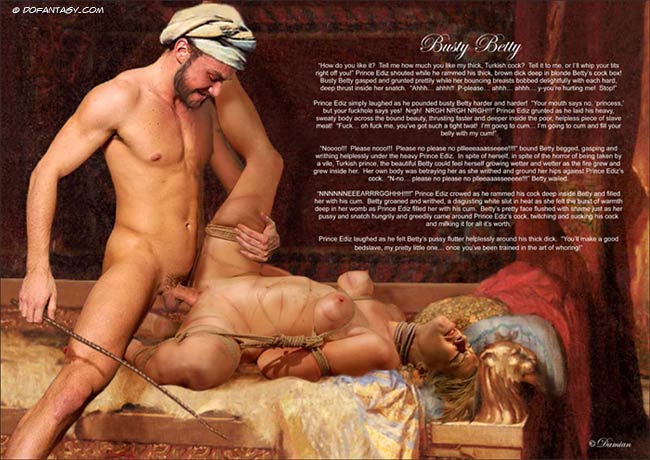 DAMIAN SHOCKS AND EXCITES YET AGAIN IN ANOTHER THRILLING AND BEAUTIFULLY ILLUSTRATED ADVENTURE INTO THE DEEPEST HISTORICAL PORTRAYALS OF PERVERSION! WITHIN THESE PAGES ARE THE WOE FILLED TALES OF PAMPERED AND PROPER GIRLS FORCED TO SERVE AS HELPLESS, SEX SLAVES TO THEIR WICKED, ORIENTAL MASTERS! THIS RICHLY ILLUSTRATED BOOK FEATURES SOME OF THE HARDEST AND CRUELEST IMAGES EVER! IF YOU WANT THE BEST BONDAGE THE WORLD HAS TO OFFER, YOU HAVE TO GET THIS ISSUE, ONLY HERE EXCLUSIVELY AT DOFANTASY.COM!!!
THE BEST DAMIAN!