Use our On-Line 100% Secure EncryptedShopping Cart Ordering System. Simply browse
our site and Click the ADD TO SHOPPING CART buttons to place items in your Shopping Cart
[ HOME ] [ COMICS ] [ MOVIES ] [ NOVELS ] [ CD-ROM ] [ Order info ] [ Help ] [ ARTIST SITES ] [ SEARCH ]
[ Disclaimer ] [ CATALOGUE ] [ Copyright ]
ROMAN CRUELTY & DECADENCE #4 by DAMIAN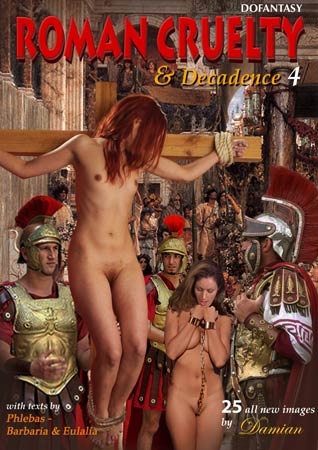 NEW IN PDF ELECTRONIC VERSION! Adult Album by DAMIAN. Shocking texts by PLEBAS, BARBARIA & EULALIA
HIGH RESOLUTION PDF deluxe edition.

25 full color pages!!!
-COMPLETE, UNABRIDGED VERSION-




DAMIAN CONTINUES HIS EPIC DEPICTION OF ROMAN VIOLENCE AND BRUTALITY! THESE POOR WOMEN WILL SUFFER AS ONLY CONQUERED FOES CAN!

ROMAN SOLDIERS HAVE THEIR NEEDS. ONCE THE MENFOLK HAVE BEEN SLAUGHTERED ON THE FIELD, THEIR HELPLESS WOMEN WILL SUFFER AS ONLY WOMEN CAN!

IMPORTANT NOTICE - DISCLAIMER
All characters are 18 years old or older. This is an entirely fictional work based on cartoon characters for adult entertainment. It shows no real people or events. The characters are shown participating in CONSENSUAL role-play for their own personal satisfaction, simulating activities which involve sexual dominance and submission. No actual toons were harmed in the making of this comic.

Rome was a festering heart of decadence and depravity, and the meat machine kept churning deep in the heart of the empire. But that machine needed fuel for its fire, and the native born slave population could not keep up with the voracious appetites of the Senators and the aristocracy. The prettiest of the slave pits was often the first to be put through its paces and used up far too quickly. Prices were going up as the cunt kennels ran dry. The empire needed fresh meat. If Rome's native slaves could not produce enough fine quality cunt, then the empire could always look elsewhere.

For the borders of Rome were teeming with enemies and empires opposed to Roman might and expansion. They would be brought to heel under the power and spears of the Roman legions, and their prettiest and perkiest of women would be brought to the diseased heart of Rome to serve as bedwarmers… or worse…

The question isn't whether Rome could sustain its unsustainable lusts and cruelty. The question, instead, is just how many women had to suffer under Roman lash and under Roman cock!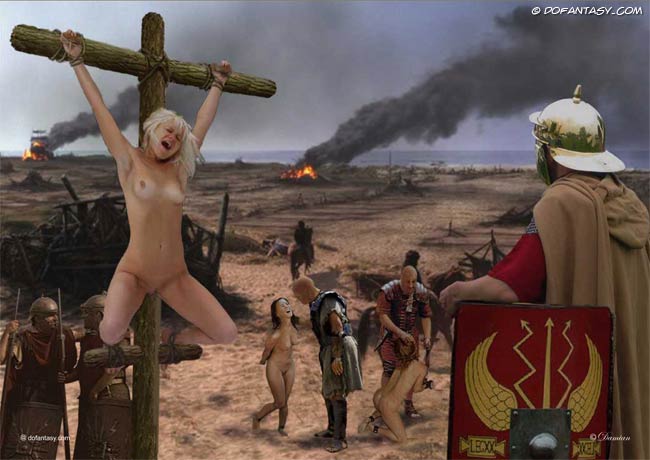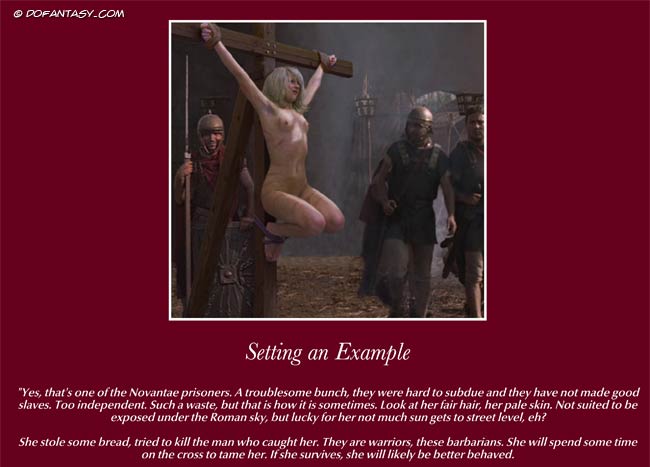 DAMIAN'S TWISTED MIND KNOWS NO BOUNDS AS HE EXPLORES DEEPER AND DEEPER INTO THE DISGUSTING, DEPRAVED HEART OF HISTORICAL HORRORS AND WHORES! YOU'LL BE SHOCKED AT WHAT YOU SEE IN WITHIN THESE PAGES! BUY THIS ISSUE ONLY IF YOU HAVE A STRONG STOMACH, BECAUSE THIS IS SOME SERIOUSLY MESSED UP STUFF! GET IT NOW AT DOFANTASY.COM!!!
THE BEST DAMIAN!