Use our On-Line 100% Secure EncryptedShopping Cart Ordering System. Simply browse
our site and Click the ADD TO SHOPPING CART buttons to place items in your Shopping Cart
[ HOME ] [ COMICS ] [ MOVIES ] [ NOVELS ] [ CD-ROM ] [ Order info ] [ Help ] [ ARTIST SITES ] [ SEARCH ]
[ Disclaimer ] [ CATALOGUE ] [ Copyright ]
ROMAN CRUELTY & DECADENCE #5 by DAMIAN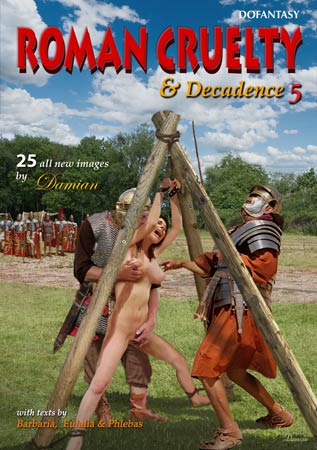 NEW IN PDF ELECTRONIC VERSION! Adult Album by DAMIAN. Shocking texts by BARBARIA, EULALIA & PHLEBAS
HIGH RESOLUTION PDF deluxe edition.
25 full color pages!!!
-COMPLETE, UNABRIDGED VERSION-
ROMAN CONQUEST HAS NOT SATIATED ITS HUNGER OR LUST FOR YOUNG, INNOCENT WOMEN! THE EMPIRE DEMANDS MORE, MORE, MORE!!!!
AS ROMAN ARMIES MARCH INTO THE EAST, THEY CAPTURE THOSE INNOCENT SPOILS OF WAR AND DRAG THEM BACK TO THE CAPITAL, WHERE THOSE GIRLS ARE SHOCKED TO DISCOVER THE DEPTHS OF ROMAN DEPRAVITY!
IMPORTANT NOTICE - DISCLAIMER
All characters are 18 years old or older. This is an entirely fictional work based on cartoon characters for adult entertainment. It shows no real people or events. The characters are shown participating in CONSENSUAL role-play for their own personal satisfaction, simulating activities which involve sexual dominance and submission. No actual toons were harmed in the making of this comic.
Armenia was often a bone of contention between Rome and its ancient rival, Parthia. The ground lay soaked beneath the blood of the innocent and the guilty alike as war was waged over and over again. When Rome ruled Armenia, it ruled it with a "gentle" hand, but when Armenia failed to stand up against its Parthian conquerors, when it "rebelled" against that gentle hand of Roman rule, the Romans were swift with their cruel retribution! They wanted the Armenians to know what happened to traitors and cowards!
The Romans were not kind. Even their own countrymen would be appalled at the brutality shown to the Armenian captives and especially toward their female slaves. These girls would be ripped from their home and dragged in chains to the Roman capital, to serve under fat senators and corrupt officials. Of course, the soldiers would have their way with the girls first… to make sure they were "loosened up" for the massive members of the mighty!
Life in those times was hellish, brutish, and short. The girls' Roman masters made sure of it!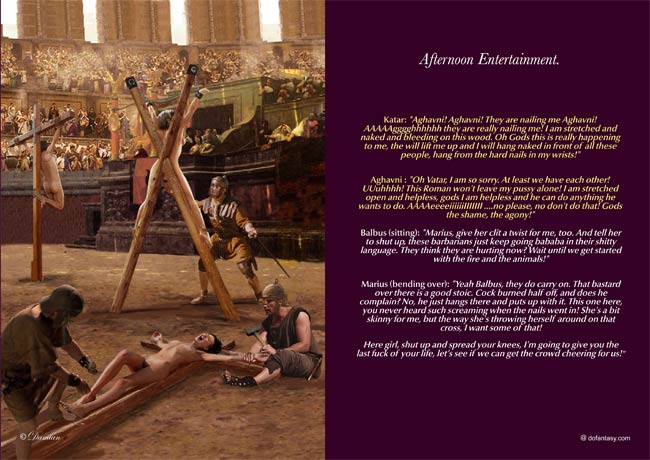 DAMIAN IS A CRUEL MASTER AND A CRUELER ARTIST TO THESE POOR, INNOCENT SLAVE GIRLS AS HE LOVINGLY RENDERS EACH IOTA OF PAIN AND HUMILIATION ACROSS THESE GIRLS' PRETTY FACES! THESE GIRLS WILL SUFFER! THESE GIRLS WILL BE USED! THESE GIRLS WILL BE FORCED TO DO THE MOST DIRTY AND DISGUSTING THINGS IMAGINABLE! THEN THESE GIRLS WILL BE ENDED! YOU TOO CAN WITNESS THEIR JOURNEY FROM SPOILED PRINCESS TO SHAMED SLUT, BUT ONLY HERE EXCLUSIVELY AT DOFANTASY.COM!!!
YOU DON'T WANT TO MISS THIS EXCITING ISSUE! GET IT WHILE YOU CAN!
THE BEST DAMIAN!